High pressure causing channel loss through "Inversion"

Brian Butterworth published on UK Free TV
There is high pressure over the whole of the UK at the moment, and this causes the Inversion Effect. This is causing people to be missing a single Freeview multiplex, or have terrible analogue reception on a single channel. The problem may come-and-go or last for several days.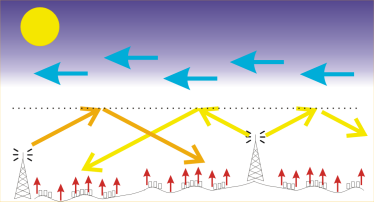 For details, please see What is the Inversion Effect and why does it effect my Freeview TV reception?.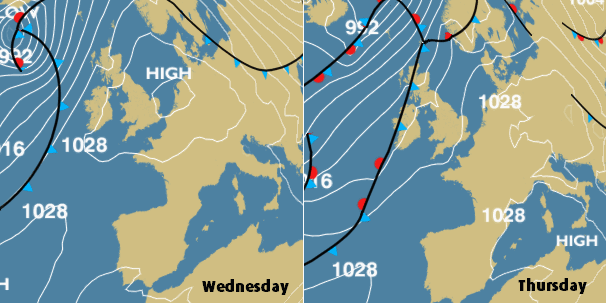 Comments
Sunday, 27 October 2019

picture breaking on some channels(eg 11 and 81) but not others
goes away during the day but really bad early is
is there a fault or maintenance work at Redruth transmitter?

steve byles's 1 post

steve byles:

Without a full postcode to see what the About us | Freeview gives for predicted reception at your location, it'll be difficult to offer definitive advice.
I can find no reported faults on the Redruth transmitter, and there's currently no Planned Engineering.

The two channels you've mentioned (Pick & Talking Pictures) are on two different multiplexes - ArqA & ArqB.
Could you be more explicit about when it's really bad? How many times and how often is this happening?

Chris.SE's 3,939 posts
Wednesday, 30 October 2019

Live in Bicester OX26 1BS, this post code not on the checker as it's a new address (18 months?) however reception has been perfect. From yesterday my HD channels and Freeview menus have had reception problems although my box says the signal is strong. I'm less than 12 miles from the Oxford transmitter so not sure what the problem is, could it be the weather?

thanks

Martin Wells's 1 post

Martin Wells:

One possibility is that the signal may be too strong. Please check what strength is reported by your television, concentrating on the most affected channels. If the strength is above about 85-90% then that could be the cause. To resolved that, insert a coaxial attenuator into the aerial lead feeding the TV, but add a flyw lead so the weight of the attenuator does not 'hang' on the coaxial socket of the TV.



MikeP's 3,056 posts

Martin Wells:

Whilst what MikeP says is a possibility, I think it unlikely even though you are indeed only about 12km from the Oxford transmitter with clear line-of-sight and had perfect reception for the last 18 months. There have been no recent changes at the transmitter, the power hasn't suddenly increased and I can find no trace of any reported faults or Planned Engineering.

Do you have more than one set? Do you have the same problem with all, if more than one?
I suggest you check all you coax plugs, connections, flyleads etc, unplug connectors check for corrosion or other problems and reconnect them. See what signal strengths and quality you are getting for all the multiplexes shown in your TV's tuning section, this might indicate whether there's a problem with your aerial or downlead. Also check that your downlead looks undamaged as best you can, and that your aerial seems intact and pointing in the correct direction (almost due S).

Problematic connections, water ingress etc. can seem to affect reception of just an individual, several or all multiplexes.

Chris.SE's 3,939 posts
Monday, 30 December 2019

Will a high gain aerial reduce troposphere inversion interference? With postcode NR305JA I'm on the edge of the Talcolneston area. But I have a small yagi loft aerial so wondered if an upgrade will work.

Simon Moore's 1 post

Simon Moore:

It is highly unlikely that the type of aerial will make any difference in these conditions, The propagation is unusually strong for this time of year.

Chris.SE's 3,939 posts

Simon Moore: As Chris.SE stated a change of aerial will make no difference as the effect is a purely natural phenomenon that nobody can control or change. Patience is virtue in all such cases.

MikeP's 3,056 posts
Tuesday, 31 December 2019

In PL25 post code area,(Mid Cornwall) and getting signal from Caradon Hill transmitter. Unable to get a good signal for 4 days now. This also happens a lot over the summer months. Cant these transmitters boost their output to compensate for this problem. It has been ongoing ever since digital tv came in and we were forced to ditch analogue, with the promise of better signals. Why should I pay over 150 to BBC to receive tv, when for about a month in 12, I cant.

Philip Johns's 1 post

Philip Johns:

1. We need a full postcode to look at the predicted reception at your location, the predictors don't work on partial postcodes or location.
2. Boosting transmitter powers would only cause more interference to everyone
3. The signals are generally better, how old is your aerial installation?
4. The tropospheric propagation that we have recently suffered has been unusually strong for this time of year - as has the weather been unusually mild! The "tropo" is now subsiding but may continue to affect Cornwall and the extreme SW for a little longer.

Chris.SE's 3,939 posts
Select more comments
Your comment please