High pressure causing channel loss through "Inversion"

Brian Butterworth published on UK Free TV
There is high pressure over the whole of the UK at the moment, and this causes the Inversion Effect. This is causing people to be missing a single Freeview multiplex, or have terrible analogue reception on a single channel. The problem may come-and-go or last for several days.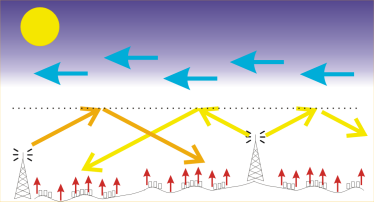 For details, please see What is the Inversion Effect and why does it effect my Freeview TV reception?.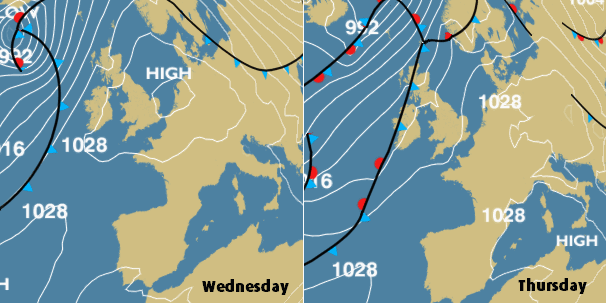 Comments
Friday, 16 March 2012

Mike W: It is possible that the BBC One you are watching (which is breaking up) is not from Midhurst but from another transmitter.

The best thing is to confirm that it is from Midhurst. If you go to the signal strength screen whilst on BBC One it will hopefully give you the UHF channel number that it is tuned to. In this case it should be 55.

If it's anything else, then let us know what it is so as to suggest a possible solution.

Dave Lindsay's 5,724 posts
Sunday, 18 March 2012

Here in my area of Anglesey where there is normally a strong signal this interference presents as pixellation and if it worsens then the picture goes altogether and the 'wispy cloud' frame shows with the message 'no signal'.

I find that it is worse in the BBC programmes but affects others less or not at all.

Can anyone explain this please?

Alan's 4 posts
Wednesday, 21 March 2012

Most of my Freeview channels have been overwritten by all french channels today as the french reception is coming over to Folkestone stronger than than what the Dover transmitter is putting out. Could really do with that switchover. Rescan on media center got my channels back but the French ones have taken priority due to the signal strength and bbc itv have been downlisted to like channels 50 and onwards. Complete mess :/

Kenno's 1 post
Thursday, 22 March 2012

For the 2nd week running my signals from Bluebell Hill have been all over the place. Effectively no TV service for 3 days at a time& shows no sign of improving.
2 Questions:
(a) Will this continue after switchover? If this is the case we have been sold a pup

(b) If I go over to Freesat will the weather deprive me of my TV service whenever it chooses?

Thanks in advance for your replies.

John.

John Beeston's 8 posts

John Beeston: Which services are you having issues with?

Digital UK Tradeview predictor suggests that Dover will be best for you both now and after switchover, it giving "good" across the board and after DSO. Is there a reason that you can't receive from Dover?

If you are using Blue Bell Hill, a wideband aerial will be needed (or combined Group aerials).

Blue Bell Hill uses C24 for Mux 2 (ITV1 etc) and C27 for Mux A (ITV3 etc). The predictor suggests you will have "poor" reception on these, whereas the others are better, them being "variable".

On 7th March, the power of C24 and C27 from Reigate went up to 2kW and 1kW respectively. This was done because Rowridge which serves a big chunk of the south coast and uses these channels switched over on that date.

Dave Lindsay's 5,724 posts
Friday, 23 March 2012

On retuning 21st March, I lost all channels on Mux 33, including Sky Sports 1 and 2. UK Digital tell me that my signal is now variable on that mux, but that all will be boosted on 18th April ! Would have been nice to have a warning, or perhaps they could pay topuptv for a month !
They claim no change to frequency on 21st, but all worked perfectly after 7th March retune.

Pete's 3 posts
Pete's:
map
P's Freeview map
terrain
P's terrain plot
waves
P's frequency data
P's Freeview Detailed Coverage
A
angrybird
12:23 PM
Birmingham

metered recieved here power has dropped from the sutton transmitter from a metered 79-80% to 66-67% since december on one mux
This has been a gradual and slow reduction.

If people are losing channels due to inversion (something i seriously doubt as an RF engineer who worked at a transmitter station fo 10 years ) it is the responsibility of that station to modify power output (either up or down - sometimes it can work in reverse dependant on frequency) to correct the issue.

It is NOT something customers have to "shut up and put up with"

I believe current low quality TV reception (image quality here is appaling at times) is due to power saving not phantom atmospherics.

lame excuses are unacceptable. Freeview is NOT FREE we pay a high price for it - we require the service we are paying for.

If 4g trials are causing it - stop them
If trials for these idiotic local stations are likely to interfere - prevent them

I'm sick of being fobbed off with low quality shoddy products and services.



angrybird's 1 post
angrybird's:
map
A's Freeview map
terrain
A's terrain plot
waves
A's frequency data
A's Freeview Detailed Coverage
G
Gary Vokes
1:26 PM
Lyndhurst

I lost film 4 and itv 4 and a few other channels last night still dont have them today. this switchover has not improved my viewing quality! SO40 post area.

Gary Vokes's 1 post
Gary's:
map
G's Freeview map
terrain
G's terrain plot
waves
G's frequency data
G's Freeview Detailed Coverage
J
Jan
6:38 PM
Bexhill-on-sea

Last three days in Bexhill can only get BBC channels on digital signal, fortunately freesat is still working, itv and channel 4 came back for three hours this afternoon but then vanished again, absolutely no information until I found this site, assume its Heathfield transmitter that is affected, has anyone else had problems in this area

Jan's 1 post
Jan's:
map
J's Freeview map
terrain
J's terrain plot
waves
J's frequency data
J's Freeview Detailed Coverage
M
Mick Bushell
7:26 PM
Sandwich

I recieve my transmittion from the Dover transmitter well sometimes twice this week now (the last time this evening from 18:00 to 19:05)lost all Digital Transmittion blank screen nothing luckly we still have Analogue. What happens when switch over comes do we go back to Radio and I agree with previous comments why no message no mention of loss of signal in the old days we did not have to guess what has happened to the TV or spend extra money thinking that the fault must be with your equipment. Thank goodness I found this site it's not just me tearing my hair out.

Mick Bushell's 1 post
Mick's:
map
M's Freeview map
terrain
M's terrain plot
waves
M's frequency data
M's Freeview Detailed Coverage
Select more comments
Your comment please