High pressure causing channel loss through "Inversion"

Brian Butterworth published on UK Free TV
There is high pressure over the whole of the UK at the moment, and this causes the Inversion Effect. This is causing people to be missing a single Freeview multiplex, or have terrible analogue reception on a single channel. The problem may come-and-go or last for several days.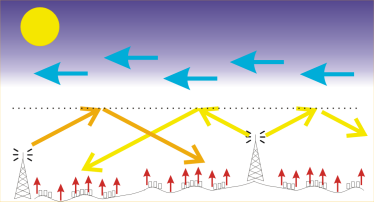 For details, please see What is the Inversion Effect and why does it effect my Freeview TV reception?.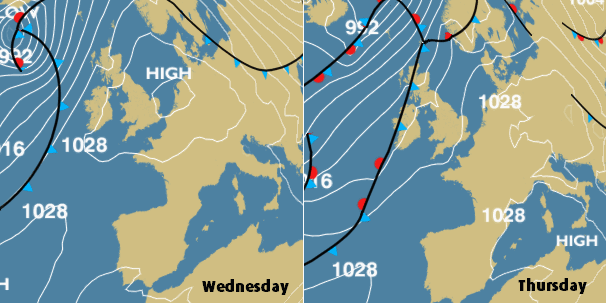 Comments
Monday, 26 March 2012
B
Brian Saunders
12:55 PM
Eastleigh

I have just noticed that since our last digital changeover on 21st March that the EPG information on my DVB Program Guide only now contains the detail of just the current programme and the one immediately after! No longer am I getting the facility to look ahead for a week. Also, the facility to call up Ceefax isn't working. These same comments apply to my immediate neighbours.
Our postcode is SO53 and we are tuned to the Rowridge Transmitter.
I would be interested to know if anyone else has these problems and if anyone has information about them being resolved.

Brian Saunders's 2 posts
Brian's:
map
B's Freeview map
terrain
B's terrain plot
waves
B's frequency data
B's Freeview Detailed Coverage
N
Nathan, Southsea
1:07 PM
Waterlooville

I have not had any problems with losing channels here in Portsmouth from Rowridge, but I also had channels added to my Freeview box in my bedroom (which uses an aerial in the loft). I got an extra ITV1, a Rabbit chat channel & ITV+1, wondering what transmitter it could have been picking up I went through the EPG to 6pm today to see what local news was on it & to my amazement it said "The Westcountry Tonight" ! This was a watchable signal last night too! Out of curiosity I switched the Freeview box off & scanned for analogue services & a very grainy BBC One came through on Channel 49, looking this up the only possible transmitter still operating analogue was Croydon!

Nathan, Southsea's 7 posts
Nathan,'s:
map
N's Freeview map
terrain
N's terrain plot
waves
N's frequency data
N's Freeview Detailed Coverage

Nathan, Southsea: Your out of area BBC1 analogue could have been from Heathfield.

KMJ,Derby's 1,811 posts
N
Nathan, Southsea
3:11 PM
Southsea

@KMJ, Derby, yes that would make more sense. What digital signal am I picking up from the Westcountry though? My aerial is pointing in a SW direction, so I can only assume it must be Stockland Hill, as Mendip would be more WNW direction from here & don't think Weymouth is powerful enough even in an inversion!

Nathan, Southsea's 7 posts
Nathan,'s:
map
N's Freeview map
terrain
N's terrain plot
waves
N's frequency data
N's Freeview Detailed Coverage
G
G Davies
3:49 PM
Cranbrook

KMJ,Derby: Thanks a lot for the info, redirecting the aerial shouldn't be a problem if necessary, strangely, this weekend Mux2 was the strongest and most reliable of all the signals, my theory was this is one of the channels T/Wells doesn't also use.

G Davies's 2 posts
G's:
map
G's Freeview map
terrain
G's terrain plot
waves
G's frequency data
G's Freeview Detailed Coverage

G Davies: Mux2 and MuxA are both 4kW from Bluebell Hill, Reigate is 2kW on these frequencies, which it will continue to be after switchover. I'm guessing that your predicted interference is from Reigate, which is vertically polarised, rather than Rowridge, although I don't know which frequencies are affected most by French transmitters.

KMJ,Derby's 1,811 posts

Nathan, Southsea: If you still have the channels stored for the transmitter carrying Westcountry news, is there any frequency information carried in the menu of your receiver? C23 would indicate Stockland Hill, whereas C54 would be Mendip. I'm not sure whether the terrain would hamper signals from Stockland Hill traveling in your direction. On the other hand Mendip does serve some parts of Poole, so would not have to go that much further to reach your area.

KMJ,Derby's 1,811 posts
G
Gary
9:05 PM
Saffron Walden

Hi

How can i get a rebate off my tv licence for the days i cant receive bbc now that i have gone digital

Thank for any help

Gary's 1 post
Gary's:
map
G's Freeview map
terrain
G's terrain plot
waves
G's frequency data
G's Freeview Detailed Coverage

Have lost all channels last night at about 11.00pm and again tonight from 10.00pm with a "No signal" notification appearing on screen.
I believe we are on the winterhill transmitter.I don't know if any other neighbours have experienced similar problems.
Is this solely due to atmospheric pressure or is there any other explanation?

John Hoyle's 1 post
Tuesday, 27 March 2012

I live in Medway and still losing all ITV channels, CH4 & CH 5 every evening - nothing, just a blank screem. This has been going on for about 2 weeks now - going off every evening between 7.00 and 8.00 p.m. and doesn't come back until the next day. If this is down to high pressure, does this mean we can no longer watch any channels except BBC all through the summer? Analogue is working fine - thought digital was supposed to be a step forward.

Shell's 3 posts
Shell's:
map
S's Freeview map
terrain
S's terrain plot
waves
S's frequency data
S's Freeview Detailed Coverage
Select more comments
Your comment please