High pressure causing channel loss through "Inversion"

Brian Butterworth published on UK Free TV
There is high pressure over the whole of the UK at the moment, and this causes the Inversion Effect. This is causing people to be missing a single Freeview multiplex, or have terrible analogue reception on a single channel. The problem may come-and-go or last for several days.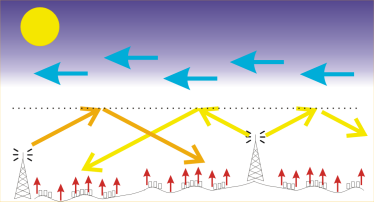 For details, please see What is the Inversion Effect and why does it effect my Freeview TV reception?.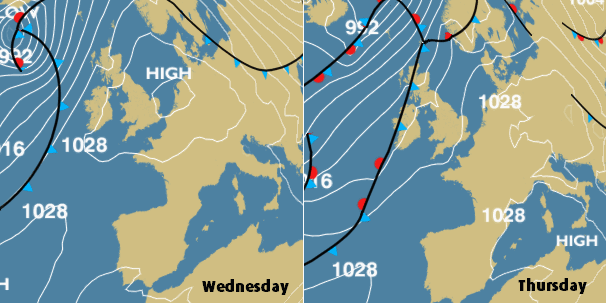 Comments
Thursday, 29 March 2012

Clare Lindsay: I'm with you on that. What I can't understand is how these problems can be affecting millions of people yet I never hear anything on the news or see it in the press.

Strange eh?

John Beeston's 8 posts
Monday, 2 April 2012

We lost ITV3,QVC ,Bid TV and a few more..we have 2 separate ariels..managed to retune & get some back on 1 humax but not the other!Also probs with some on our Freesat!Fed up with it all!

John's 10 posts

Sorry forgot to say we are near Bridport!

John's 10 posts

John: In circumstances such as lost channels due either to interference or reduced signal level, the outcome of retuning can only ever mean that those channels are lost from the receiver's memory, thus necessitating repeated retunes. If the outcome is that the channels have returned, then they would have returned anyway.

In an effort to restore remaining channels, you need to manually tune to the respective channel numbers as rescanning just wipes what you have and leaves you at risk of effectively loosing more:

ITV3 = C25 (SDN)
Pick TV = C22 (ArqA)
Yesterday = C28 (ArqB)

These transmission power of these services from Stockland will increase on 18th April to their full final power of 25kW. They are all at 10kW at the moment.

Dave Lindsay's 5,724 posts
Tuesday, 3 April 2012
K
Keith Wright
1:40 PM
St. Helens

I am supposedly receiving my transmissions from Winter Hill but for the past week reception has been intermittent all day for all channels, with the dreaded 'No Signal' icon being the only consistent viewing available ! I have a signal booster and a digital aerial (both professionally installed), so I don't understand why this is happening. This also happened last year, so, so much for progress eh ? Can we have analogue back please ? Is there anything I can do ? Can I complain to anyone ?

Keith Wright's 7 posts
Keith's:
map
K's Freeview map
terrain
K's terrain plot
waves
K's frequency data
K's Freeview Detailed Coverage

Keith Wright: There is absolutely nothing anyone can do to stop high pressure signal inversion problems from happening at certain times of the year, this being the reason for your own present difficulties.

Analogue reception has always suffered from this effect as well but is far in a way more tolerant to interference, and especially if from another station on the same frequency and will still in many cases display a picture of sorts, unlike Freeview that operates on a reception threshold system whereby if the signal drops to under a predetermined level it cuts out, and with the same happening if the receiver happens to pick up another distant transmitter using the same frequency, this instantly causing data corruption resulting once again in the reception cutting out.

The only way a person can ever escape from this problem is by using Freesat, as the frequencies used by satellite are well above the ranges used by terrestrial transmitters and likewise are about 99.9% of the time invincible to this problem, 100% not mentioned as an unusually heavy thundery downpour can affect reception for a few minutes or so once in the proverbial blue moon, although using a larger dish (zone 2) can somewhat minimise this problem.


jb38's 7,179 posts

Keith Wright: There is no prediction whatsoever for tropospheric ducting over the UK at the present time,so I would be looking for other possible causes if your reception is breaking up at the present time. Check that the channels that are tuned in are in fact from Winter Hill, rather than Moel-y-Parc or Sutton Coldfield. Also, if your aerial plus booster was installed before switchover you could now have a signal which is too strong. This looks on the TV screen like a weak signal, but would improve reception when holding the aerial plug just outside the socket, rather than losing the signal altogether. If this is the problem, turning down the gain, if this is possible would restore reception, otherwise try using an attenuator in the aerial feed.

KMJ,Derby's 1,811 posts

We are receiving atrocious freeview reception from the Wrekin transmitter currently but only on BBC 1,2,3,4 of all main channels.Why only B.B.C. ?

RAY HORNE's 1 post
Wednesday, 4 April 2012

I live in the Bedfordshire area and I followed the advice given on the computer if you have problems getting channels. Unplug socket and take out aerial. Wait thirty seconds and then plug in the mains socket. Not the area. Do a full system scan again and it will come up in the end with no channels listed. Plug the aerial back in and do a full system scan again. I found this worked and have got all the programmes back again. Including Itv programmes that had been really bad for some time.

helpful's 2 posts
helpful's:
map
H's Freeview map
terrain
H's terrain plot
waves
H's frequency data
H's Freeview Detailed Coverage

I live in St Albans Crystal Palace fringe reception.
Missing ITV and lots of others for a few days now. I assume when the digital switchover is complete all the channels will come back?

Keith's 3 posts
Select more comments
Your comment please