High pressure causing channel loss through "Inversion"

Brian Butterworth published on UK Free TV
There is high pressure over the whole of the UK at the moment, and this causes the Inversion Effect. This is causing people to be missing a single Freeview multiplex, or have terrible analogue reception on a single channel. The problem may come-and-go or last for several days.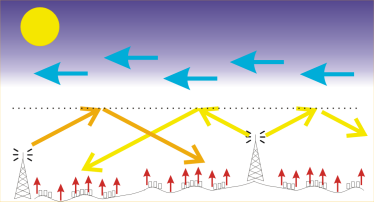 For details, please see What is the Inversion Effect and why does it effect my Freeview TV reception?.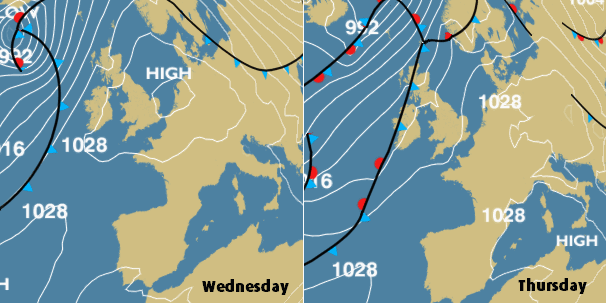 Comments
Sunday, 25 March 2012

S Rogers: The problem is the low power Freeview service shares a frequency with high power French (and English) transmissions which are not normally receivable at your location. When the weather conditions are such that these high power signals travel further than normal, due to the inversion effect,your local signal is swamped by the out of area signal resulting in your receiver finding French channels, as you have observed.

KMJ,Derby's 1,811 posts

Why is having Freeview channels disappear completely during 'interferance' ,when the old analogue picture is still there but just a bit fuzzy, considered to be Progress?

Graeme de Preux's 1 post

@Graeme de Preux
That aspect is definitely not progress and I don't think many people claim it is.

However the ability to have many more channels is progress.

Brian Gregory's 23 posts

I live in Camberley, Surrey and last night noticed that we have completely lost the digital signals for ITV, Channel4, maybe others.
ITV3 & ITV4 are ok. Lost from both our TV & freeview/harddrive dvd box, anyone else in the area got this problem. Anyone know the cause?

Gerry Thornton's 1 post

Brian Gregory:
The ability to have more channels is only progress if you can watch them, which it seems those of us in this part of the country are unable to do.

John Beeston's 8 posts

By the way, thanks KMJ Derby for answering my questions.
Cheers, John

John Beeston's 8 posts

I live in Thanet (East Kent) and have suffered loss of most channels for the last three days which happens consistently with high atmos pressure. However we have cloud/mist at the moment and are still without most of the freeview channels. If I were to change the type/element of aerial does anyone know if that would help as summer is supposably on it's way and I would like to be able to watch as much of the sport on TV as my free time will allow.

Many thanks in anticipation.

Nick's 1 post
D
David Dawson
7:34 PM
Bexleyheath

We have lost CITV station completely this weekend.is there a particular reason. We live in greater London DAarea

David Dawson's 1 post
David's:
map
D's Freeview map
terrain
D's terrain plot
waves
D's frequency data
D's Freeview Detailed Coverage

I lost my Freeview digital signal about 15 minutes ago, on all channels. I am in Suffolk, near Newmarket. Anyone else having problems?

Jenny's 1 post
V
Valerie Aston
11:03 PM
Northwood

Reception of BBC Four from my digital TV (via Freeview) has been dreadful for several days. Both picture and sound are completely broken up. Could this be due to atmospheric conditions?

Valerie Aston's 1 post
Valerie's:
map
V's Freeview map
terrain
V's terrain plot
waves
V's frequency data
V's Freeview Detailed Coverage
Select more comments
Your comment please