Switchover starts in North East England on Wednesday 12 September 2012

Brian Butterworth published on UK Free TV
This 12th September the first stage of the digital television switchover 1,420,000 homes in the North East of England.

From 6am Wednesday 12th September 2012, you must perform a "first time installation" retune (sometimes "Factory Reset" or "Shipping Condition") on your Freeview box or television set if you use the Bilsdale, Chatton, Pontop Pike or Fenham full service Freeview transmitters.

This is because the old low power "multiplex 1" BBC service will be replaced by the high power BBCA multiplex on the old analogue BBC TWO frequency:


Bilsdale (6am) - BBC TWO analogue closes on C26, Mux 1 closes on C34+, BBCA starts on C26. (MuxC from 12 to 26 September 2012, services will be provided on C34 at 6,000 Watt)
On Wednesday 12th September 2012 if you use
Aislaby
(3pm),
Allenheads
(noon), Alston (9am),
Bainbridge
(9am),
Bellingham
(9am),
Berwick
(6am),
Blaydon Burn
(6am),
Byrness
(noon),
Castleton
(9am),
Catton Beacon
(6am),
Durham
(3pm), Esh (6am),
Eston Nab
(3pm),
Falstone
(noon),
Felling
(noon),
Grinton Lodge
(9am),
Guisborough
(9am),
Haydon Bridge
(3pm),
Hedleyhope
(noon),
Humshaugh
(6am),
Ireshopeburn
(6am),
Kielder
(3pm),
Limber Hill
(noon),
Morpeth
(6am),
Newton
(9am),
Peterlee
(noon),
Ravenscar
(noon),
Romaldkirk
(6am),
Rookhope
(3pm),
Rosedale Abbey
(3pm),
Rothbury
(9am),
Seaham
(9am),
Shotleyfield
(6am),
Skinningrove
(noon),
Staithes
(3pm),
Sunderland
(9am),
Wall
(noon),
Weardale
(9am),
West Burton
(noon),
Whitaside
(noon),
Whitby
(9am),
Wooler
(6am)
relay
transmitters you will be able to receive the BBC Freeview services (with the exception of HD) for the first time, and you will no longer be able to view BBC TWO on analogue.
Coverage Maps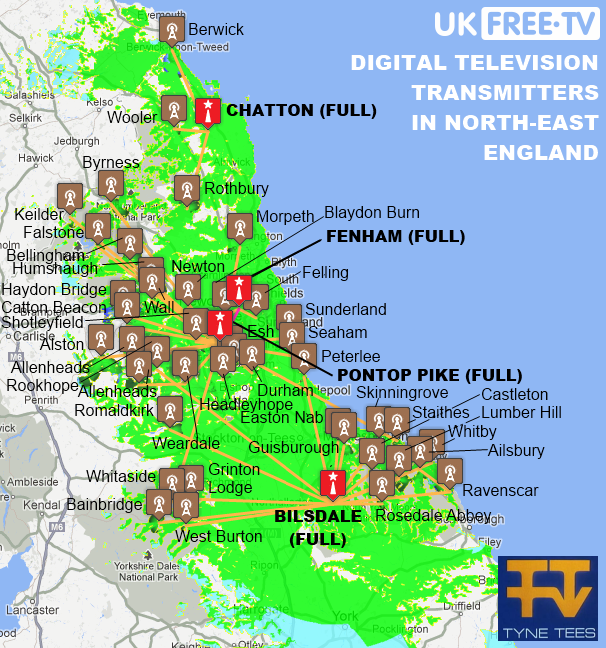 On these maps, the full-service six-multiplex transmitters are shown with the "red star" Freeview logo. The public service three-multiplex masts are shown with a brown indicator. The green areas on the maps, are the areas where the strongest
signal
is from the shown transmitter
region
, with the light blue showing overlap areas where signals from other regions are stronger.
You MAY find that old equipment will no longer work - see
TVs and boxes that do not support the 8k-mode
Another common problem at switchover is the increase in signal will overload amplifiers and over-the-top
aerial
installations. If this is the case you will have to remove the
booster
or
amplifier
from the system, or perhaps fit an attenuator if you have no amplification. - see
Freeview signals: too much of a good thing is bad for you
.

On
Wednesday 26th September 2012
will see the second stage of switchover, which provides the final Freeview configuration, including
Freeview HD
for all transmitters in this region - see UK Free TV soon for full details.
On this date, you will need, once again, to do a "first time installation" as indicated above.
If you are over 75, you should already have been supplied new equipment by the
Switchover Help Scheme
.
Comments
Friday, 14 September 2012

Chris Knight: Some receivers won't work with the mode used after switchover.

What's the make and model of the affected box?

Dave Lindsay's 5,724 posts
Saturday, 15 September 2012

Your chart shows MUX C remaining on channel 27 after Sep 12, but a low power signal adjacent to the 100kW at channel 26 wouldn't work. They have actually moved it to channel 34, the old MUX 1 frequency.

Ogee's 1 post
Sunday, 16 September 2012

Mark Fletcher
Hi I have done a autoscan on my tv it only picked up emley moor.So I say to myself try a manual scan on channel 26 to my amacement it got all the chanels as good as emley moor,so i now have a choice of bbc1 Leeds or Newcastle.
How did you get on
All the best
Dave p

David Parker's 2 posts
M
Mark Fletcher
8:00 PM
Halifax

David Parker
Hi there,in reply to your earlier text today at 2.57pm,my situation is mixed,i can receive BBCA from Bilsdale on frequency 26 but the results are not too promising,i can only get it with an enlarged borrowed group W wideband aerial in my bedroom with the amplifier (signal booster) on with occasional pixellations,sometimes breaking up into No Signal mode,without the signal booster regular pixellation and no signal mode,but nothing at all using my smaller set-top aerial (group W type) with and without signal amplifier.
Yet from Belmont further away using my set-top aerial without signal booster BBCA (fr 22),D3+4 (fr 25) multiplexes are largely perfect with occasional pixellations now and again,even their 50kw SDN (fr 30) is most of the time ok,but sometimes problematic.
So i will have to wait and see come DSO2 on Wednesday 26 September 2012 whether the rest of Bilsdale's mux's notably D3+4 on frequency 29 is attainable in my locality.
Still there's always Winter Hill i could consider as that is possible where i live,more so with the signal booster on and Emley Moor which is already my local main transmitter,although i dont normally bother with its regional news content as Halifax only gets occasional coverage now and again.
But then again better equipment (aerial wise) could see a big difference altogether.
All the best to you too !

Mark Fletcher's 673 posts
Mark's:
map
M's Freeview map
terrain
M's terrain plot
waves
M's frequency data
M's Freeview Detailed Coverage
Tuesday, 18 September 2012

Hi,Since the 12th Sep;I Have been able to receive all the channels on my DIGIHOME 250GB DIGITAL TV RECORDER as before, but for some reason I cannot record rewind or pause.
The recorder was operating perfect before changeover.
I would be grateful for any help or suggestions you could give,
Thank you best regards ANN.

ANN's 4 posts
Wednesday, 26 September 2012

Have switched to digital today ok BUT ITV HD the local news shouls be Tyne TEES however we get Granada what is happening can get tyne tees on normal digital thbis is through Freeview

J Sellers's 1 post
J's:
map
J's Freeview map
terrain
J's terrain plot
waves
J's frequency data
J's Freeview Detailed Coverage

J Sellers: There are less HD regions. The BBC has just one for BBC One HD and a message appears telling viewers to switch to BBC One when regional programming is being broadcast.

ITV1 has, I think, around four or five nationally and you get the nearest one.

This is done due to cost reasons. There is additional cost in providing different regional feeds, and when they are all the same most of the time, it has been decided that this doesn't justify it.

Dave Lindsay's 5,724 posts
Select more comments
Your comment please