North East England - switchover completes on Wednesday 26th September 2012

Brian Butterworth published on UK Free TV
Starting just after midnight on Wednesday 26th September, the next
switchover
of 2012 will see the number of homes with digital-only
terrestrial
reception
in the UK go up by 1,419,788 from 92.15% to 97.54%
Viewers in North East England who use the
Bilsdale
,
Chatton
,
Pontop Pike
or
Fenham
"full Freeview" transmitters (and about 43 smaller
relay
transmitters) will have no
analogue
television from Wednesday 26th September 2012. Unless you use
cable
or
satellite
to watch television, if you don't use a Freeview box or set, your screen will be blank.
Do not expect ANY FREEVIEW television service from midnight until 6am - or a late as mid-afternoon on some relay transmitters (see below for timetable). This means you will not be able to record Freeview programmes overnight. --- but you can watch online here - Watch live UK TV channels and listen to live radio now.
Most people need only perform a "full retune" (or "factory reset" or "shipping condition") on their Freeview box or TV, but it would be impossible with five million homes covered by the transmitters, for no-one to have a problem.
Please note that the "
Burnhope
"
transmitter
will no longer be required for television other transmitters will provide coverage.
Coverage Maps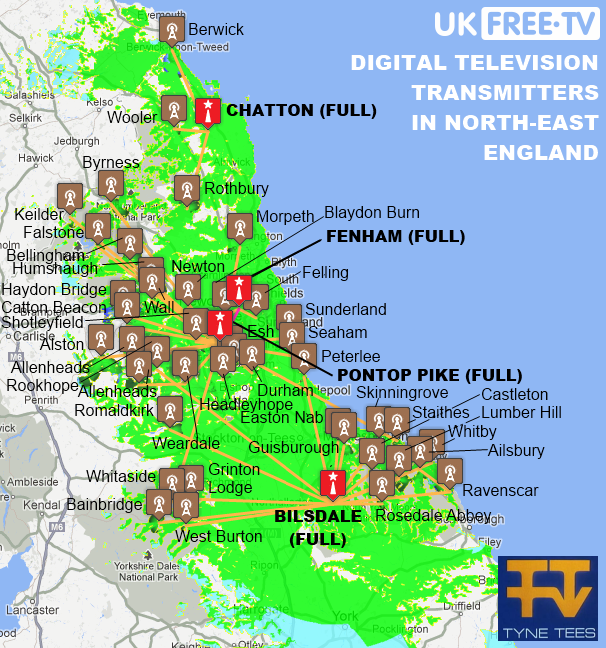 On these maps, the full-service six-
multiplex
transmitters are shown with the "red star" Freeview logo. The public service three-multiplex masts are shown with a brown indicator. The green areas on the maps, are the areas where the strongest
signal
is from the shown transmitter
region
, with the light blue showing overlap areas where signals from other regions are stronger.
From Wednesday 26th September 2012 you MUST have a digital television device to watch TV. If you do not have a digital receiver, from Wednesday will have a blank screen.
You will be served by the
Freeview HD
service from Wednesday, but please see this six-point checklist to ensure you
really
are watching in high definition:
Are you really watching free TV in high definition?
Switchover help scheme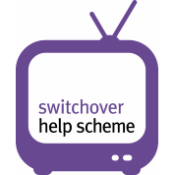 If you are over 75, get (or could get) Disability Living Allowance, Attendance Allowance, Constant Attendance Allowance or mobility supplement; or have lived in a care home for six months or more; or are registered blind or partially sighted and need assistance, please see
The Switchover Help Scheme
.

Cable and satellite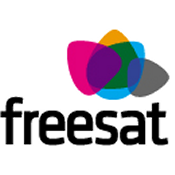 Cable (Virgin Media) and satellite (
Sky
,
Freesat
,
fSfS
) viewers are not affected by the changes. Remember, however, that you may be using analogue TV to watch on a second or third set and it might need a Freeview box.
Existing "full" Freeview users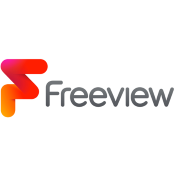 If you already use Freeview, and can receive all the
channels
now, check your TV or box is not listed here -
TVs and boxes that do not support the 8k-mode
. If it is, you will need a new Freeview box.
If you are not on the list, you should
scan
your box from around 6am.
When you now rescan, you MUST do a "first time installation" or "factory reset" scan (sometimes called "shipping state"), not a simple "add channels"
. Do the procedure you did on "national retune day", September 30th 2009, see
Freeview Retune - list of manuals
.
If you can't recall the procedure or find the manual, please see
generic clear and rescan procedure
.
If you scanned during the first phase of switchover on Wednesday 12th September 2012 - you will have to do it again on Wednesday 26th September 2012.
Using Freeview with Windows Vista
Please see
Switch over and PC-based systems
because you need some
updates
for your system to work.
Boosters and amplifiers
If you live close to the transmitter, you may have to disconnect any "boosters" from your
aerial
system.
The new, more powerful digital signals may overload any amplifiers and result in no reception!
When looking for them include a check for distribution amplifiers,
loft
boxes, set back amplifiers, bypass Amplifiers, hidden
masthead
amps in a loft space and any dodgy active splitters.
For full details, see:
Freeview signals: too much of a good thing is bad for you
.
Homes with no Freeview at all will now have Freeview Light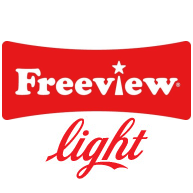 If you had no Freeview service before, you will have the BBC channels digitally from Wednesday 12th September 2012. This is a single multiplex of the BBC channels (radio, television and text) for most people.
However, if you were on the fringes of reception from one of the main
Freeview transmitters
, you will now get all the Freeview channels.
If you didn't get this limited Freeview service on Wednesday 12th September 2012 then you may need a new aerial.
If you are served by a public service (relay) transmitter, which are:
Aislaby
(3pm),
Allenheads
(noon),
Alston
(9am),
Bainbridge
(9am),
Bellingham
(noon),
Berwick
(3pm),
Blaydon Burn
(3pm),
Byrness
(noon),
Castleton
(9am),
Catton Beacon
(3pm),
Durham
(9am),
Esh
(noon),
Eston Nab
(3pm),
Falstone
(3pm),
Felling
(noon),
Grinton Lodge
(9am),
Guisborough
(9am),
Haydon Bridge
(noon),
Hedleyhope
(3pm),
Humshaugh
(9am),
Ireshopeburn
(noon),
Kielder
(3pm),
Limber Hill
(noon),
Morpeth
(9am),
Newton
(9am),
Peterlee
(noon),
Ravenscar
(noon),
Romaldkirk
(9am),
Rookhope
(3pm),
Rosedale Abbey
(3pm),
Rothbury
(9am),
Seaham
(9am),
Shotleyfield
(noon),
Skinningrove
(noon),
Staithes
(3pm),
Sunderland
(9am),
Wall
(9am),
Weardale
(9am),
West Burton
(noon),
Whitaside
(3pm),
Whitby
(9am),
Wooler
(noon)
...you now need, from around from 9am (unless shown otherwise) on 26th September 2012 to rescan, and you will get a second Multiplex with ITV 1,
ITV 2
, ITV 1 +1,
Channel 4
,
Channel 5
, Channel 4+1, E4 and
More4
.
And that's your lot if you have a
standard
Freeview
receiver
, see
Freeview retune - poor public service transmitters
.
You may wish to
install
Freesat for more channels, see
Compare Freeview Light and Freesat TV
.
Overlap with other regions
Because of the location of the transmitters, some viewers will find that they can
pick
up the signal from other BBC and ITV 1 regional studios.
Those viewers with "Freeview HD" (or other so called D-Book 7) receivers will find they are presented with a menu to allow them to pick which BBC One region is shown on "button 1", and which ITV 1 regions appears as channel 3.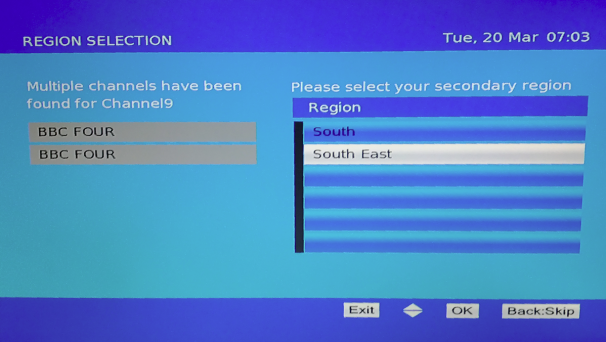 Viewers with older equipment may have to resort to doing a manual to get the correct signal for the desired transmitter.
All Freeview boxes automatically scan the available broadcast frequencies looking for channels, and they do this from
C21
to C69. Older Freeview boxes will, if a duplicate version of a channel is found whilst scanning, such as another BBC One region, placed it in the 800-899 channel range.
Some Freeview boxes will pick the strongest signals for the "primary" number positions, and some will detect the different regions providing a choice when you perform a "scan for channels".
For more details, see:
Digital Region Overlap
Comments
Thursday, 13 September 2012

Ray Black: Try a manual tune on UHF channel 63 (specifying DVB-T2 mode if there is such an option).

DVB-T is the mode of standard definition multiplexes and DVB-T2 is that of the high-definition one.

Dave Lindsay's 5,724 posts

Thanks but no luck Dave. Maybe mux BBCB c63 got the chop. I think it was a very low power temp affair. DSO stage 2 will see Freeview HD on BBCB c49 (acc to this site)., perhaps that will fix things. BTW the exhisting analogues BBC1 and C4 pictures are weak/noisy/grainy and VHS quality picture respectively!

Ray Black's 2 posts

We live near Whitby. We have now got BBC channels and BBC radio channels. ITV and Channel 4 have now vanished. Do we now have to wait until the 26th to get these channels back? I have retuned several times. The TV has Freeview built in. I am disappointed that we have lost channels. Anyone got any suggestions please?

Anne's 3 posts

Anne: You must be receiving from Bilsdale if you could receive Freeview before switchover in the Whitby area.

A number of people using Bilsdale have the same issue.

If your set has manual tuning, try a manual tune on UHF channel 21.

If the aerial goes via a box, e.g. a DVD recorder or PVR (recorder), try removing this temporarily by connecting the aerial directly into the TV. Then perform a manual tune to UHF channel 21 (if doing this whilst the recorder is connected didn't do the trick).

Dave Lindsay's 5,724 posts
Friday, 14 September 2012

Dave, thanks for your reply. We could not get Freeview before from Bilsdale. Bought new Freeview sets for the bedrooms for the switchover. Had a new aeriel put in the loft and now get the signal from Aislaby according to the TV engineer we used. We live at YO22 5BS

I can get ITV and Ch 4 on one of the sets after another auto retune. Only BBC on the other 2 sets. Will have a go manually tomorrow. We have got B&B guests in the rooms tonight!

Anne's 3 posts

Anne: At the first stage of switchover (this happens everywhere), BBC Two analogue is switched off and the new full-power BBC digital multiplex (signal) comes on air. This multiplex carries BBC standard definition TV and radio stations (BBC One, BBC Two, BBC Three, BBC Four, BBC News etc).

For relay transmitters such as Aislaby which have never carried Freeview before, this means that they continue to broadcast BBC One, ITV1 and Channel 4 in analogue and BBC standard definition in digital for the intervening period. This means that ITV1 and Channel 4 can only be viewed via analogue and BBC Two can only be viewed via digital (Freeview). BBC One is available on both.

For those who are receiving from a main transmitter (such as Bilsdale) that carried Freeview before switchover, but who were too far away for the weak pre-switchover signals to reach, they are in the same position (as above) for the two weeks.

The reason for this staggered approach is so as to give those who haven't bought a digital receiver, or who have and which is not compatible with the post-switchover signals, the opportunity to buy one. It also means that they will loose access to only BBC Two.


As your aerial is directed to Aislaby, then the manual tuning won't do any good because what I suggested above assumed that you were receiving from Bilsdale.

Perhaps you will have to get the piano this evening!


One last warning: The Aislaby transmitter will be Freeview Lite which means that it will carry only Public Service channels. These are BBC standard definition and high definition, BBC radio, ITV1, ITV1+1, ITV1HD, ITV2, Channel 4, Channel 4+1, Channel 4HD, E4, More4 and Channel 5.

The Commercial channels that include ITV3, Film4, Dave and others only wish to broadcast from the main transmitters because they are more lucrative for them. This is because they give them the greatest number of viewers for lowest cost.

Dave Lindsay's 5,724 posts

Anne: On 26th September Aislaby is not expected to be back on until mid-afternoon.

Keep a note of this link to the Digital UK site:

Digital UK - Relay transmitter switching times

It lists when each transmitter is expected to be up and running and is updated during the day so as to show when each one has been done.

Dave Lindsay's 5,724 posts

Dave thank you so much for all the information. You have explained it all brilliantly and it makes sense now. I can now explain the situation to my B&B guests and know what I am talking about. Thanks for sparing the time to explain in simple terms!!
Anne

Anne's 3 posts

I retuned my digital TV yesterday (away until then). All semed fine, but my VCR no longer registers BBC2. I have tried both an auto and manual retune but it refuses to return. I can see it on Line 1 just not where it is supposed to be.
Can anyone help?

Lesley's 3 posts
Saturday, 15 September 2012

Anne: Happy to help.

If the new TVs have analogue built-in, then you may be able to tune them in for ITV1 and Channel 4, giving suitable instructions to your guests on how to switch between analogue and digital.

Or you could leave them the old and the television each...

I guess that this has cost you to replace them all which isn't what you need.

All the best and let us know if you have any more questions.

Dave Lindsay's 5,724 posts
Select more comments
Your comment please