Northern Ireland RTE1, RTE2, TG4 special mini-multiplex from 24 October

Brian Butterworth published on UK Free TV
Following on from the 1st February 2012, article Northern Ireland "mini multiplex" (NIMM), here is a summary of the services that will be available to most Freeview homes in Northern Ireland.

It is VERY IMPORTANT to note, however, that you MUST have Freeview HD (DVB-T2) equipment to receive RTE1, RTE2 and TG4 - even though the services are NOT provided in high definition from the Northern Ireland transmitters.

Many homes in the province will be able to get a special "Northern Ireland" mini-multiplex from one of three transmitters - Brougher Mountain (Enniskillen AND Omagh) , Black Mountain and Carnmoney Hill (both Belfast). This very special service is broadcast using the latest standards, which are called DVB-T2 and MPEG4. In the UK, these are used to provide high definition, but only in Northern Ireland are they used to provide three standard definition services from RoI.

The NIMM coverage from these transmitters is shown here:




If you get the NIMM, you will find channel 51 is TG4, 52 is RTE ONE, and 53 is RTE TWO.

This is shown on the transmitter pages like this (Carnmoney Hill) example:





If you can't get the NIMM, you will probably be able to get the extra channels directly from transmitters in the RoI. The following map shows the transmitters: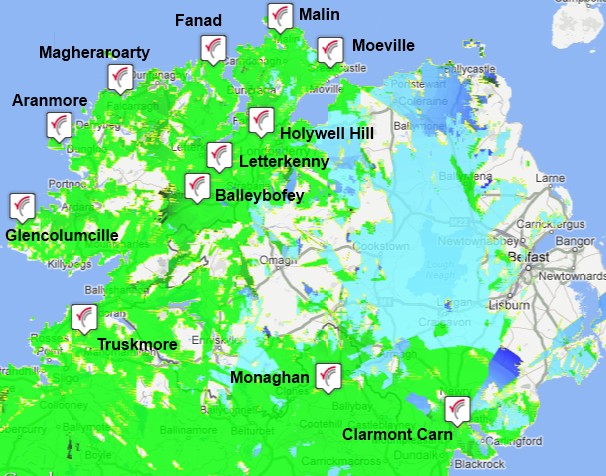 Your existing aerial may not be the right "group", or be pointing in the correct direction.

The RoI service is called Saorview (which is Irish for "Freeview") - see Saorview interactive map.

However, even though Saorview broadcasts in DVB-T mode, it uses the MPEG4 "compression" system - most UK non-HD boxes use MPEG2 (apart from BT Vision boxes, which support MPEG4). So, again, you will need a Freeview HD box.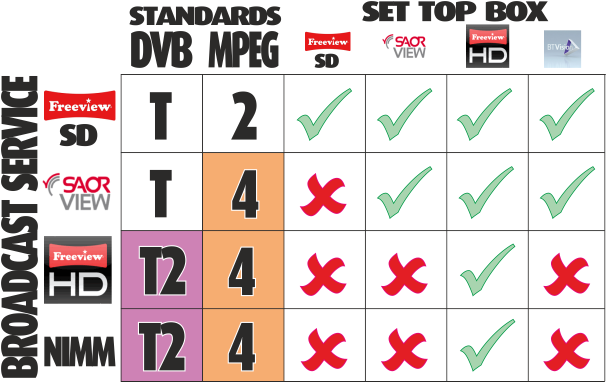 The services broadcast on Saorview at the time of writing are:

1 RTE One, 2 RTE Two HD, 3 TV3, 4 TG4, 5 RTE News Now/Euronews, 6 3e, 7 RTE jr, 8 RTE One +1, 200 RTE Radio 1, 201 RTE Radio 1 Extra, 202 RTE 2FM, 203 RTE Lyric FM, 204 RTE Raidio na Gaeltachta, 205 RTE Pulse, 206 RTE 2XM, 207 RTE Choice, 208 RTE Gold, 209 RTE Chill, 209 RTE Junior,

It is possible that the Freeview HD box will not place the channels on these numbers, but in the 800-899 range.

The Saorview trasmitter pages show the information like this:





Multiplex Broadcasting Services N I Ltd is the not-for-profit joint venture formed by RTE and TG4 to operate a new additional multiplex from a small number of transmission sites in Northern Ireland. The UK and Republic of Ireland Governments Memorandum of Understanding of February 2010 confirmed their intention to make TG4 available on digital terrestrial TV to much of Northern Ireland and to also facilitate the provision of RTE One and RTE Two through NImux or overspill from Saorview (the Republic of Ireland digital TV service).

Ofcom predicts that NIMM services will reach 76% of the population in Northern Ireland and that Saorview overspill will reach 56% of Northern Ireland viewers. Ofcom also predicts that the combined NIMM and Saorview coverage will reach 93.3% of Northern Ireland viewers.
Comments
Thursday, 25 October 2012

I witnessed a good example of RTE licensing regulation in effect on Day-1 of DSO... RTE2 has rights for Champions League soccer games to broadcast in ROI.

Watching RTE2 on the NIMM - you get black screen with an apology while the game is on... curiously though the adverts are viewable so they must have real-time control of this specially for NIMM delivery.

Watching RTE2 on SaorView in HD (woohoo) then no such restrictions apply.

PaulN's 39 posts

Can I use a CIM or CAM in my panasonic TX-37LZD80 tv to receive the rte mpeg4 or is the freeview hd box the only option...

SC's 1 post

Sky who have the rights to some Champions League games in UK will not be pleased to read PaulINs comment and no doubt will move to close this access to the games in NI.

Richard's 98 posts

SC: It's not guaranteed to work. If you would be receiving RT from a transmitter in the Republic (Saorview), then MPEG-4 AVC support is all you need. If you received RT on analogue, in reasonable quality, you will probably be able to receive Saorview.

The CAM should work as long as the TV sends any service, or any service that it can't decode, to the CAM slot. I believe some send only services that are actually marked as encrypted (decrypting services is the purpose of the CAM slot) which the Saorview services are not. The only way to tell is to try it.

However, if receiving from a Freeview transmitter, you will definitely need a Freeview HD box. The CAM relies on the TV being able to decode the multiplex, which yours won't be able to, as it does not support DVB-T2. The 'Northern Ireland Mini-Multiplex' uses the newer standard in order to get greater capacity from the available coverage than DVB-T is able to do.

Mike Dimmick's 2,486 posts

Richard: The Republic's transmissions into Northern Ireland are classed as overspill, which is normally treated as accidental. The only way this could be blocked from Northern Ireland is if it were also blocked from the Republic. The main transmitter spilling over into Northern Ireland is Clermont Carn, which serves a large part of the east coast of the Republic, particularly Dublin.

Considering that Saorview is estimated to be covering 60% of Northern Ireland's population, and the NIMM only 35%, it seems futile to be blocking the NIMM coverage.

Mike Dimmick's 2,486 posts

Agreed Mike, but from regulatory perspective I would expect that RTE is forced to schedule the 'black out' on NIMM for such content - as that cannot be classified as overspill.

PaulN's 39 posts
Sunday, 28 October 2012

After re-scanning my Technika 22-228W HD TV will list but not show RTE TV channels. They come up on-screen as "Not Support". Does anyone know how to fix this?

Geoff's 2 posts

For the record I'm in Northern Ireland!!!!

Geoff's 2 posts

Geoff: It would be helpful to know where you are so as to be able to gauge where you may be receiving from. What aerials do you have (pointing where)? Knowledge of your location and their directions would allow which transmitters they are facing to be deduced.

There are two main possibilities:

1. You are receiving RT from a Saorview transmitter in the Republic.

2. You are receiving RT from one of the three Freeview transmitters that broadcasts it.


The general rule is that Freeview HD receivers *will* receive either of the above. Freeview standard definition receivers will definately not receive 2 and quite a few won't show a picture for 1 (but may give sound).

If it turns out that you are in an area where both of the above are possibilities then you may be able to try the other.

Bring up the signal strength screen whilst on RT (if it will allow) and see what UHF/RF channel it is tuned to. This will tell us which transmitter it is coming from.

Dave Lindsay's 5,724 posts

Geoff: The Technika 22-228 is listed as an "HD ready" TV, so will only have a standard definition DVB-T MPEG2 tuner. Saorview transmissions are MPEG4, which will deliver sound but no picture on your TV. You will need a receiver capable of supporting MPEG4 transmissions, such as a BT vision box, Saorview box or Freeview HD box to resolve this problem.

KMJ,Derby's 1,811 posts
Select more comments
Your comment please