4G test signals areas listed by the BBC

Brian Butterworth published on UK Free TV
BBC News (see BBC News - Organisation launches to help combat 4G interference ) has provided the location to the public where the 4G at 800MHz test signals will be provided.




Locations of Cradley Heath and Rowley Regis.

To save you looking on Ofcom's Sitefinder ('Sitefinder' Mobile Phone Base Station Database) I have reproduced the locations of mobile phone masts in the two locations: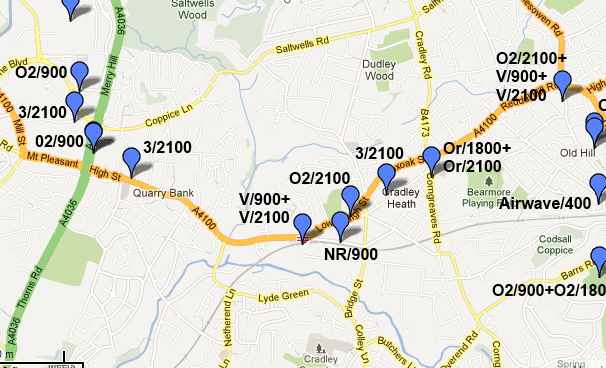 Cradley Heath




Rowley Regis

Each location lists the mobile phone operator: O2, T is T-Mobile (now part of EE), Or is Orange (also EE), V is Vodafone, NR is Network Rail, 3 is 3.

The second number is the frequency range used, 900MHz, 2100MHz etc.

It is expected that 4G 800 will operate from existing "900MHz" locations.
Comments
Friday, 15 March 2013

I live in East Yorkshire - HU17 and get Freeview from Belmont (60kms away). When I first got digital TV about 7 years ago the weak signal then on offer was interfered with by local farmers' two way radios and possbly TETRA as well. I bought a High Pass RF filter from Maplin and it cured the problem. Since switch-over there have been no problems with reception - perfect in fact but now I am worried about 4G interference especially as I have a masthead amp and a distribution amp to 3 TVs. Do I now need another filter to keep out 4G at the other end of the spectrum?

Steve's 59 posts

Steve: The company that is charged with providing filters has set-up a website: www.at800.tv

It will provide a single filter to each address that might be likely to suffer from interference from 4G signals broadcasting on the 800MHz band. If the filter only lets through TV frequencies then it will also block tetra, so you shouldn't need the filter for it.

As you have a single aerial whose feed is distributed around your property, one filter is all that's needed. See:

Installation support for households | at800

It says that they will contribute £50+VAT for an installer to visit affected properties.

As for whether you may be affected, I really wouldn't worry about it. Bear in mind that it might happen, but what will be will be.

There is also the possibility that your masthead amp may be able to be removed, due to the increase in signal strength.

Dave Lindsay's 5,724 posts

Dave Lindsay - Thanks for the reply. I will just wait and see what happens (if anything). I might have a go at removing the masthead amp though as it is an old-fashioned unscreened one I "inherited" from the previous owner of the house. Thanks again.

Steve's 59 posts

Dave Lindsay: did you see the article on the bbc news site in Germany where they have 4g 10% of the population receive there tv from terrestrial digital signal only 10 complaints about 4g interference . So a population of 80000000, 8000000 use terrestrial signal and only 10 affected by interference is this a problem that doesn't exist .

Mazbar's 384 posts

Mazbar: The article is here:

BBC News - Organisation launches to help combat 4G interference

That's interesting. It's certainly the case that the media is doing its bit to stir panic.

I would have thought that due to the current economic climate, people would be more concerned whether they would still have jobs in six months time than if they had TV reception in six months time.

Dave Lindsay's 5,724 posts
Monday, 18 March 2013

Well I live in Rowley Regis and paid a huge amount of money for a small IRS system to be installed in our home so that we can watch freeview or locate a sky+ receiver in any room of our home.

Now I know for a fact i'm going to get grief when this test kicks off today as a 800/900mhz base station is directly in the line of sight between us and the transmitter at Brierley Hill.

I can see this whole 4G launch is going to cost me a small fortune as no way is £50.00+VAT going to cover the cost of putting my system right, and if it can't be put right and I have to buy freesat boxes for each TV in the house that defeats the whole idea of buying TV's with freeview tuners in them and the idea of an extra box sitting next to each TV is just plain ugly.

I realy feel some poor folk such as myself and others are going to suffer financially and really feel like we've been conned by the government and mobile operators out of our investment in upgrading our home for a digital future.

What are the chances there is going to be legal action in getting compensation for being directly affected by this as someone somewhere has to be held accountable.

Kurt Eaves's 12 posts

Kurt Eaves: From all the pre-testing that has been done, you should just need to put a filter in your system between the TV aerial and the IRS system.

Briantist's 38,908 posts

Briantist: well thats what i would have thought, however where the aerial comes in it goes to a programmable johansson cluster filter/equaliser which only allows through channels 50-59, channel 60 is a freeview mux but the cluster allows it through as the dropoff isn't that perfect and only a 5db loss is noticed if the attenuation is reduced on channel 59.

However we have already noticed an issue with the BBC channels and Sky News this morning, the occasional freeze, audio clipping, and a longer blank screen when changing to these channels.

The mast in question is around I would say about 300-400 meters away in a neighbouring street on a spot of waste land, so I think this problem is going to remain.

Kurt Eaves's 12 posts

Kurt Eaves: Are you sure that the problems you describe are not something that could happen anyway?

Any chance you could provide a postcode too as it would make diagnosis easier?

Briantist's 38,908 posts

The post office postcode for Cradley Heath is B64 6AQ - My Freeview | ukfree.tv - 10 years of independent, free digital TV advice

The post office postcode for Rowley Regis, B65 0DS - My Freeview | ukfree.tv - 10 years of independent, free digital TV advice



Briantist's 38,908 posts
Select more comments
Your comment please