BBC TWO HD launch causes some channel number shifts

Brian Butterworth published on UK Free TV
Following on from BBC Two HD Channel to launch 26th March 2013, the BBC said today there will be some channel number changes (see BBC - Blogs - About the BBC - Hello BBC Two HD; Goodbye BBC HD ).

As well as BBC ALBA moving to 143 on Sky, the following allocations will be in use: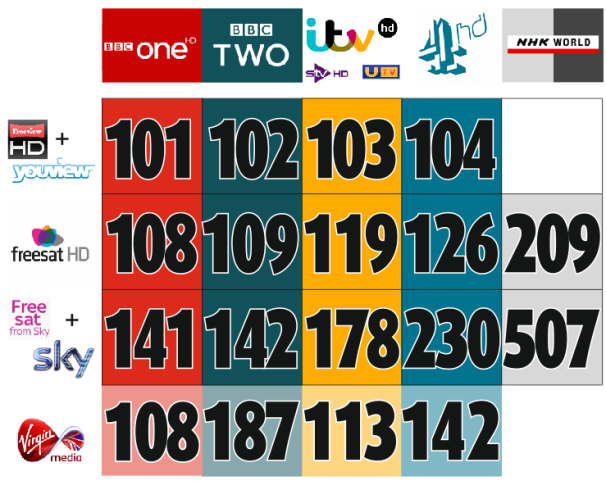 Here is a notice from BBC HD about the change:
Comments
Saturday, 23 March 2013

Its good news tht BBC2 are going HD.The trailer programmes on BBC HD were becoming boring and quite wastful of channel space.
Does anyone know if the BBC or ITV will ever be broadcasting any 3D HD programes in the near future

Sunday, 24 March 2013

Ceefax has ended. (22/10/2012)
The BBC TV Center has closed. (22/03/2013)
And now the BBC HD channel is closing. (27/03/2013) :o(

Brian Wright, I heard somewhere that Dr Who will have a story in 3D this year.
Expect it will be on BBC1 HD and a normal version in BBC1 SD

Mark Agius's 373 posts
Mark's:
map
M's Freeview map
terrain
M's terrain plot
waves
M's frequency data
M's Freeview Detailed Coverage

Mark Agius: "Some of you may have seen the press release earlier this year that announced the Doctor Who 50th anniversary special in 3D this autumn. As the press release explained, our intention is to broadcast it using the BBCs HD capacity, and I will give you more details on our plan later this year."

Briantist's 38,899 posts

...which, I think, means

"We will occasionally take over BBC TWO HD for an hour hear or there for 3D content"

Briantist's 38,899 posts
Monday, 25 March 2013

Briantist: My assumption is that BBC Two HD will be the sustaining feed for BBC Two, just as BBC One HD is for BBC One. If they're going to run 3D experiments on BBC Two HD, the SD services will have to opt out, so they'll have to build some BBC Two England SD opting capability. (Assuming that they actually provide a different programme on BBC Two SD compared to BBC Two HD - if they simply playout a downscaled 2D version, that would be fine.)

They will also have to be very sure that whatever they do for 2D compatibility works properly on all HD equipment. I recall reading that for at least one 3D trial, there was an MHEG application that stretched the left-eye image over the whole screen, but that only gives a 960x1080 image which many viewers may not find acceptable.

If they can't reach agreement on that, it might be possible to use some spare capacity on the HD multiplex, and on one of the BBC's leased satellite transponders, if they haven't yet found a tenant. 303 is still in the Freeview EPG. I don't know if it's difficult to get an additional video stream turned on for Sky and Freesat, without requiring retuning.

Mike Dimmick's 2,486 posts
Tuesday, 26 March 2013

Having waited forever for BBC Two HD I am surprised that on my Humax freetime box the programme is running correctly but the logo next to the channel number on the TV GUIDE remains BBC HD !
Not a problem on the Sky box or various FTA set top boxes,or terrestrial HD.
Also a strange C4 HD icon appearing on the top left corner of BBC1 screen.......have I imagined it all?
Well being 70 in October I expect so.....?

michael scott's 12 posts

Mike Dimmick: Very good points.

I will have to have a look at the presentation on BBC TWO HD today, but a counter-argument is that they might maintain an SD sustaining feed for BBC TWO as there is no need for the Scotland, NI and Wales versions to have an HD sustaining feed. This contrasts with BBC One where there are HD versions for Scotland, Wales and NI.

I'm not sure about the BBC using the capacity currently used for "303" on Freeview HD multiplex (BBCB) as they have offered to sell it off - BBC advertise for a new Freeview HD channel | High definition | ukfree.tv - 10 years of independent, free digital TV advice - but my *GUESS* is that BT will pay for this for BT Sports 1 HD.

I doubt very much if the BBC will want to alienate BBC ONE HD 2D users for the special Doctor Who with a MHEG-made low-res version. Especially if it won't work with a PVR.

Briantist's 38,899 posts

michael scott: It might take a short while for the logo to be corrected.

Briantist's 38,899 posts

I've noticed that Virgin Media haven't changed their channel number to 109 as they said they would. So BBC2 HD is using the old BBC HD channel number. I emailed them to ask when it would be on 109 next to BBC 1 HD and they said they would pass the suggestion on which makes me think they never planned to do it in the first place.

John B's 7 posts
John's:
map
J's Freeview map
terrain
J's terrain plot
waves
J's frequency data
J's Freeview Detailed Coverage

Correction VM never said they would change the channel number, I now find out. Seems a pity as it would be easier to have the BBC HD channels all together.

John B's 7 posts
John's:
map
J's Freeview map
terrain
J's terrain plot
waves
J's frequency data
J's Freeview Detailed Coverage
Select more comments
Your comment please