Want to better understand the current TV faults? See the all new UK Free TV page

Brian Butterworth published on UK Free TV
See: All transmitters with faults and engineering

Following from your suggestions, I have made changes to the icons used to show which Freeview transmitters have fault or engineering status associated with them.

Previously, you had to look quite hard to see which transmitters had current faults, and which had faults listed for the last few days.

The new format for the page looks like this.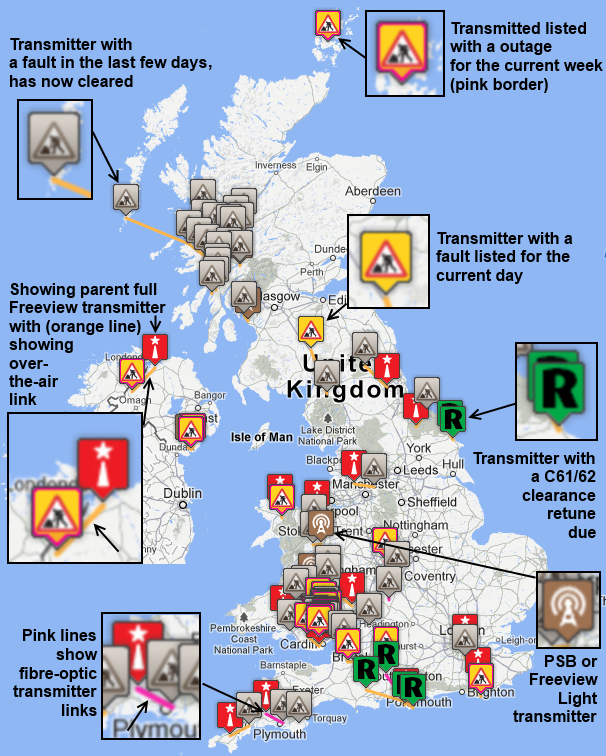 Only the sites with "live" faults are shown with the yellow symbol (those with Digital UK's "this week" status, a pink border).

I hope the above listed changes will help you to understand where the current faults and system outages are.

The new symbols carry though to other pages that shows transmitter symbols.
Comments
Thursday, 8 November 2018

Kavin:

You are just 28km away from the Crystal Palace transmitter so should be getting an excellent signal reliably. As that transmitter serves almost all of London, if it had problem there would be thousands of complaints - but there are none. So your system has a problem. Check all your aerial cables are undamaged and that all the connections are in good order. If there are coaxial plugs/sockets then unplug those and refit them. Then check what channels you are getting. I am assuming you have afairly new wideband aerial fitted to tget all 8 multiplexes.



MikeP's 3,056 posts
Tuesday, 25 December 2018
F
FERGUS GEORGE
8:00 AM
Dundee

I have a smart tv with freeview connected to an aerial. From 10.00p.m. yesterday I cannot get a signal from any of my Freeview channels at all and as at 7.45 a.m. today still cannot any reception unless I use the Freeview APPS to view certain programmes. Do you know of any problems in my local area ?
Fergus George,
128 Camphill Road, Broughty Ferry,
Dundee,
DD5 2NF

FERGUS GEORGE's 1 post
FERGUS's:
map
F's Freeview map
terrain
F's terrain plot
waves
F's frequency data
F's Freeview Detailed Coverage

FERGUS GEORGE:

There are no planned engineering wirks listed at the Angus transmitter. Therefore you should check all the aerial connections between your aerial and the TV equipment. Unplug any coaxial plugs/sockets and then refit to remove any possible corrosion/oxidation from the contacts. which is a common cause of problems such as you report.



MikeP's 3 posts
Thursday, 27 December 2018

My BBC signals have not been working for some 3hrs now. They came back briefly but have gone again. ITV is fine.

BH21 2nz FROM ROWRIDGE

Michael h greenland's 1 post
Michael's:
map
M's Freeview map
terrain
M's terrain plot
waves
M's frequency data
M's Freeview Detailed Coverage

Michael H Greenland:

Please carefully check your aerial cables and connections. IUnpli=ug all xcoaxial pligs/sockets and then refit. That will clear any corrosion/oxidation from the contacts which is a common cause of the problems you report.



MikeP's 3,056 posts
Wednesday, 9 January 2019
K
Kathleen Davidson
11:46 PM

Why have I been unable to get stv catch up on my I pad for weeks? I live in Banff and Buchan, Aberdeenshire

Kathleen Davidson's 1 post
Thursday, 10 January 2019

Kathleen Davidson:

Are you trying to use a streaming service? If so, then it may be a problem with the internet connection, or they may have stopped the service (it happens). You will certainly not be using the Freeview transmissions from any transmitter as the iPad is not capable of receiving the RF signals.



MikeP's 3,056 posts
Tuesday, 19 February 2019
G
Grahame Alan Baker
8:38 PM
Bridgwater

My HD programs keep going off nd saying no signal. I have checked areal nothing wrong with it. I live TA6 3PS. Is there a problem with transmitter.

Grahame Alan Baker's 3 posts
Grahame's:
map
G's Freeview map
terrain
G's terrain plot
waves
G's frequency data
G's Freeview Detailed Coverage

Though I live in the south iof England i like to watch BBC Scotland but BBC2 Scotland has disappeared from the network. Why has this happened and when is it likely to be available again ?

Jean Reynolds's 2 posts

Jean Reynolds: BBC Two Scotland has closed and will be replaced next week by the new BBC Scotland channel, which will be available on satellite (Sky/Freesat) across the whole of the UK, as well as on Freeview in Scotland (i.e. everyone who could previously receive BBC Two Scotland will get the new BBC Scotland channel). Viewers in Scotland now get the same version of BBC Two as those in England.

StevensOnln1's 3,552 posts
Select more comments
Your comment please