Want to better understand the current TV faults? See the all new UK Free TV page

Brian Butterworth published on UK Free TV
See: All transmitters with faults and engineering

Following from your suggestions, I have made changes to the icons used to show which Freeview transmitters have fault or engineering status associated with them.

Previously, you had to look quite hard to see which transmitters had current faults, and which had faults listed for the last few days.

The new format for the page looks like this.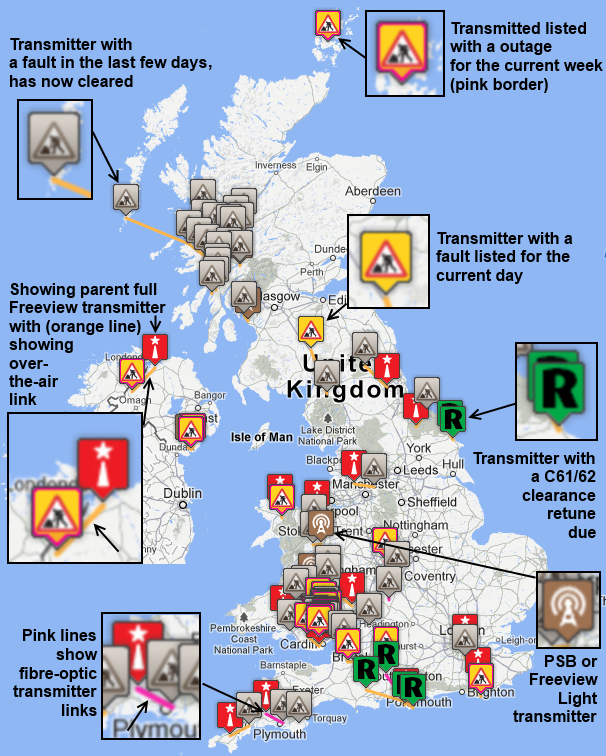 Only the sites with "live" faults are shown with the yellow symbol (those with Digital UK's "this week" status, a pink border).

I hope the above listed changes will help you to understand where the current faults and system outages are.

The new symbols carry though to other pages that shows transmitter symbols.
Comments
Monday, 13 May 2013

Whitehaven in Cumbria bore the brunt of the digital changeover. We were exempt as we were on sky but after 24 years we have moved to you view which uses free view. However when I tune in I get only a fraction of the full set of programmes - can anything be done. With Youview we will at some stage be able to get the full set via broadband but only when fibre appears. No one and I mean no one is able to say when this will happen. Does anyone at bt open world have any plans?

Rob's 4 posts

Rob: As stated many times on this website, there is a two-tier terrestrial television network in the UK. On the page for the Whitehaven transmitter only last month was this covered:

Whitehaven (Cumbria, England) digital TV transmitter | ukfree.tv - 10 years of independent, free digital TV advice

If you cannot receive the Freeview Commercial channels by using an alternative transmitter then Freesat may be your best bet to expand your viewing choice.

Freesat Freetime is the on-demand service, similar to what YouView is to Freeview:

Freesat :: free time from freesat

The YouView website suggests that a minimum speed of 3Mbps is required. This does not preclude the use of ADSL if it is sufficiently fast enough. Based on your comment I presume that you are too far away from the exchange for ADSL to function.

Is this what you're looking for?:

Home page : Connecting Cumbria

Perhaps write to your MP.

Dave Lindsay's 5,724 posts

Rob: According to SamKnows, Whitehaven exchange is due to get fibre to the cabinet (FTTC) this year:

SamKnows - Broadband Availability - Whitehaven (LCWHI) Exchange

However, you may be connected to one of the others. Cleator Moor, for example, does not have a forecast for FTTC.

Dave Lindsay's 5,724 posts
Tuesday, 14 May 2013
M
miss m Winter
9:16 PM
London

Cannot get channel guide up through our freeview box. How do we rectify this.. Any idea! Only happened this Sunday onwards.

miss m Winter's 1 post
miss's:
map
M's Freeview map
terrain
M's terrain plot
waves
M's frequency data
M's Freeview Detailed Coverage
Wednesday, 15 May 2013

miss m Winter: Yo should try carrying out a "factory reset" on your box, this also called "default setting" or "first time install".

jb38's 7,179 posts

No digital tv this am? Live in Sandford, North Somerset

Melissa Humphry's 1 post

I am getting a lot of interference particularly in the evenings on ITV channels. Surprisingly, there is no interference on advertising transmissions. Reception is from Sandy Heath.
Can you help please?

Mr W O Wittering's 1 post
Friday, 17 May 2013
P
Peter Stott
1:09 PM
Tiverton

It appears Freeview is not being received in Bampton, Devon, (EX16). The signal was lost this morning some time after 9am, but no fault appears to be shown on the map on this site. Is there any information about the fault and when it is expected to be fixed?

Peter Stott's 1 post
Peter's:
map
P's Freeview map
terrain
P's terrain plot
waves
P's frequency data
P's Freeview Detailed Coverage
Saturday, 18 May 2013

We have freeview with a harddrive recorder. We can be watching tv at night perfectly fine, when it comes to 10pm the picture on itv chsnnels breaks up itv,itv2,itv3 ch4, ch5 but no problem on the actual tv or bbc1,2,3,4. It just seems to be through the recorder and is from 10pm every night. Anything we have recorded from 10pm is unwatchable Our transmitter is Yorkshire. We have tried retuning no difference. Does the signal go down at night?

lesley aspin's 1 post

lesley aspin: No the signal is the same at all times.

I would suggest that there is some piece of electrical equipment nearby that is radiating interference. The fact that it starts at a regular time suggests that it is timed.

I would use a AM (MW or LW) radio powered from batteries. Tune it away from a station and listen for any noise.

Have the radio prior to the start time and see if the start of the noise on the radio coincides with the TV signal breaking up, that way you know you are listening to the cause.

AM radios have a ferrite rod in which act as the antenna. They are most sensitive in the axis perpendicular to their length. Hence, if you hold the radio with it facing you, when the sound is the loudest you know that it is coming from in front of, behind, above, or below you (or somewhere on that axis). Spin round to where it is at its quietest and the source of the noise must be from either end of the radio.

Dave Lindsay's 5,724 posts
Select more comments
Your comment please