Want to better understand the current TV faults? See the all new UK Free TV page

Brian Butterworth published on UK Free TV
See: All transmitters with faults and engineering

Following from your suggestions, I have made changes to the icons used to show which Freeview transmitters have fault or engineering status associated with them.

Previously, you had to look quite hard to see which transmitters had current faults, and which had faults listed for the last few days.

The new format for the page looks like this.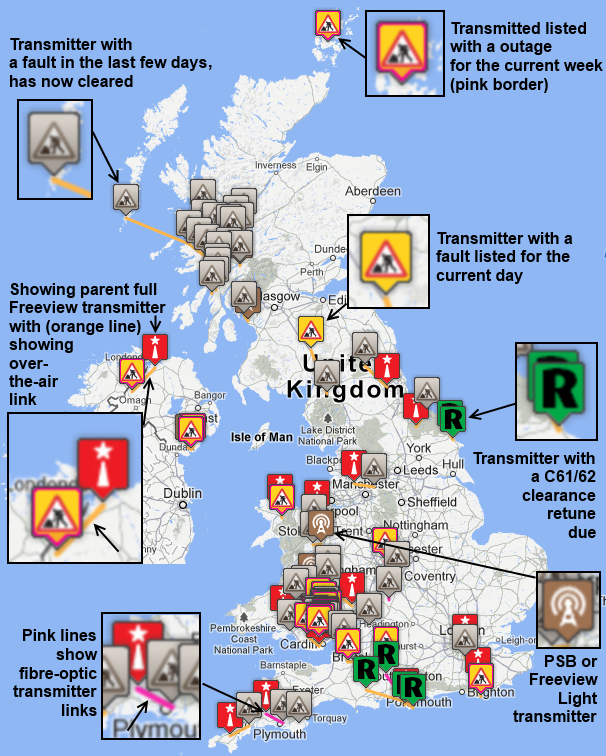 Only the sites with "live" faults are shown with the yellow symbol (those with Digital UK's "this week" status, a pink border).

I hope the above listed changes will help you to understand where the current faults and system outages are.

The new symbols carry though to other pages that shows transmitter symbols.
Comments
Friday, 11 October 2013

Diana: You don't seem to have a decent reception from most transmitters, other than Slapton. However, if your getting no signal, there is a problem in your own system, perhaps a loose or broken cable.

MikB's 2,579 posts
Saturday, 12 October 2013

Mike, Thank you for replying. I am quite high on a hill just above the Dart estuary and have a clear view over to the day mark on the hill the other side of the estuary on the Paignton side and he seemed to think this was better for me. Anyway, back to the problem, after emailing in great detail on another help site which appeared to be linked to the BBC I thought I'd better see if I could watch the TV itself (I never watch TV this way so didn't even think of it before!!) and lo and behold there was no problem so I tried tuning in Humax no 1 and had no problem and the same with Humax 2 so there must have been a glitch in the signal here. It could have been for several hours as I was only watching old recorded programmes earlier so don't know when it all started.

Diana's 6 posts
Diana's:
map
D's Freeview map
terrain
D's terrain plot
waves
D's frequency data
D's Freeview Detailed Coverage
Monday, 4 November 2013

Hi,
I'm at SG14 3RN and we point to Crystal Palace. We receive Freeview channels via original aerial - aerial and flylead at least 14 years old, booster in loft with newish CAT2 cable run from booster to TV sockets.. Picture was subject to breakup until the full switchover, improved when CAT2 and new booster installed and is excellent since power boosted on full digital switchover.
After the storm last week, the picture was initially perfect as ever but over this last weekend it has been subject to frequent break-up and virtually unwatchable at times, absolutely fine at others..This issue has been noted on both TV sets. I thought it must be a loose connection at aerial. But last night (Sunday) it was back to perfect (wind had completely dropped by the way). I just wanted to check if there had been any issues with Crystal Palace? And if its my set-up, what cable should I switch to for the flylead? Would a new aerial give me any benefits given we have been been perfectly happy before, and London guests comment what a brilliant picture it is?

Thanks
David

David's 1 post
David's:
map
D's Freeview map
terrain
D's terrain plot
waves
D's frequency data
D's Freeview Detailed Coverage
Sunday, 12 January 2014
L
Liz parkins
1:30 PM
Bristol

I have a goodmans free view box that has no channels. Watching tele last nite suddenly it went off like someone had flicked a switch.
On the menu of the freeview box the level and the quality are showing zero.
Can someone tell me if this is the box, aerial or transmitter problem?

Liz parkins's 1 post
Liz's:
map
L's Freeview map
terrain
L's terrain plot
waves
L's frequency data
L's Freeview Detailed Coverage

Liz parkins: Are you using some form of amplifier (booster)? If so then it might have failed. The power light being illuminated doesn't mean that it is functioning correctly, it just means there is power going into it.

Dave Lindsay's 5,724 posts
Monday, 7 July 2014
M
M Roberts
8:12 AM
Wrexham

The only way I can receive itv is true my dvd recorder. The two tvs without this connection have no single at all, although it does retune at night, how long is this going on for?


M Roberts's 6 posts
M's:
map
M's Freeview map
terrain
M's terrain plot
waves
M's frequency data
M's Freeview Detailed Coverage

M Roberts : The same signal which carries ITV also carries ITV2, Channel 4, Channel 5 and some others. So do you have these?

Further advice on reply.

Dave Lindsay's 5,724 posts
Tuesday, 3 February 2015
R
Robert Jeffrey
4:32 PM
Southport

I recently keep losing my freeview channels. My post Code is PR8. Is this caused by problems with the local transmitter?

Robert Jeffrey's 1 post
Robert's:
map
R's Freeview map
terrain
R's terrain plot
waves
R's frequency data
R's Freeview Detailed Coverage

Robert Jeffrey: Engineering works are taking place this week (started yesterday)at the Winter Hill transmitter, this resulting in random periods of you possibly receiving a weak signal from this station.

jb38's 7,179 posts
Thursday, 19 February 2015

what has happened to signal from winterhill transmitter it went dead at 10pm on the 18.02.2015

john lomax's 1 post
Select more comments
Your comment please