Want to better understand the current TV faults? See the all new UK Free TV page

Brian Butterworth published on UK Free TV
See: All transmitters with faults and engineering

Following from your suggestions, I have made changes to the icons used to show which Freeview transmitters have fault or engineering status associated with them.

Previously, you had to look quite hard to see which transmitters had current faults, and which had faults listed for the last few days.

The new format for the page looks like this.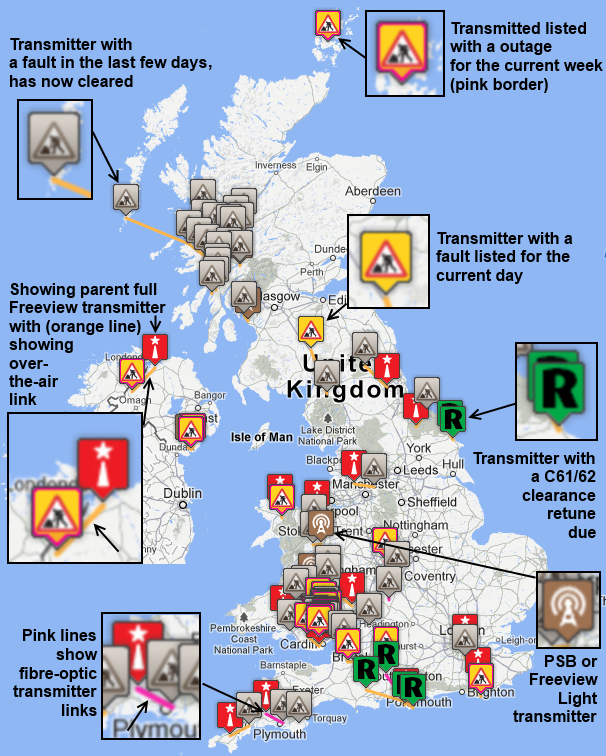 Only the sites with "live" faults are shown with the yellow symbol (those with Digital UK's "this week" status, a pink border).

I hope the above listed changes will help you to understand where the current faults and system outages are.

The new symbols carry though to other pages that shows transmitter symbols.
Comments
Saturday, 1 October 2016
R
Roger Kitsell
7:35 PM
Neath

I understand that transmitters are directional, with power varying, depending on direction. Is it possible to ascertain the output of Varteg Hill to the East towards SA10 9EY. And what type of aerial and gain are required for a decent reception.
Thank you
Roger

Roger Kitsell's 3 posts
Roger's:
map
R's Freeview map
terrain
R's terrain plot
waves
R's frequency data
R's Freeview Detailed Coverage

Roger Kitsell: Varteg Hill is a radio transmitter carrying the BBC national stations on DAB along with Radios 1-4, Radio Wales and Radio Cymru on FM. It doesn't carry any TV services. Are you looking for an external aerial for FM/DAB or are you looking for an aerial to receive Freeview from Ystalyfera which is the TV transmitter indicated as covering your postcode?

StevensOnln1's 3,569 posts
Sunday, 30 October 2016

Complete failure of all Freeview station suddenly

Tony Willis's 1 post
Thursday, 3 November 2016

Hi, Since Saturday the Winter hill transmission of TV Mux channels in RF frequency 31 are no longer being detected by all the TVs & DVR, however there are some times in the day when the old main frame can be viewed. This impacts BBC FOUR HD, BBC NEWS HD, Channel 4+1 HD, More4 HD, 47 HD, etc... Advice from Freeview TV was to contact AT800.tv, who has provided a 800Mhz filter to remove the 4G signal, this as expected has made no difference. I have asked othe neighbours and they are also having the same issues so I can assume my equipement is OK, which has been in use for the last four years with no issues. Location is PR6 8QB, very close to Winter hill hence all other channel signal strength is very high, apart from the channel 31 mux this weekend. Any advice on how we could inform Winter hilll there could be an issue which needs investigating?

Mike's 1 post
Mike's:
map
M's Freeview map
terrain
M's terrain plot
waves
M's frequency data
M's Freeview Detailed Coverage
Friday, 23 December 2016

I am in the rawtenstall area Bb48nx and all channels have gone down in the last 20 mins ?

Ian's 1 post
Wednesday, 28 December 2016

I feel very disappointed and let down by the quality and reliability of digital tv over this Christmas, a time when the tv is more important, we have lost channels we normally have access to, we have had no signals at all, pixel type screens, it's been very frustrating and at times quite stressful. What is happening?I thought this was progress not going back in time to rolling and fuzzy pictures! Think we were so much better with analogue, at least we new where we were with that and no carrots were dangled to set our appetites then the big let down!

Catherine Harden's 1 post

Catherine Harden: We have no idea what your transmitter or location is, so we cannot tell you what your signal should be like or if the transmitter has a problem - you can check for yourself.

However, in most cases, it has nothing at all to do with the transmitter (and such problems dont tend to last long anyway), but everything to do with the households aerial system having a fault - look at the page which will help you diagnose them. In other words, its likely to be a problem at your end.

BTW - analogue and digital signals come from exactly the same transmitters and close to the same power - so any problems are going to be similar, its just in the old days the TV picture went fuzzy, and now it just breaks up.

Thanks to digital, you get vastly more channels and HD.

MikeB's 2,579 posts
Thursday, 19 January 2017

Is there any easy way to find out about why freeview reception not working in Stratford East London for past week & what's best step to get it fixed ?

Don O's 1 post

Don O: Which transmitter are you using? There is a page for each transmitter on this site which will list any current engineering work or faults. If you don't know which transmitter you're receiving, please provide a postcode and we'll be able to offer further advice.

StevensOnln1's 3,569 posts
Sunday, 22 January 2017
B
Bob Loader
11:48 AM
Stone

I keep losing BBC News HD, Freeview 107. It seems that loss of Ch33 & Ch35 are the cause and affects all the programmes on those channels. Checking the "signal level" it shows 10, but on "signal condition" it is 0, at these times of loss. My rooftop aerial faces Sutton Coldfield transmitter. I use a Panasonic TV TX-40AX630B. I also have BT Vision installed. Post Code ST15 0PQ. The signal levels from the Wrekin transmitter are fairly high as we can see the Wrekin.

I have been involved with TV work since the 1950s, but at 85 I am a little out of touch now. When the signal "condition" is poor, what makes it poor, please? Could it be due to the Wrekin interference?

Bob Loader's 41 posts
Bob's:
map
B's Freeview map
terrain
B's terrain plot
waves
B's frequency data
B's Freeview Detailed Coverage
Select more comments
Your comment please