Want to better understand the current TV faults? See the all new UK Free TV page

Brian Butterworth published on UK Free TV
See: All transmitters with faults and engineering

Following from your suggestions, I have made changes to the icons used to show which Freeview transmitters have fault or engineering status associated with them.

Previously, you had to look quite hard to see which transmitters had current faults, and which had faults listed for the last few days.

The new format for the page looks like this.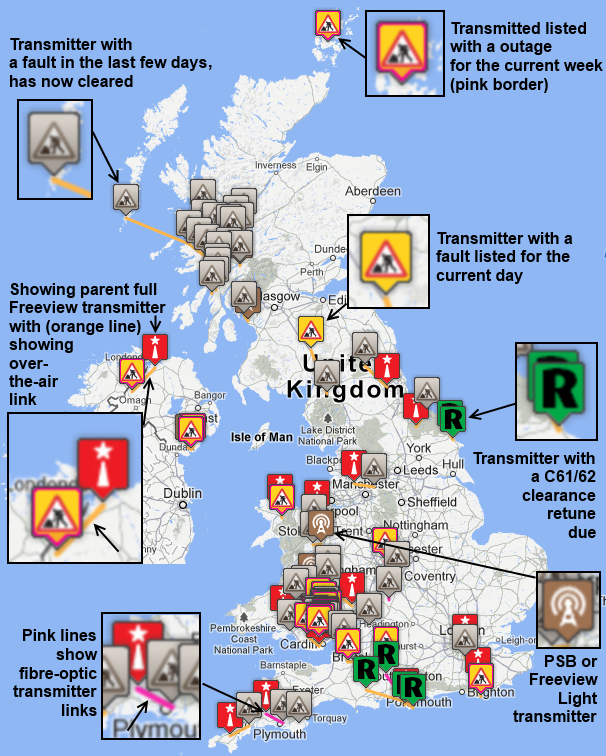 Only the sites with "live" faults are shown with the yellow symbol (those with Digital UK's "this week" status, a pink border).

I hope the above listed changes will help you to understand where the current faults and system outages are.

The new symbols carry though to other pages that shows transmitter symbols.
Comments
Sunday, 22 August 2021

bernadette bolger:

There could be a multitude of reasons why you might have (had?) problems receiving ITV. Are you still having the issue?
Reasons could be a transmitter fault (possibly fixed), weather conditions causing interference from other transmitters, some locations in your area can receive more than one transmitter, reception from some can be very variable and you may not be tuned to the best or have become tuned to the wrong one, or possibly some obscure fault with your installation.

If you are still having problems, we need a full postcode to look at the predicted reception in your locale and which transmitter(s) and multiplexes you might receive. Also roughly which way your aerial is pointing eg. NW, ENE, WSW, etc. and whether the aerial rods (or squashed Xs) are vertical or horizontal?

Chris.SE's 3,939 posts
Saturday, 20 November 2021

help I have no tv reception at all
It started about a month ago sqeaking and squarking until 7pm then it was ok but now I have nothing
I am tuned into the Beacon Hill transmitter!

AnnJones's 1 post

AnnJones: Have you checked for any loose or damaged cables or connections behind your TV? Is your aerial in the loft or on the roof and it it still attached and pointing in the correct direction? We need a full postcode to see where you are in relation to the transmitter and your predicted signal strength etc to be able to offer more specific advice.

StevensOnln1's 3,569 posts

AnnJones:

When you look up at your aerial and check it looks intact, that the rods (or squashed Xs) are horizontal and compare to neighbours if not sure it's pointing correctly. Check also your coax downlead looks secure and isn't flappimg in the wind.

As an aside, Beacon Hill has just been listed for Planned Engineering, so if the immediate problem is resolved you might see weak signals or interruptions during the week.

Chris.SE's 3,939 posts
Saturday, 27 November 2021

Does anyone know why there is no TV reception in Hebden Bridge Calderdale?

T Wright's 1 post

T Wright:

As noted on the Hebden Bridge transmitter page, there is Planned Engineering -
Hebden Bridge transmitter: Possible effect on TV reception week commencing 22/11/2021 Screen may go black on some or all channels [DUK]
BUT
Whilst the BBC have reported fault details on their individual transmitter page, they have NOT (yet?) added it to a page which is an engineering list of Freeview faults which is where the updates to this site come from.
From 6:27:55am on 27th Nov 2021 BBC A / BBCB HD Off the air due to a fault
I suspect this is due to current abysmal weather conditions.

Chris.SE's 3,939 posts

Hi, i am in the Hall Green B28 area, for the last 3 days some of my channels have been freezing, pixelating and losing them, different channels at different times, on channel diagnostics signal strenth 100% but quality 23,% and other times signal strenth 9% and quality 70%,, i have 1 channel at moment signal 0% and quality 76%, also most of the channels under Network Name say West Midlands, but a few say Com7National, is that right and for the pixelating is that to do with transmitter or my aerial,

paul reddington's 1 post

paul reddington:

Depending on your full postcode in your locale, your aerial is most likely pointing at the Sutton Coldfield transmitter which will be pretty much due N. The rods (or squashed Xs) should be horizontal.
No faults were listed in recent days but the transmitter was listed for Planned Engineering -
Possible effect on TV reception week commencing 22/11/2021 Possible Pixelation or flickering on some or all channels [DUK]

Now if you happened to retune when you had badly pixellated pictures (or no signal) it could have cleared your correct tuning and you may even be incorrectly tuned to weak signals from another transmitter.
It's worth checking in your TV's tuning section that you are tuned to the correct UHF channels for Sutton Coldfield.
All the multiplexes are C43, C46, C40+, C42, C45, C39+, C55, (C36/)C48 that's in the order
BBCA/PSB1, D3&4/PSB2, BBCB HD/PSB3, SDN/COM4, ArqA/COM5, ArqB/COM6, COM7 and Local L-BRM.
Note C36 is beamed northwards for the Local mux, yours will be C48. (C means UHF channel).

FYI see Channel listings for Industry Professionals | Freeview for which channels are carried on which multiplex. Those that are on COM7 will show Com7National as you've seen, which is correct as COM7 operates as an SFN and is the same all over the UK from the limited number of main transmitters that have it.

If you are correctly tuned, check that your aerial seems intact and pointing in the correct direction with the rods (or squashed Xs) horizontal and that your downlead looks undamaged and isn't flapping in the wind. If your aerial is in the loft, check it hasn't been disturbed. You should get excellent reception in your location.

Also check all you coax plugs, connections, flyleads etc, unplug connectors check for corrosion or other problems and reconnect them. Flyleads can be a common problem, try swapping them.
Then see what signal strengths (if any) and quality you are getting for the multiplexes shown in your TV's tuning section, this might indicate potential issues with your aerial or downlead.
If you post the figures for each again after checking everything, it may give us a clue.

Aerial misalignments, problematic connections, water ingress etc. can seem to affect reception of just AN individual or several multiplexes.

Do you have a distribution amp/splitter and where is it located? If you have one, check that it still has power and check the connections to it.

If you've altered anything around in your installation, check that you don't have any HDMI leads close to any aerial or flyleads, especially if the aerial and flyleads aren't high quality double screened types. HDMI is known to sometimes cause interference.

Chris.SE's 3,939 posts
Sunday, 22 January 2023

all ITV programmes are braking up from about 7-30pm 22/01/23 all other channels ie; BBC and freeview OK

john.s marjoram's 1 post

john.s marjoram:

This is obviously a local issue to you. Please read the post before yours to give you an idea of the sort of things that can cause problems and the sort of information needed, but especially the full postcode.

We've no idea which transmitter you may be receiving, what your predicted reception may be, whether there is a transmitter fault or Planned Engineering or weather conditions.
Check your aerial looks intact and is still pointing correctly.

Chris.SE's 3,939 posts
Select more comments
Your comment please