Want to better understand the current TV faults? See the all new UK Free TV page

Brian Butterworth published on UK Free TV
See: All transmitters with faults and engineering

Following from your suggestions, I have made changes to the icons used to show which Freeview transmitters have fault or engineering status associated with them.

Previously, you had to look quite hard to see which transmitters had current faults, and which had faults listed for the last few days.

The new format for the page looks like this.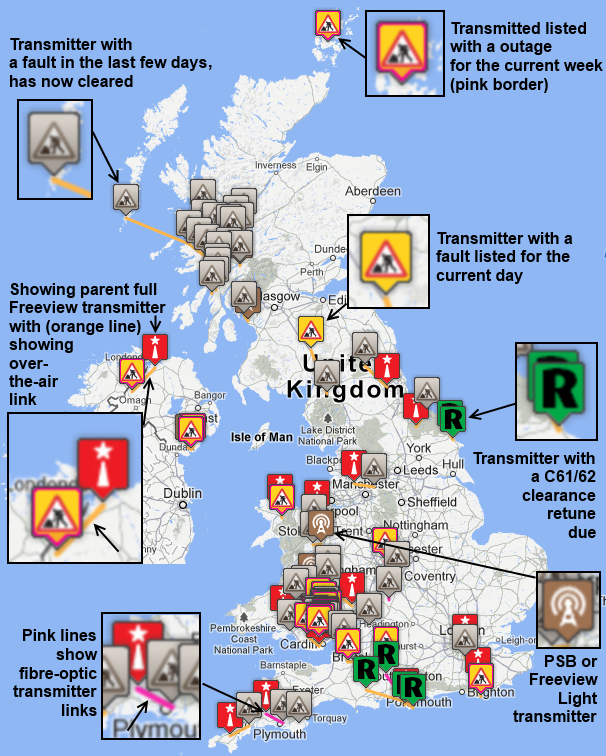 Only the sites with "live" faults are shown with the yellow symbol (those with Digital UK's "this week" status, a pink border).

I hope the above listed changes will help you to understand where the current faults and system outages are.

The new symbols carry though to other pages that shows transmitter symbols.
Comments
Sunday, 17 May 2015

Reception for programmes on Ch57 are too poor to watch since yesterday - Nrth Leicestershire. I'missing Star Trek on CBS! I have checked the reported faults web pages and retuned my TV to no avail. Is there anything else I can do?

Jane Lennie's 1 post

Jane Lennie: There are some things to look at on the Single frequency interference page.

Briantist's 38,899 posts
Saturday, 4 July 2015

For some reason wherei had no problem recieving all my channels in central scotland. The channels startedbreaking up and becoming unwatchable so tried retuning. Now i have lost some channels including sky news. Is there a issue with central scotland transmitter

Billy's 1 post

Billy: Digital UK publishes information about engineering works here:


Digital UK - Planned Engineering Works

The STV Central region has no works indicated.

Dave Lindsay's 5,724 posts
Thursday, 8 October 2015

reception in bradford. pixilated all the time.
emley moor transmitter by looks.

mick cannon's 2 posts
Monday, 19 October 2015

Has there been any transmitter works in the cv21 area that would have resulted in me losing all free view channels since Friday 16 th October 15?

Vinny newton's 1 post
Friday, 23 October 2015

I have lost my signal from blubell hill twice in two weeks i live in gillingham kent its working ok now

Graham Clarke's 1 post
Friday, 30 October 2015

My freeview via my tv stopped working mid programme 30 minutes ago and now no signal on any channel im in Ashford Kent. Anyone else experiencing problems?

Maria's 3 posts
Monday, 9 November 2015
P
Peter BaLDWIN
7:04 PM
Chorley

Transmitter Winter Hill
PR7 1PT

No signal on Freesat for ITV and some other channels

Peter BaLDWIN's 1 post
Peter's:
map
P's Freeview map
terrain
P's terrain plot
waves
P's frequency data
P's Freeview Detailed Coverage
R
Russell was
10:13 PM
Stafford

Bad signal on itv channels (freq 23)...

Russell was's 1 post
Russell's:
map
R's Freeview map
terrain
R's terrain plot
waves
R's frequency data
R's Freeview Detailed Coverage
Select more comments
Your comment please