Want to better understand the current TV faults? See the all new UK Free TV page

Brian Butterworth published on UK Free TV
See: All transmitters with faults and engineering

Following from your suggestions, I have made changes to the icons used to show which Freeview transmitters have fault or engineering status associated with them.

Previously, you had to look quite hard to see which transmitters had current faults, and which had faults listed for the last few days.

The new format for the page looks like this.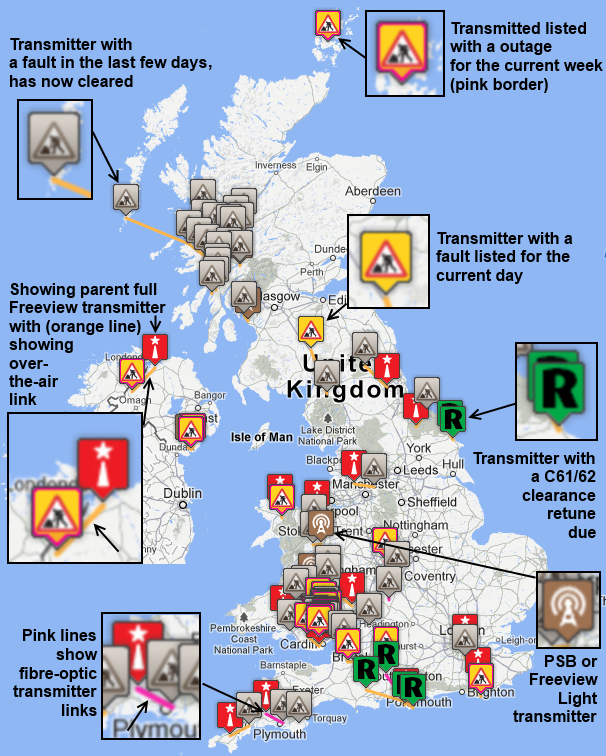 Only the sites with "live" faults are shown with the yellow symbol (those with Digital UK's "this week" status, a pink border).

I hope the above listed changes will help you to understand where the current faults and system outages are.

The new symbols carry though to other pages that shows transmitter symbols.
Comments
Monday, 6 June 2016

I have no signal for BBC1 all other channels are fine,

Angela Sharp's 1 post
R
Richard Cooper
4:55 PM
Norwich

Angela Sharp: Hi Angela. It is difficult/if not impossible for UK.TV subscribers to help you unless you state your postcode in your post. Once we know that, then we can help you. Reply back with your postcode and we'll get started! Richard, Norwich.

Richard Cooper's 466 posts
Richard's:
map
R's Freeview map
terrain
R's terrain plot
waves
R's frequency data
R's Freeview Detailed Coverage

Richard Cooper: NR11 (Cromer) I had problems last night with ITV4, but this had switched to BBC 1 and 2 this morning. That seemed to clear but 10 minutes ago (1700 ish) BBC1 and 2 have started breaking up again. Sometimes have sound only.

Kim Mitchell's 1 post

Hunstanton Norfolk no channels at all for the last 90 mins

Stuart's 2 posts

Hunstanton Norfolk Daves back but no BBC or itv

Stuart's 2 posts
Tuesday, 7 June 2016

Nick: a look at the Digital UK reception predictions for your location show that whichever transmitter is chosen there is unlikely to be reliable reception on Freeview across all services. It is fair to say that the more platforms you are able to use the more likely it becomes that you will be able to make the best use of your TV. If you are able to receive satellite transmissions they are likely to offer the most reliable TV service at your location, with Freeview for back up on those occasions that inclement weather or sunspots scupper satellite reception. Use of the internet too is another option, although reliability of online delivery can be very frustrating at times. Regarding Freeview I would be inclined to have a second aerial pointing to Sudbury/Rouncefall for backup on the PSB muxes as the prediction suggests that to be more reliable than the other options.




KMJ,Derby's 1,811 posts
Friday, 10 June 2016

I have no bbc 1 or 2 reception post code dt64nq

other channels working

Malcolm lawrence

D lawrence's 1 post

Porlock transmitter down....no channels found....went off right after mains interuption 21.45 (ish)

steve thompson's 1 post
Wednesday, 15 June 2016

weakening signal from armitage bridge repeater yesterday-14 june .
all hd and 50% channels now missing.
cannot find any maintenance or repair issues on web pages.

peter mercer's 1 post
R
Richard Cooper
10:23 AM
Norwich

peter mercer: Hi, Peter. I have just checked Armitage Bridge relay for issues and engineering works. There are neither taking place today. Have you tried to get your HD and other missing channels this morning? By the way, if you've done a retune recently, it is probably best to retune a couple of times more when you know that Armitage Bridge is working properly again, so that the channels you usually get are once again memorised by and are 'locked in' to your set! The best way to ascertain that Armitage Bridge is working properly is to ask a neighbour who has an outside aerial, with its elements (rods) vertical and pointing towards Armitage Bridge in Netherton. If such a neighbour can get HD channels and is not experiencing loss of other channels, there's something wrong with your installation that requires attention! Hope this helps, Richard, Norwich, Weds. 15th June, 10:20 a.m.

Richard Cooper's 466 posts
Richard's:
map
R's Freeview map
terrain
R's terrain plot
waves
R's frequency data
R's Freeview Detailed Coverage
Select more comments
Your comment please