Using Sky without a card? Let's call that Sky No Card

Brian Butterworth published on UK Free TV
I have made a change to the name used for the service provided by a Sky box and no viewing card.

This was called fSfS on UK Free TV. You can get this service still - from:

FREESAT from Sky - Call now to order for £175.





However, the name is a little confusing, because there is also the service freesat:

freesat - Subscription free HD Satellite TV through a Digital Box.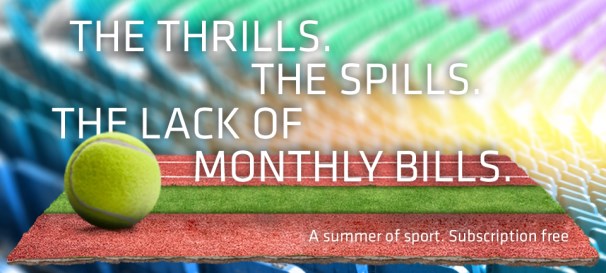 So, to make things clearer, the Sky service is now called "Sky No Card" on UK Free TV, and the other service "Freesat".
Comments
Monday, 19 January 2015

chris woods: Motors TV can be viewed on any normal (SD) Sky box on guide number 447 fitted with a standard non subscription card of the type mentioned, the HD qualification only applying to reception on Freeview due to the programme being transmitted on the COM7 multiplex which is an HD transmitter.

jb38's 7,179 posts
Wednesday, 2 May 2018

I have a sky q tv, line, broadband contract. When it expires I would like to use the system to access free sat only. I see this is possible but how do I actually make the change? Do I just wait till the contract expires and the free sat channels will stay and I can watch as normal? Or do I need to do something to make this happen?

S Evans's 1 post

S Evans:

Firstly, if you want 'true' Freesat (as opposed to Freesat from Sky) you will need to have the LNB on the dish changed as a Sky Q LNB is not usable for anything other than Sky Q box, plus you will need a Freesat box. I have not yet tried getting Freesat from Sky using a Sky Q box, so I don't know what will work. Perhaps some other contributors know?



MikeP's 3,056 posts

S Evans: You will be required to return the SkyQ box when your subscription ends, otherwise Sky will charge you for its replacement cost. As MikeP mentioned, you will need to get the LNB on your dish changed for a standard one in order to use a Freesat box (the wideband LNB fitted for SkyQ is not currently compatible with any other receivers).

StevensOnln1's 3,569 posts
Monday, 16 July 2018

Hiya,

I just cancelled my Sky subscription with multiroom and bought one of their Freesat by Sky cards for 25 to use with the Sky+ box in the living room. I bought a cheap freesat/freeview combo box for the bedroom that I got from Ebay for less than 30.

With all the channels I get in the bedroom through this cheap box with the ability to record with an external HDD or flash drive I am wondering what this Freesat by Sky card is offering me over and above the other box. Sky says their freesat has 240 channels and Freesat says they have 200. I can't find anywhere what extra channels I get and I don't get the ability to record from the Sky box.

Anyone have any idea what these extra 40 channels are please.

Thank you.

Diane

Diane's 3 posts
Tuesday, 17 July 2018

Diane : There are a few so-called Free-To-View services which are scrambled - these require the smartcard.

I'd list them if I could remember them.

You don't need the card for Free-To-Air (FTA) services.

This is a list of services currently on BSkyB and flagged as FTA but not on Freesat:

LCN Service Name
138 Channel 4 HD
139 4Music
159 Paramount
175 BEN
181 Sony Crime 2
182 GN TV
184 Horse & Country
185 propeller
186 AMC from BT
189 Property Show
193 Vox Africa
194 AIT Int'l
195 ABN TV
199 holiday+cruise
228 5STAR+1
250 5Spike+1
280 truTV+1
292 Showcase+1
327 Retro Movies
329 ROK
358 Box Upfront
359 The Box
360 Box Hits
361 KISS
362 Magic
363 Kerrang!
368 NOW 90s
370 Summer Hits
371 NOW 80s
372 Clubland TV
373 Massive R&B
502 Bloomberg
508 Euronews
510 NDTV 24x7
512 FRANCE Eng
514 CNC World
515 TVC News
560 Psychic Today
582 TBN UK
585 LOVEWORLD TV
586 Gospel Channel
587 Word Network
588 EWTN Catholic
589 Faith World TV
590 KICC TV
591 Believe TV
592 Olive TV
594 Faith UK
595 Hillsong
627 POP Max+1
666 High Street TV 1
667 Retail TV
668 High Street TV 2
669 Best Direct
670 Primal Cure
671 Ideal Extra
672 High Street TV 3
675 High Street TV 4
678 PaversShoes.tv
679 Thane
680 V Channel
684 Craft Extra
685 Shop Now
686 Price Crash
687 Sewing Quarter
688 Cruise1st.tv
706 PCNE Chinese
712 JUS Punjabi
713 PTV Prime
714 MATV National
715 Abu Dhabi TV
717 TV5 MONDE
720 HUM Masala
721 Hidayat TV
722 Record TV HD
723 GEO News
724 PTV Global
725 New Vision TV
726 Venus TV
727 Islam Channel
728 GEO TV
731 ABP News
732 Noor TV
733 Peace TV
734 CHSTV
735 PTC PUNJABI
737 GEO Kahani
738 AAJ TAK
739 IQRA TV
740 92 News
742 Islam TV
743 Brit Asia TV
744 IQRA BANGLA
745 Ahlebait TV
746 ATN Bangla UK
747 Madani Chnl
748 Sikh Channel
749 Peace TV Urdu
750 Ahlulbayt TV
751 Samaa
752 Channel i
753 Takbeer TV
755 Sangat
756 Aastha
757 NTV
758 SkyNws Arabia
759 TV 99
760 Akaal Channel
761 HUM EUROPE
762 British Muslim
763 Safeer TV
764 TV One
766 Islam Ch Urdu
767 Channel 44
769 Eman Channel
770 KTV
771 Aplus TV
772 Urdu1 Europe
773 iON TV
774 ARY Family
777 VTV
778 Sanskar
779 A1TV
780 Iran Int'l HD
781 NTAI
782 HUM News
878 CNN HD
880 Al Jazeera HD
899 Sky Intro
902 Xpanded TV
906 Babenation
909 Lucky Star
912 Studio 66
914 Xpanded TV2
923 Studio 66 2
924 Studio 66 3
940 Chat Box
950 Sky Intro
996 Chl Line-up
999 Sky
0112 Heart 80s
0122 WRN Europe
0129 Solar Radio
0130 Panjab Radio
0147 EWTN
0150 Sukh Sagar
0151 Khushkhabri
0169 Desi Radio
0178 Kiss
0180 Magic
0185 GN Radio
0186 Liberty
0188 Hits Radio
0201 Absolute 90s
0202 Jazz FM
0203 Classic Rock
0210 Newstalk
0214 UCB Ireland

js's 826 posts
Wednesday, 18 July 2018

Hi,

Thanks for the list.

Yeah, I;m getting all those channels on the Sky box with card and the cheapie freeview/freesat combi box in the bedroom.

I really want to know why I spent 25 on a freesat by sky card, what extra does it give me.

Diane

Diane's 3 posts
Wednesday, 8 August 2018

Diane : Hi Diane - I am just about to do the same thing I just wondered did you box upstairs work without any changes to your sky dish? Have read online changes need to be made for it to work. We don't have an antenna at the moment.

Thanks for you help

Lucy2018's 1 post
Thursday, 9 August 2018

Lucy2018:

If your current Sky box is not a Sky Q type then no changes are needed to either the box or the dish. Only if you have a Sky Q box will you need to change the LNB on the dish arm and have a different satellite receiver.



MikeP's 3,056 posts
Tuesday, 2 October 2018

js:

Can you get Channels like below on Freesat box also i want to record them too, i am paying 10 to sky for recording service, i want to cancel that and replace SKY box with Freesat Box

712 JUS Punjabi
713 PTV Prime
714 MATV National
715 Abu Dhabi TV
717 TV5 MONDE
720 HUM Masala
721 Hidayat TV
722 Record TV HD
723 GEO News
724 PTV Global
725 New Vision TV
726 Venus TV
727 Islam Channel
728 GEO TV
731 ABP News
732 Noor TV
733 Peace TV
734 CHSTV
735 PTC PUNJABI
737 GEO Kahani
738 AAJ TAK
739 IQRA TV
740 92 News
742 Islam TV
743 Brit Asia TV
744 IQRA BANGLA
745 Ahlebait TV
746 ATN Bangla UK
747 Madani Chnl
748 Sikh Channel
749 Peace TV Urdu
750 Ahlulbayt TV
751 Samaa
752 Channel i
753 Takbeer TV
755 Sangat
756 Aastha
757 NTV
758 SkyNws Arabia
759 TV 99
760 Akaal Channel
761 HUM EUROPE
762 British Muslim
763 Safeer TV
764 TV One
766 Islam Ch Urdu
767 Channel 44
769 Eman Channel

B's 2 posts
Select more comments
Your comment please