Expecting 4G interference? Tests now show that you have a one in 300 chance

Brian Butterworth published on UK Free TV
Looking back the the original posting, Ofcom moves to protect Freeview interference from 4G mobile, we can see the Ofcom suggested that:

Of the 16.3 million UK homes with a standard (unamplified, unshared) Freeview reception, 110,000 (0.67%) would be effected.

Of the 5.2 million homes using communal aerials systems, 550,000 (10.6%) will have problems.

Of the 5.6 million homes using amplified Freeview reception, 100,000 (1.8%) will experience problems.

Today, at800 have published the results of the tests in London, Brighton and Hove and York - at800 updates estimate of likely impact of 4G at 800 MHz on Freeview:

"Following tests conducted across the country, at800, the organisation responsible for protecting Freeview when 4G at 800 MHz is rolled out across the UK, has provided a new estimate of the likely scale of the impact. If national rollout reflects the results seen during its tests, at800 expects no more than 90,000 households, with Freeview as their primary TV service, to experience disruption caused by 4G at 800 MHz. Whatever the level of disruption, at800 is ready to restore Freeview to viewers.





at800 has now sent postcards to households in London and the surrounding areas in preparation for the activation of 4G at 800 MHz masts over the coming weeks and months. at800 is also sending postcards to other areas of the UK ahead of masts switching on. at800's mailing does not mean that 4G services will be available to consumers. For information about the availability of 4G services, people should contact their mobile operators.

In London, in particular, Freeview received from the Crystal Palace transmitter is unlikely to be affected by mast activation because of the strong terrestrial television signal and its relatively large frequency separation from 4G at 800 MHz. However, at800 is sending postcards and running a publicity campaign to ensure anyone who does experience new disruption to their Freeview service knows how to get in touch."

So with 26.50 million TV households in the UK (see Monthly universe summary - BARB) 90,000 represents 0.340% of them - that's a ONE IN THREE HUNDRED chance.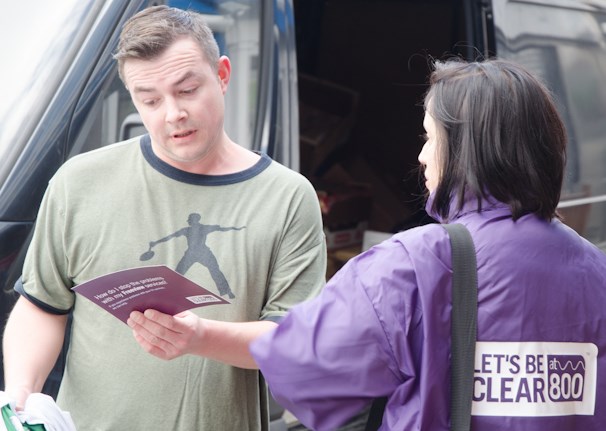 It seems that you are most likely to need a filter if:

a) you are a long way from a high power Freeview transmitter; and

b) you are very close to a 4G mobile phone mast; and

c) you are using a booster.

That's good news for Freeview viewers.



If you have had a postcode from at800 - see Received a postcard from at800?
Comments
Tuesday, 24 September 2013

Hi 22 september and 23 september have lost aii tv channels both day for long periods of the day when working picture breaks up and sound crackles please help

MR I J COLBOURNE's 1 post

MR I J COLBOURNE:

what is your location postcode?

do you know which transmitter you use?

do you have problems on all the tvs in the home?

jamie stevens's 207 posts
jamie's:
map
J's Freeview map
terrain
J's terrain plot
waves
J's frequency data
J's Freeview Detailed Coverage

We are on the edge of Sandy Heath transmissions and run an amplifier on the aerial. A fewdays ago, started losing reception on channel 21 stations. Tried to retune now can't get anything on channel 21. Is this caused by 4g??

Hugh's 1 post

Pauline McDougall : There isnt any engineering work being carried out at the Winter Hill transmitter, and so I suspect that your problem is being caused by the same reason as is presently affecting numerous other viewers located in certain parts of the country, insomuch that the current wave of high pressure is allowing distant stations to be received that are transmitting on the same mux channel as your local station hence killing its reception through data corruption.

Absolutely nothing can be done about this except to bide ones time and wait for the situation to improve.

jb38's 7,179 posts
P
Pauline McDougall
9:33 PM
Kendal

Many thanks for your reply, the reception is terrible tonight, I will await a change in the weather!!

Pauline McDougall's 1 post
Pauline's:
map
P's Freeview map
terrain
P's terrain plot
waves
P's frequency data
P's Freeview Detailed Coverage
Friday, 27 September 2013
G
Glenn Weavind
10:23 PM
Eastleigh

Of course we could always demand more power from our transmitters, or push for a small, low-power retransmit on Hut Hill (which is what stops us receiving from Rowridge).
My family in the West Highlands receive from a local TX that puts out about 10W.
So it's completely untrue to say 'Nothing can be done'.
Probably true to say 'Nothing will be done'.
And when my local (600m away) cellphone mast turns on 4G it will probably swamp my 20db+ mast-head pre-amp.....

Glenn Weavind's 3 posts
Glenn's:
map
G's Freeview map
terrain
G's terrain plot
waves
G's frequency data
G's Freeview Detailed Coverage

Yesterday reception was fine; tonight it is terrible ( as it was 2 and 3 nights ago.) What is going on? Some channels are una ffected, it seems, eg CNN, ideal home(22) but itv and bbc hopeless. I think I am on the Sandy transmitter. I live in Earith (edge of the fens, rural Cambridgeshire). This is the first time since the big switch that such prolonged problems have occurred.

Laura Harrison's 2 posts

Pictures in Chard,Somerset keep breaking up tonight. When I try to retune keeps finding stations in Cambs and Beds, Midlands or East Yorks instead of West where programmes normally come from.

Hugh Redwood's 5 posts

Hugh Redwood YOU DONT KNOW NOTHING

its got nothing todo with next door or neighbors ITS THE DAM TRANSMITION station

nothing's 1 post

Just like to reassure everyone that comment made at 10:49 is nothing to do with me. It would appear someone has hijacked my name and posted an abusive comment.The privacy policy obviously does not work.Perhaps the site mediators/owners should edit comments on here in future before they are posted publicly.

Hugh Redwood's 5 posts
Select more comments
Your comment please