Expecting 4G interference? Tests now show that you have a one in 300 chance

Brian Butterworth published on UK Free TV
Looking back the the original posting, Ofcom moves to protect Freeview interference from 4G mobile, we can see the Ofcom suggested that:

Of the 16.3 million UK homes with a standard (unamplified, unshared) Freeview reception, 110,000 (0.67%) would be effected.

Of the 5.2 million homes using communal aerials systems, 550,000 (10.6%) will have problems.

Of the 5.6 million homes using amplified Freeview reception, 100,000 (1.8%) will experience problems.

Today, at800 have published the results of the tests in London, Brighton and Hove and York - at800 updates estimate of likely impact of 4G at 800 MHz on Freeview:

"Following tests conducted across the country, at800, the organisation responsible for protecting Freeview when 4G at 800 MHz is rolled out across the UK, has provided a new estimate of the likely scale of the impact. If national rollout reflects the results seen during its tests, at800 expects no more than 90,000 households, with Freeview as their primary TV service, to experience disruption caused by 4G at 800 MHz. Whatever the level of disruption, at800 is ready to restore Freeview to viewers.





at800 has now sent postcards to households in London and the surrounding areas in preparation for the activation of 4G at 800 MHz masts over the coming weeks and months. at800 is also sending postcards to other areas of the UK ahead of masts switching on. at800's mailing does not mean that 4G services will be available to consumers. For information about the availability of 4G services, people should contact their mobile operators.

In London, in particular, Freeview received from the Crystal Palace transmitter is unlikely to be affected by mast activation because of the strong terrestrial television signal and its relatively large frequency separation from 4G at 800 MHz. However, at800 is sending postcards and running a publicity campaign to ensure anyone who does experience new disruption to their Freeview service knows how to get in touch."

So with 26.50 million TV households in the UK (see Monthly universe summary - BARB) 90,000 represents 0.340% of them - that's a ONE IN THREE HUNDRED chance.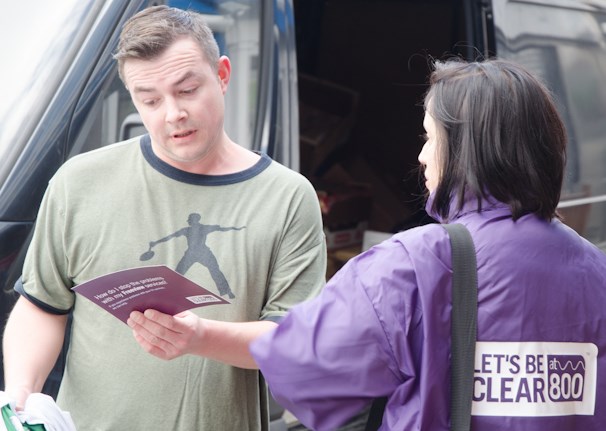 It seems that you are most likely to need a filter if:

a) you are a long way from a high power Freeview transmitter; and

b) you are very close to a 4G mobile phone mast; and

c) you are using a booster.

That's good news for Freeview viewers.



If you have had a postcode from at800 - see Received a postcard from at800?
Comments
Wednesday, 14 August 2013

We are in the Llandaff area of Cardiff, South Wales and for the past week or so have been experiencing severe disruption to all channels on DTV, making the freeview TV totally unviewable. Is anyone else in this area having the same problem and does anyone know why and how long it will last?
Helen

Helen's 1 post
Helen's:
map
H's Freeview map
terrain
H's terrain plot
waves
H's frequency data
H's Freeview Detailed Coverage
Thursday, 22 August 2013
L
Lisa Plant
11:13 AM
Stoke-on-trent

Hi
Have been having sigificant interference with mainly the BBC channels since the beginning of summer. The picture keeps stalling and signal is sometimes lost altogether - its becoming unbearable to watch! What is happening. My postcode is ST6 3DJ and everybody in my area has to get their signal from the Wrekin as it the closest transmitter is blocked by hills. Please couls you offer some explanation as to when this issue will be resolved.

Many thanks


Lisa Plant's 1 post
Lisa's:
map
L's Freeview map
terrain
L's terrain plot
waves
L's frequency data
L's Freeview Detailed Coverage
Friday, 23 August 2013
I
Ian from notts
7:17 AM
Stoke-on-trent

Lisa Plant- Do a manual signal check on BBC1 as your Freeview may have stored signals from Fenton Transmitter (43) or Winter Hill Transmitter (50), Both show as a possibillty. If so, Do a Manual Scan on Signal (26) The Wrekin BBCA.
It may be worth before doing above to check your TV listings for Channels stored in the 800's which duplicate? As you may find a set of BBC Channels that work perfectly well

Ian from notts's 253 posts
Ian's:
map
I's Freeview map
terrain
I's terrain plot
waves
I's frequency data
I's Freeview Detailed Coverage

Helen- A quick look shows there are a lot of Relay Transmitters around Cardiff, Your Postcode will help,
Also making a note of the Manual Tune frequency's will help to tell which Transmitter/s you are picking up signals from.
Check signal levels on Channels BBC1, ITV1, ITV10, PickTV, 4Music. These are two digit numbers

Ian from notts's 253 posts
Tuesday, 27 August 2013

Can anyone offer any explanation as to why here in Wimborne (Dorset) reception from Rowridge becomes almost unwatchable at 6 p.m. and at 9 a.m. every day. This has gone on for several months now without let up. We have individual aerials and I have a booster. Reception is lost and a zig-zagging screen lasts for about a minute at a time for at least half an hour at these times of day.

VALERIE's 7 posts

VALERIE: You posted a couple of times before about poor reception, but the fact that your pinpointing certain times of day does point to interference, perhaps from a boiler, etc nearby. (6pm - 9am sounds like hot water!)

The best thing you can do is to make sure that you have good quality leads to block out any outwanted electrical interference - these ones for £3 would be fine Online Satellite/TV/FM/DAB Cable, Leads and Connectors sales.

The other thing that does occur is too strong a signal (you've complained before about poor reception), and since you've a booster, check on signal strength - you should be at 75%. If its nearer 100%, then try bypassing the booster and see if it helps.

MikeB's 2,579 posts

MikeB: Thanks Mike. I have a neighbour who has been told that the boiler might be the culprit. My own water boiler turns OFF at roughly these times! The signal strength is 75% so I guess that's OK.

The boiler by the way is here in the same room as the television.

VALERIE's 7 posts
VALERIE's:
map
V's Freeview map
terrain
V's terrain plot
waves
V's frequency data
V's Freeview Detailed Coverage
Thursday, 29 August 2013

Hi I live in Blackpool, recently the BBC channels have been freezing is this anything to do with 4G ? how can I get a free filter ?

Tracy Burberry's 1 post

In the last couple of weeks reception for ITV, BBC2 and some other channels here in North Devon (Westward Ho!) has been terrible. Does any one know why this is?
Many thanks
Louis

Louis's 2 posts
Thursday, 5 September 2013
G
Geral Lennon
1:19 PM
Ilfracombe

I am also in North Devon, and I have found channels move around each time you rescan. But my BT Sports 2 channel disappeared on Aug 30th. Sports 1 is fine?

Geral Lennon's 3 posts
Geral's:
map
G's Freeview map
terrain
G's terrain plot
waves
G's frequency data
G's Freeview Detailed Coverage
Select more comments
Your comment please