Expecting 4G interference? Tests now show that you have a one in 300 chance

Brian Butterworth published on UK Free TV
Looking back the the original posting, Ofcom moves to protect Freeview interference from 4G mobile, we can see the Ofcom suggested that:

Of the 16.3 million UK homes with a standard (unamplified, unshared) Freeview reception, 110,000 (0.67%) would be effected.

Of the 5.2 million homes using communal aerials systems, 550,000 (10.6%) will have problems.

Of the 5.6 million homes using amplified Freeview reception, 100,000 (1.8%) will experience problems.

Today, at800 have published the results of the tests in London, Brighton and Hove and York - at800 updates estimate of likely impact of 4G at 800 MHz on Freeview:

"Following tests conducted across the country, at800, the organisation responsible for protecting Freeview when 4G at 800 MHz is rolled out across the UK, has provided a new estimate of the likely scale of the impact. If national rollout reflects the results seen during its tests, at800 expects no more than 90,000 households, with Freeview as their primary TV service, to experience disruption caused by 4G at 800 MHz. Whatever the level of disruption, at800 is ready to restore Freeview to viewers.





at800 has now sent postcards to households in London and the surrounding areas in preparation for the activation of 4G at 800 MHz masts over the coming weeks and months. at800 is also sending postcards to other areas of the UK ahead of masts switching on. at800's mailing does not mean that 4G services will be available to consumers. For information about the availability of 4G services, people should contact their mobile operators.

In London, in particular, Freeview received from the Crystal Palace transmitter is unlikely to be affected by mast activation because of the strong terrestrial television signal and its relatively large frequency separation from 4G at 800 MHz. However, at800 is sending postcards and running a publicity campaign to ensure anyone who does experience new disruption to their Freeview service knows how to get in touch."

So with 26.50 million TV households in the UK (see Monthly universe summary - BARB) 90,000 represents 0.340% of them - that's a ONE IN THREE HUNDRED chance.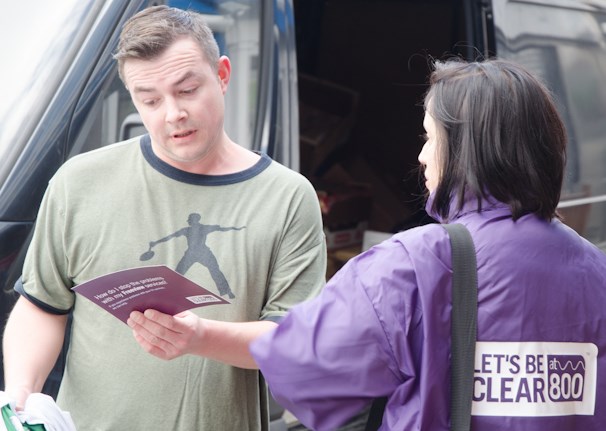 It seems that you are most likely to need a filter if:

a) you are a long way from a high power Freeview transmitter; and

b) you are very close to a 4G mobile phone mast; and

c) you are using a booster.

That's good news for Freeview viewers.



If you have had a postcode from at800 - see Received a postcard from at800?
Comments
Wednesday, 17 July 2013

I have returned from holiday to find we can only get 8 channels - lost all the 'important' ones. Fitted the box sent out in the post to the booster with no joy... help what do we do next. Just paid out to have new aerials and boosters early this year.

michelle's 1 post

michelle : The filter should be fitted before any booster because the 800MHz 4G signals could affect it.

Some boosters are 2-part systems whereby what may appear to be a booster sits behind the TV set. The booster is the thing on the roof, the box behind the TV merely being a power supply. Thus a filter needs fitting prior to the booster on the roof.

Can you confirm that the aerial feeds into the filter and out into the booster? The make and model number of the booster should allow use to determine which it is.

If it turns out that a filter needs fitting adjacent to the aerial (so as to be before any booster sited on the roof) then you will have to contact at800 in the hope that they will cover the cost of such work. I understand that they do, although there may be limitations.

Dave Lindsay's 5,724 posts

I've fitted the filter with no benefit a lot of my channels are disrupted and unwatchable.

mike dee's 2 posts
Thursday, 18 July 2013

I live in Stockport sk3, anyone?

mike dee's 2 posts
Friday, 19 July 2013
I
Ian from notts
8:13 AM
Nottingham

Can anyone state where 4G has started to be used ? I notice filters are being sent out but im not aware of 4G actually being available to anyone ?

Ian from notts's 253 posts
Ian's:
map
I's Freeview map
terrain
I's terrain plot
waves
I's frequency data
I's Freeview Detailed Coverage

Ian from notts: no services have stated yet in an official capacity. The operators have to give eight weeks notice.

Briantist's 38,908 posts
Saturday, 20 July 2013
I
Ian from notts
8:31 AM
Nottingham

Briantist- Thankyou, are they sending filters out to probable problem area's?

Ian from notts's 253 posts
Ian's:
map
I's Freeview map
terrain
I's terrain plot
waves
I's frequency data
I's Freeview Detailed Coverage
Monday, 22 July 2013

Complete loss of all channels since Saturday. I live in Peterborough. Is there a solution ?

john gidden's 1 post

john gidden: If you have a Sony PVR, then thats easily explained....!

Seriously, I'm in Pebo as well, and reception has been fine. Start by having a look at your leads from the TV to the aerial - are they secure? Then make sure that if you have a booster/splitter system, that its working (although I doubt you need one now).

If you include your postcode, which transmitter you use, and details of your setup (what type of aerial, recorder, TV model number), then we can hopefully help.

MikeB's 2,579 posts

I too live in SK3 and have started having issues in the last week ( i didnt watch much tv for the last couple of weeks)

mikem's 1 post
mikem's:
map
M's Freeview map
terrain
M's terrain plot
waves
M's frequency data
M's Freeview Detailed Coverage
Select more comments
Your comment please