Expecting 4G interference? Tests now show that you have a one in 300 chance

Brian Butterworth published on UK Free TV
Looking back the the original posting, Ofcom moves to protect Freeview interference from 4G mobile, we can see the Ofcom suggested that:

Of the 16.3 million UK homes with a standard (unamplified, unshared) Freeview reception, 110,000 (0.67%) would be effected.

Of the 5.2 million homes using communal aerials systems, 550,000 (10.6%) will have problems.

Of the 5.6 million homes using amplified Freeview reception, 100,000 (1.8%) will experience problems.

Today, at800 have published the results of the tests in London, Brighton and Hove and York - at800 updates estimate of likely impact of 4G at 800 MHz on Freeview:

"Following tests conducted across the country, at800, the organisation responsible for protecting Freeview when 4G at 800 MHz is rolled out across the UK, has provided a new estimate of the likely scale of the impact. If national rollout reflects the results seen during its tests, at800 expects no more than 90,000 households, with Freeview as their primary TV service, to experience disruption caused by 4G at 800 MHz. Whatever the level of disruption, at800 is ready to restore Freeview to viewers.





at800 has now sent postcards to households in London and the surrounding areas in preparation for the activation of 4G at 800 MHz masts over the coming weeks and months. at800 is also sending postcards to other areas of the UK ahead of masts switching on. at800's mailing does not mean that 4G services will be available to consumers. For information about the availability of 4G services, people should contact their mobile operators.

In London, in particular, Freeview received from the Crystal Palace transmitter is unlikely to be affected by mast activation because of the strong terrestrial television signal and its relatively large frequency separation from 4G at 800 MHz. However, at800 is sending postcards and running a publicity campaign to ensure anyone who does experience new disruption to their Freeview service knows how to get in touch."

So with 26.50 million TV households in the UK (see Monthly universe summary - BARB) 90,000 represents 0.340% of them - that's a ONE IN THREE HUNDRED chance.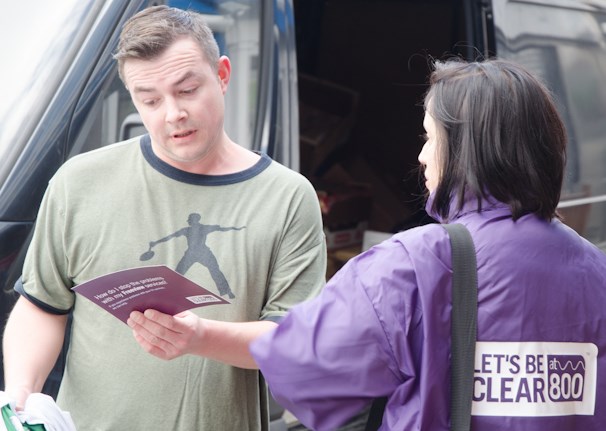 It seems that you are most likely to need a filter if:

a) you are a long way from a high power Freeview transmitter; and

b) you are very close to a 4G mobile phone mast; and

c) you are using a booster.

That's good news for Freeview viewers.



If you have had a postcode from at800 - see Received a postcard from at800?
Comments
Wednesday, 10 July 2013

A complete loss of ITV1, CH 4, Ch 5 and others (thus ?? loss of D3+4??) on Freeview received by Humax PVR 9300t and an LG 42 LK530T DTV bought Dec 2012. In NE3 (Newcastle upon Tyne)area. The Fenham and Pontop Pike aerials apparently have no problems. Multiple re-tuning & re-setting with and without the aerial connected as advised plus checking software, (no new software updates available) does not solve the problem. Other signal strength & quality 100% eg Ch 58 BBC2. We had a new antenna & new cables last year so all technically OK. All other progs receive OK tho' Fim4 is stuttering today. Hot sunny weather yesterday (85F!!) and cooler cloudy today (65F) so NOT weather dependant.

DavidB's 4 posts
Dale Martin
7:31 PM


DavidB: which area are you in I'm having the same problems

Dale Martin's 5 posts

Dale Martin and DavidB: It might be helpful to look at the William Hepburn tropospheric ducting forecast chart to see for yourself the areas affected by ducting and from where you might be able to receive out of area signals. Just enter http//www.dxinfocentre.com/tropo_eur.html

KMJ,Derby's 1,811 posts

Correction to above. Enter http:www.dxinfocentre.com/tropo_eur.html

KMJ,Derby's 1,811 posts

Dale Martin: As originately posted I am in the Newcastle upon Tyne area - NE3.

DavidB's 4 posts

KMJ,Derby: thanks for the link; interesting. Really is it possible that such complete loss of discrete mainstream Freeview digital transmission (ITV1, Ch4, Ch5) should/should be attributed to atmospheric conditions in this day and age?

DavidB's 4 posts

DavidB: the laws of physics still apply to the signals even if they are digital rather than analogue.

Briantist's 38,899 posts

DavidB: Even though more efficient transmitting antennae have been designed, which limit the amount of signal wasted skywards there is no way (at least as yet) of changing the laws of physics. Notably it was the traditional night time reception via the ionosphere on medium wave (which was put to good use by Radio Luxembourg for their English service) that put a spanner in the works, so to speak, with the Digital Radio Mondiale trials that were made on BBC Radio Devon, as the transmissions from abroad caused so much interference after nightfall.

KMJ,Derby's 1,811 posts
Thursday, 11 July 2013

Clare:

There are no 4G mast active in this area so this will not be the culprit. with you saying you lost them after a retune - how old is your freeview equipment?

john's 1 post
john's:
map
J's Freeview map
terrain
J's terrain plot
waves
J's frequency data
J's Freeview Detailed Coverage

All sorted now. The problem was a poor signal to the amplifier/splitter (rubbish in, rubbish out!). A new aerial [possibly not required as the existing one was 3 yrs old] and new cable to the amplifier has resulted in an excellent signal to all rooms. The original cable (?>20 yrs old) probably should have been replaced with a new one back in 2010 when the new aerial was installed but it wasn't.

DavidB's 4 posts
Select more comments
Your comment please