Expecting 4G interference? Tests now show that you have a one in 300 chance

Brian Butterworth published on UK Free TV
Looking back the the original posting, Ofcom moves to protect Freeview interference from 4G mobile, we can see the Ofcom suggested that:

Of the 16.3 million UK homes with a standard (unamplified, unshared) Freeview reception, 110,000 (0.67%) would be effected.

Of the 5.2 million homes using communal aerials systems, 550,000 (10.6%) will have problems.

Of the 5.6 million homes using amplified Freeview reception, 100,000 (1.8%) will experience problems.

Today, at800 have published the results of the tests in London, Brighton and Hove and York - at800 updates estimate of likely impact of 4G at 800 MHz on Freeview:

"Following tests conducted across the country, at800, the organisation responsible for protecting Freeview when 4G at 800 MHz is rolled out across the UK, has provided a new estimate of the likely scale of the impact. If national rollout reflects the results seen during its tests, at800 expects no more than 90,000 households, with Freeview as their primary TV service, to experience disruption caused by 4G at 800 MHz. Whatever the level of disruption, at800 is ready to restore Freeview to viewers.





at800 has now sent postcards to households in London and the surrounding areas in preparation for the activation of 4G at 800 MHz masts over the coming weeks and months. at800 is also sending postcards to other areas of the UK ahead of masts switching on. at800's mailing does not mean that 4G services will be available to consumers. For information about the availability of 4G services, people should contact their mobile operators.

In London, in particular, Freeview received from the Crystal Palace transmitter is unlikely to be affected by mast activation because of the strong terrestrial television signal and its relatively large frequency separation from 4G at 800 MHz. However, at800 is sending postcards and running a publicity campaign to ensure anyone who does experience new disruption to their Freeview service knows how to get in touch."

So with 26.50 million TV households in the UK (see Monthly universe summary - BARB) 90,000 represents 0.340% of them - that's a ONE IN THREE HUNDRED chance.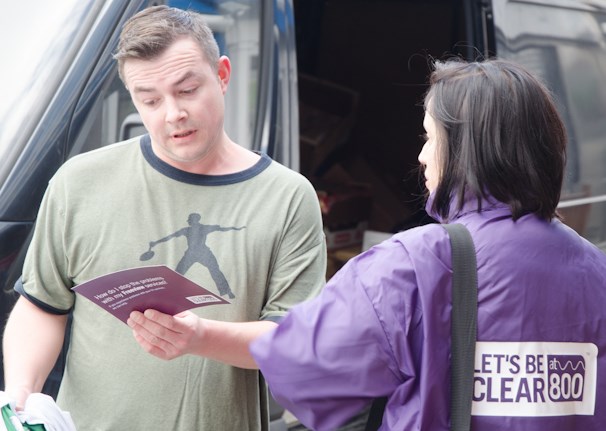 It seems that you are most likely to need a filter if:

a) you are a long way from a high power Freeview transmitter; and

b) you are very close to a 4G mobile phone mast; and

c) you are using a booster.

That's good news for Freeview viewers.



If you have had a postcode from at800 - see Received a postcard from at800?
Comments
Wednesday, 12 June 2013

Daniella, having checked your aerial is plugged in OK you might try seeing if you can get into 'Menu' etc and try re-tuning. If you have an inbuilt or external DVD player you might also see if that works OK. If it doesn't then your problem is unlikely to be anything to do with aerial,tuning or 4G.

Jack Luxon's 33 posts
Thursday, 13 June 2013
J
Jack Luxon
10:51 AM
Weston-super-mare

I'd like to make a suggestion. I'm fairly new to this website and in common with most websites it has lots of info, and for an old geezer it's sometimes a little difficult to negotiate, however I've seen that somehow or other you've got my postcode and at the top of most pages I have the opportunity to click on a link to Digital UK which displays transmitter info for my location. This is brilliant especially as elsewhere there is a listing of what programmes are on which muxes. Having read some of the problems that some people are having I feel that some may be able to help themselves to a certain extent by using the Digital UK link to discover the transmitter that is likely to be serving them, and also to check to see if their problem is happening on all programmes, or possibly only those from one particular mux, which may be out of action, or need a re-tune. I realise this is nothing to do with 4G, but at the moment there are many suspecting 4G to be the cause of problems.

Jack Luxon's 33 posts
Jack's:
map
J's Freeview map
terrain
J's terrain plot
waves
J's frequency data
J's Freeview Detailed Coverage
J
Jack Luxon
11:05 AM
Weston-super-mare

PS Further to my question of June 11th, it's not a bloke in a van, the 4G test signals are broadcast from masts at existing sites in selected areas.

Jack Luxon's 33 posts
Jack's:
map
J's Freeview map
terrain
J's terrain plot
waves
J's frequency data
J's Freeview Detailed Coverage
Monday, 17 June 2013

Jack Luxon: Thanks for your suggestions.

I have made the changes in line with your comments - Want faster mobile access to free TV information? | About UK Free TV | ukfree.tv - 10 years of independent, free digital TV advice

Briantist's 38,899 posts
Monday, 24 June 2013

Up until about a month ago, we had great freeview reception on all the televisions in the house,now we can only recieve a fraction of the original channels and we also cant get bbc north west but bbc wales most of the pictures freeze or click and the pictures turn into blocks .My post code is ch43 0tt, could the probem be due to the the new 4g network? Thanks for any help

Ian's 1 post
Ian's: ...

Ian: No, definately not a 4G issue because there are no 4G signals at 800MHz in your area.

You have asked the question as to whether this might be 4G interference. Are you seeking to find a solution or is that it?

If you are looking to find a solution, then you have identified the problem! You said you are now picking up BBC Wales which means that you must be tuned to a transmitter to which your aerial wasn't installed for (that is, one to which it doesn't point).

Dave Lindsay's 5,724 posts

Ian: As Dave has mentioned it sounds like you are picking up the Moel Y Parc transmitter in wales (opposite Parkgate). It should ideally be winter hill or possibly Storton Woods (although the later is much weaker)- you can try a manual search or point your aerial towards Winterhill (like your neighbors most likely are).

Ross's 2 posts
Ross's:
map
R's Freeview map
terrain
R's terrain plot
waves
R's frequency data
R's Freeview Detailed Coverage
Tuesday, 25 June 2013
J
Jack Luxon
9:35 PM
Weston-super-mare

Although Yagi aerials are designed to be directional they do exhibit a certain amount of 'fringe' reception. Here in WSM those in the lee of the Mendip hills use the Ubley relay station. This is vertically polarised, as are the users' aerials, but some find that they can also pick up the Wenvoe transmitter which is almost exactly 180 degrees in the opposite direction AND polarised horizontally. This is seen as an advantage. Users manually tune to Ubley for BBCA and D3&4 plus SDN, ARQA & ARQB from Wenvoe as these programmes are not in welsh, but also not available from a relay station.

Jack Luxon's 33 posts
Jack's:
map
J's Freeview map
terrain
J's terrain plot
waves
J's frequency data
J's Freeview Detailed Coverage
Thursday, 27 June 2013

I did post a query a few weeks ago re sudden free view interference post code b755nt Sutton Coldfield transmitter. It was suggested it could be 4g interference. My reception is now back to how it was EXCEPT when I use my iPhone on the Vodafone network in the same room as the tv any ideas?





Maureen's 2 posts
Select more comments
Your comment please