Expecting 4G interference? Tests now show that you have a one in 300 chance

Brian Butterworth published on UK Free TV
Looking back the the original posting, Ofcom moves to protect Freeview interference from 4G mobile, we can see the Ofcom suggested that:

Of the 16.3 million UK homes with a standard (unamplified, unshared) Freeview reception, 110,000 (0.67%) would be effected.

Of the 5.2 million homes using communal aerials systems, 550,000 (10.6%) will have problems.

Of the 5.6 million homes using amplified Freeview reception, 100,000 (1.8%) will experience problems.

Today, at800 have published the results of the tests in London, Brighton and Hove and York - at800 updates estimate of likely impact of 4G at 800 MHz on Freeview:

"Following tests conducted across the country, at800, the organisation responsible for protecting Freeview when 4G at 800 MHz is rolled out across the UK, has provided a new estimate of the likely scale of the impact. If national rollout reflects the results seen during its tests, at800 expects no more than 90,000 households, with Freeview as their primary TV service, to experience disruption caused by 4G at 800 MHz. Whatever the level of disruption, at800 is ready to restore Freeview to viewers.





at800 has now sent postcards to households in London and the surrounding areas in preparation for the activation of 4G at 800 MHz masts over the coming weeks and months. at800 is also sending postcards to other areas of the UK ahead of masts switching on. at800's mailing does not mean that 4G services will be available to consumers. For information about the availability of 4G services, people should contact their mobile operators.

In London, in particular, Freeview received from the Crystal Palace transmitter is unlikely to be affected by mast activation because of the strong terrestrial television signal and its relatively large frequency separation from 4G at 800 MHz. However, at800 is sending postcards and running a publicity campaign to ensure anyone who does experience new disruption to their Freeview service knows how to get in touch."

So with 26.50 million TV households in the UK (see Monthly universe summary - BARB) 90,000 represents 0.340% of them - that's a ONE IN THREE HUNDRED chance.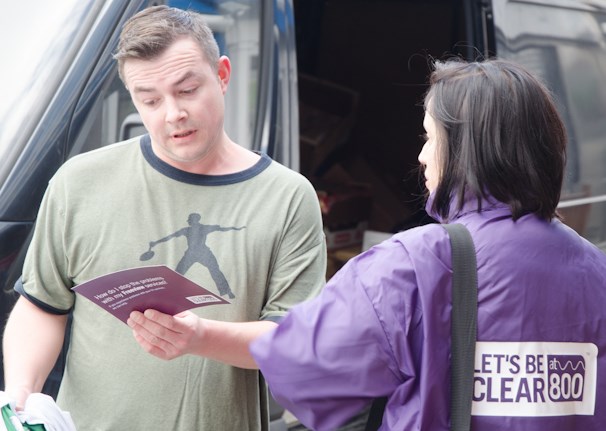 It seems that you are most likely to need a filter if:

a) you are a long way from a high power Freeview transmitter; and

b) you are very close to a 4G mobile phone mast; and

c) you are using a booster.

That's good news for Freeview viewers.



If you have had a postcode from at800 - see Received a postcard from at800?
Comments
Friday, 10 January 2014

I am suffering severe disruption to the Freeview service and suspect 4G interference. Should I try a filter and if so where would I obtain one?

R Pearce's 1 post
R's:
map
R's Freeview map
terrain
R's terrain plot
waves
R's frequency data
R's Freeview Detailed Coverage

R Pearce: Given that there are "0 mobile phone masts within 1.5km of your location", this suggest your chances of 4G interference are miniscule.

I would have a look at Freeview reception has changed? | Freeview Interference | ukfree.tv - 11 years of independent, free digital TV advice instead.

Briantist's 38,907 posts

R Pearce: Just checking on Coverage - Support - Three and Network Coverage in Real Time – Our Network and Coverage – Vodafone and O2 | O2 | Network Coverage | Coverage Checker and T-Mobile Coverage Street Check - Mobile Phone Coverage - T-Mobile - the closes 4G@800 transmitter to you is in ... Manchester.

Briantist's 38,907 posts
Sunday, 12 January 2014

since 4g came on a few months ago in
my area North Glasgow, I have had nothing but trouble. Numerous calls resulted in engineers coming out and fitting filter. No success so filters were removed. Aerial not at fault, new and checked. What happens now? Do we just have to live with this?

G. Murphy's 1 post

G. Murphy: If you supply a postcode, you can see for yourself if there are any 4G transmitters near you. If there are not, then fitting a filter would make no difference to the problem, and if there are ones nearby, then its possible that its nothing to do with 4G anyway (which is highly likely).

Also explain what the nature the problem is - is the signal breaking up, and what is the signal strength - high or low?

MikeB's 2,579 posts
Monday, 20 January 2014
W
walter bell
10:10 AM
Campbeltown

my postcode of; PA28 6PW covers addresses that are over a mile apart, and differ in elevation by over 100 feet.
before digital, i used to receive "channel 5",from darvel, when no one in campbeltown could get it.
once digital came in i used darvel to get many stations, including "yesterday", but then "history", on channel 19. also sky news on 82, and RT on 83. once campbeltown went digital, i lost those channels most of the time, but on occasions could get sky news on 82. in the last week, signal levels have been erratic. sometimes so low as to get neither sound nor picture. sometimes frozen picture with sound, and at times no picture but sound! it is not weather effect, because one dry windless day there was zero signal on any channel for over an hour before it came back. one day there was a low signal, but adequate reception, two days later there was a stronger signal, but less good reception!
i feed three sets, one of which indicates "black hill" as the transmitter, but darvel is a slave to black hill.
any thoughts?

walter bell's 1 post
walter's:
map
W's Freeview map
terrain
W's terrain plot
waves
W's frequency data
W's Freeview Detailed Coverage

MikeB: BBC drops off at 9:45pm, leaving screen with "No video signal." ITV and several other commercial channels are not interrupted. I have been away over Christmas/New Year, but suspect this loss of signal could date from December (BBC recordings are incomplete). I have Freeview. I live in North Birmingham. Any thoughts?

Ellis Cashmore's 1 post

Ellis Cashmore: God knows... sounds like one for the experts....

MikeB's 2,579 posts

Ellis Cashmore: Usually, but not always, if something happens at a given time then look for something on a timer.

In the past we have seen things such as lights or heating systems that come on. Even street lights can cause this kind of problem.

Briantist's 38,907 posts

walter bell: I suggest that there may be nothing you can do as it is interference from Divis, the main transmitter which serves Belfast and other eastern parts of Northern Ireland. This may explain why you got a higher strength but lower quality (i.e. the strength shown was that of Darvel and Divis combined).

How it affect you depends on how well the unwanted signal carries over the water, which depends on the conditions.

Refer to postings on the page for Darvel. There have been complaints from along the coast on the mainland and Isle of Arran of the same issue.

The point is that the PSB networks cover the same places as the former four-channel analogue. The COM networks fit in where they can and where they wish to broadcast from, reusing frequencies in closer proximity to the PSBs which means some viewers will fall victim to co-channel interference.

The COM channels of Darvel and Caldbeck are all co-channel with those of Divis, which means some users of those transmitters can find themselves with degraded reception. As the COM networks are motivated by acquiring viewers at least possible cost they there effectively sacrifice a few who are in the area where interference is likely in order to serve the greater majority.

See here for a list of Freeview services and indication of whether they are carried on a PSB multiplex or a COM one:


Digital UK Industry - Channel listings

Dave Lindsay's 5,724 posts
Select more comments
Your comment please