Whatever happened to Central South, Meridian Newbury and ITV Thames Valley?

Brian Butterworth published on UK Free TV
Back in 1970, the Independent Broadcasting Authority licensed "independent television" provider ATV to provide a new colour television service to Oxfordshire. ATV made a somewhat psychedelic promotional film:



Many years later, Central Independent Television was hoping to hold on the licence to broadcast and "in advance of the 1992 franchise round, Central raised the bar by creating its own new sub-region, giving the area served by the Ridge Hill and Oxford transmitters in the west and south of the region its own local news service. The new regulator, the Independent Television Commission, responded by making this a requirement for all applicants. "

The last time there was an competition for the Channel 3 licences (rather than a simple renewal of the status quo) was for the period stating in 1993.

To the south of Central, the licence went to Meridian Broadcasting, who split their region into three: news would come from not just Southampton but Maidstone and Newbury




During the mergers that took place to form a single company running Channel 3 in England and Wales, ITV plc combined the Meridian Newbury news area with the Oxfordshire part of Central South to ITV Thames Valley. The Ridge Hill area reverted back to Central West - this lead to complaints and an extra service of ITV West (see here) was provided from the Ridge Hill transmitter's South-East for Gloucester and Cheltenham.




ITV Thames Valley lasted from 4 December 2006 until 8 February 2009.

Since then viewers in Oxfordshire and what was Meridian Newbury have had couple of minutes of news as an opt-out from the larger Meridian region.

So, it is almost shocking that if you visit the ITV sales site, Central South is still alive and well and has the new ITV logo on it (see What area does ITV Central cover? - Why should I advertise on ITV? [pdf]).




Whilst the new arrangements restore many of the best ITV sub-regions, there are some such as WestCountry Televisions FOUR (Barnstaple, Exeter, Plymouth and Truro) that seem unlikely to return.

But it is back to the future for Anglia...
Comments
Wednesday, 31 July 2013

Hi do u know when us in Northern Ireland will be getting itv1 hd locally would be knowen as utv hd sky keeps saying last year then start off this year but still nothing :(

James Kerr's 5 posts

James Kerr: you can use Freeview HD for now, or manual tune to one of the ITV England regions.

Briantist's 38,844 posts

ITV HD (London) is on 10832MHz Horizontal 22000 5/6

Briantist's 38,844 posts

And just like when it started, the true position of the split between Anglia East and Anglia West is a work of fiction, with the near-ideal lack of obstacles across the fens meaning almost all of the supposed "overlap" area gets Anglia West from Sandy Heath, except for the very southern bit and the northern coastal area, but they're probably getting signals from neighbouring regions unless they're near something like the misnamed King's Lynn relay (actually better placed for the Sandringham royal estate than the town).

This site's transmission maps are better than most, although I think it still overestimates the reach of Belmont and Tacolneston a bit, while being a bit pessimistic about the reach of Sandy Heath and Oxford.

At least now there's most regions on Freesat and a general acceptance that Cambridge is a key part of the Sandy Heath service area.

MJ Ray's 44 posts

MJ Ray: Thanks.

The "offical" maps bt ITV for Anglia http://www.itvmedia.co.uk.pdf shows the split thus:




The maps here - ITV, UTV and STV regions - overview map - more or less match. The border is produced using the "strongest signal" rule.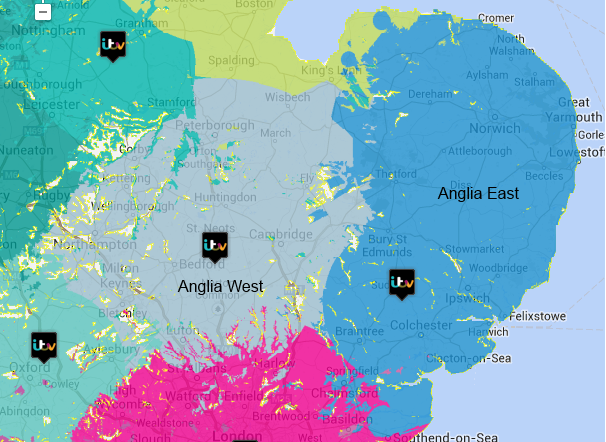 The region maps - ITV Anglia (East micro region) and ITV Anglia (West micro region) show the overlap.

Of course, Sky and Freesat use postcodes which means you can put the border where you like.

Briantist's 38,844 posts

MJ Ray: I don't mean to sound "defensive", but I am just going to quibble about the use of "overestimates" in your comment.

The maps on UK Free TV are computed, not hand-drawn. Taken into account is the best information about the transmitter heights, the output power and radiation patterns.

This is combined with OS mapping data and, much computing later (I use a 20 CPU instance on AWS) the maps are produced.

The computations used what I understand to be that industry standards and used internationally.

The only things I don't have is ground cover (ie, forest) information that would make winter/summer calculations better, and urban buildings data.

Briantist's 38,844 posts
Thursday, 1 August 2013

Hi - I can't get Channel 4 on Freeview at all now. Any reason why this might be? Many thanks

Charles Brenan's 3 posts

Charles Brenan: ITV, Channel 5, ITV2 and others are carried on the same multiplex (same signal) so if you have them then that is odd.

Dave Lindsay's 5,724 posts

Thanks for this - yes I do have these other channels. Will keep trying to find it.

Charles Brenan's 3 posts

Charles Brenan: Is Channel 4 in the 800s? You are looking for Channel 4 which is coming in on UHF channel 60, probably as indicated by the signal strength screen.

Dave Lindsay's 5,724 posts
Select more comments
Your comment please