Digital UK on Freeview HD channel numbers: "we can not do that, sorry"

Brian Butterworth published on UK Free TV
As I am sure you will know, if you have purchased yourself a Freeview HD box or TV, the actual HD channels are all sat together at the end of the guide, starting on channel 101.

This compares somewhat favourably to the seemingly random numbers provided on some other digital platforms.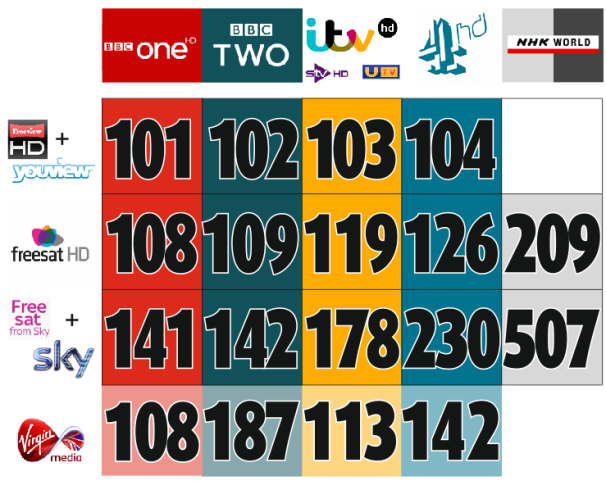 However, when the public were asked "where would you like to find HD channels", the answer came back a resounding "on the normal channel numbers please".

So, is Digital UK going to do this? No.

The problem is that the existing Freeview HD services are not directly replacements for the standard definition channels, as I covered recently in I've got an HD TV ... why can't we have high definition channels in place?.

BBC One HD currently existing in three versions that are suitable for "substitution", the versions for Scotland, Wales and Northern Ireland.

BBC Two HD is currently the English version, so can be substituted only in England.

ITV has 17 standard definition versions, only four of which are in HD: Granada, Central West, Meridian East and London. Outside these areas in England, no substitution could be made.

STV has 4 standard definition variants, but one HD service: Central West, so only Glasgow could be switched automatically.

UTV is OK; it has one SD version and one HD version.

Channel 4 has 6 SD versions, but one HD version: the London (advertisements) service.

Digital UK will reconsider the introduction of substitution late 2014 or early 2015.

For more, see Statement on proposals for the Freeview HD genre and on amendments to Digital UK's LCN Policy Published: 7 August 2013.
Comments
Thursday, 8 August 2013

I agree with Nick but its not that simple. If you have a full HD TV/STB and you have a simulcast like BBC 2 SD & HD then you don't need the SD channel but if you can't receive HD broadcasts then its the SD version you need. In London you need both BBC 1 HD and BBC 1 London SD but in Ulster their HD & SD versions of BBC 1 are simulcast so you only need one. At the moment there are only 4 HD channels plus regional variations on Freeview/Freesat so keeping both HD & SD channels alongside each other is acceptable but next year there will be more. A good example for the future in the UK is that on my Sat receiver I have about 60 distinct German channels of which about 18 are HD (They too have a lot of regional variations within each Land so the actual numbers are much higher than this). I simply store one variety or flavour of each station in my German favourites - HD if its available - SD if not - sorted in alpha order so I can find them and it is just about manageable.

Neil Bell's 106 posts

Digital UK will reconsider the introduction of substitution late 2014 or early 2015.

Wished subtitles and text/red button was on HD as well as SD channels.
Will we need to upgrade our boxes if they add them?

Mark A.'s 373 posts
Mark's:
map
M's Freeview map
terrain
M's terrain plot
waves
M's frequency data
M's Freeview Detailed Coverage

Mark A.: There's subtitles on Freeview HD, I had them on the YouView box just yesterday.

They are much nicer looking than on SD channels too.

Red button text service is a capacity issue: BBC One HD carries an Red Button link to get to Red Button HD: Press Red/Press Blue.

Briantist's 38,899 posts
I
Ian from notts
9:33 PM
Nottingham

what will happen on non HD TV's n freeview boxes if BBC1 HD moves to 1 an so forth

Ian from notts's 253 posts
Ian's:
map
I's Freeview map
terrain
I's terrain plot
waves
I's frequency data
I's Freeview Detailed Coverage

"what will happen on non HD TV's n freeview boxes if BBC1 HD moves to 1 an so forth"
Riots in the streets?

David's 306 posts

Stoddy75 I'd be interested to know which Freeview HD box lets you rearrange channels like that.

Our lovely Sony TVs do, but none of our (many) Freeview DVRs.

woodface's 39 posts
Friday, 9 August 2013

Moving Channel 4 from 140 to 230 on Sky didn't make any sense whatsoever. Completely baffling.

PJH's 75 posts

I can't see any issues with the HD channel numbering on Freeview. Given than most people watch the main terrestrial channels, what's difficult about using 101, 102, 103 and 104 for the majority of the time. I'm in Nottingham and if I tune to BBC 1 SD for the regional news, a prompt appears on screen at the end of the bulletin asking me to press the "OK" button to watch in HD.
As and when more HD channels appear on Freeview, I would guess that they'll continue on 105, 106 and so on, thus creating a block of HD channels on consecutive numbers. I find it very straightforward.

Bob Huckin's 9 posts
Saturday, 10 August 2013

I find the subtitles on HD is smaller text than SD..... why? i have 32" tv HD subs looks like reading words on a 14" telly.... are they trying to say i need 60" tv set? lol

Rob's 171 posts
Rob's:
map
R's Freeview map
terrain
R's terrain plot
waves
R's frequency data
R's Freeview Detailed Coverage

Rob the other strange thing is different picture ratios SD to HD.
BBC2 the other day was showing the film "The French Line" on Freesat 102 SD was full screen on 109 HD was 4x3 with black bands on each side. TV set is set to Auto Aspect ratio.

David's 306 posts
Select more comments
Your comment please