14 reasons why you should stop moaning about paying the TV Licence every day

Brian Butterworth
published on
UK Free TV
I think I have lost count of the number of times that people have objected to this site being called UK Free TV. But, they say, the TV Licence (c and c, as we are British) costs £145.50 a year.

It is true, of course, as you can find out from TV Licensing (c and s this time). If you have any device that you can watch TV as it broadcast, you need to pay up.

Going into a local store to buy a brand-new off-contract phone recently, I noted with interest that you can also get it for "free", but only if you pay for a contract. This reminds me of the excellent quote from 1984 by George Orwell:

To give a single example. The word free still existed in Newspeak, but it could only be used in such statements as "This dog is free from lice" or "This field is free from weeds" ... Reduction of vocabulary was regarded as an end in itself, and no word that could be dispensed with was allowed to survive.

Last month we looked at Does the BBC or BSkyB spend more on programmes?, so it is only fair to consider the cost of the rest of the free channels.

So here is a graphic comparing the daily cost of TV from the main UK broadcasters: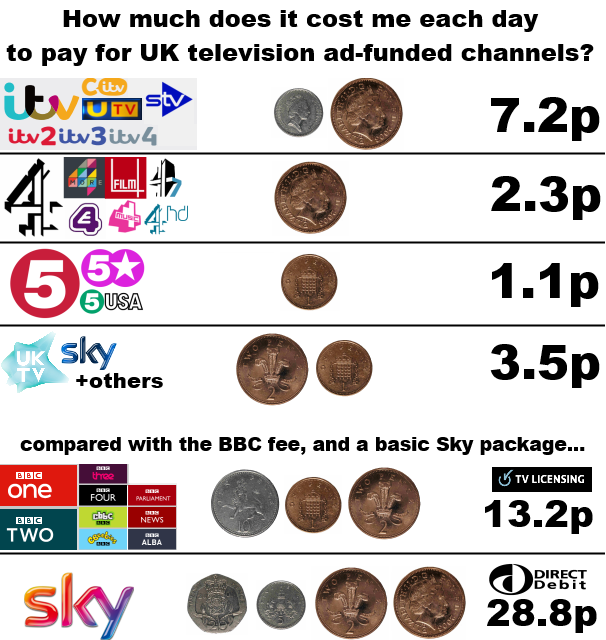 The first row shows the joint total for ITV, STV and UTV. It is worth noting that the Channel 3 broadcasters provide a regional news service on their main channels: however some channels such as itv3 and c-itv are wholly archive.

The second row shows the figures for Channel 4. This channel is a UK-wide service with no expensive regional programmes. The other channels from this broadcaster are archive TV shows and movies.

The Channel 5 services have some first-run UK content, but a large proportion of the output is from US broadcasters. These imported programmes are cheaper to show as they have been funded by their broadcast in other markets: the USA has a population five times that of the UK.

The fourth line is the figure for "all other broadcasters". This includes the likes of UKTV (a BBC/Scripps joint venture) and channels that use BSkyB to sell their advertising time.

It is worth remembering that the above figures for the cost of advertising only include the cost of airtime paid directly to the broadcaster. The real cost of advertising that is passed onto consumers also includes the cost of scripting and producing the adverts and also paying the actors, voice talent and musicians.

I have not been able to come up with a figure for this, so did not include it. Of course, this is passed onto you, the consumer.

For comparison, the BBC fee income has been reduced by 20% (to account money spent on national and local radio stations), and factored to represent the average 2.4 people-per-household in the UK. Also shown is the most-basic £21.50 Sky package.

The BBC still seems good value for money. These commercial broadcasters spend 20% of their airtime on adverts, not programmes. The BBC runs two channels of first-run UK content, with a large network of regional studios.

The "old argument" against the BBC taking advertising still holds: it would clearly put ITV plc out of business in minutes.
Comments
Wednesday, 15 January 2014

Can I add something to the rantings of Mr Harris of the Daily Mail.

It is a license fee NOT a BBC fee. Not all of it goes to the BBC. Some to the new local channels.

It also pays for radio too.

I object to paying for those who abuse themselves by drinking and smoking but I am paying for it. That's life. Tough.

I expect you just want the main media barons to be in control of everything.

james's 1 post

Briantist:
It was my understanding that broadcasters use a conversion system, originally pioneered by the BBC and later updated to be fully digital, to standards convert from 525/60 into 625/50 (frames of course) so that programmes are shown at normal speed, speech is at normal pitch and duration is as originally intended (apart from any subsequent editting).
Is that still the case?

MikeP's 3,056 posts

Mike Dimmick: I just checked with "Screenwriters University" and here's the details about a "5 Act, 1 Hour Drama" - The Five Act 60 Minute Drama Script - Screenwriters University

"The timings are also affected by the programme running 4% fast. " - I'm not sure where you've got this from. I suspect you're coflating 24fps film with US TV standards. ATSC uses a 30fps.

Conversion of 30ftp to 25ftp means dropping 5 from every frames. This means there is no speed change, or sound pitch change.

Briantist's 38,907 posts

MikeP: Most programming is created at 1920x1080 "full HD" these days.

It's interesting to note that for MPEG standards the 25fps system ("625 line") are 720x576 pixels and 30ftp systems are 720x480 ("525").

The conversion is specified in the MPEG documents somewhere.

480i/30->576i (X=frame drop)

0 1 2 3 X 5 6 7 8 X 10 11 12 13 X 15 16 17 18 X 20 21 22 23 X 25 26 27 28 X

576i->480i/30 (frame holds)

0 1 2 3 4 4 5 6 7 8 9 9 10 11 12 13 14 14 15 16 17 18 19 19 20 21 22 23 24 24

The resolution is the same horizontally, so it's just a question of dropping (or anti-aliasing) the 1:1.2 ratio when converting either way.

Of course, we all use the same HD frame resolution these days.

Briantist's 38,907 posts

@trevorjharris: The TV licence, because it is paid to the government*, is fundamentally always going to be a criminal offence. Civil law is for one private entity to redress harms caused by another private entity. Criminal law is for offences against the state.

However, criminal law does not automatically mean jail. The penalty for failing to have a TV licence, when one is required, attracts a maximum fine of 'level 3 on the standard scale' (currently £1000), though magistrates can use their discretion as to the level of the fine. You would only go to prison for persistent non-payment of the fine, usually after all other avenues - including direct deduction of fines from pay and/or benefits - have been exhausted. The maximum prison term is likely to be 28 days if the maximum £1000 fine was imposed, but could be shorter if the initial fine was lower. There are plenty of opportunities for someone who has inadvertently or ignorantly not got a TV licence to avoid this. It really is only people who choose to be martyred who would end up with prison time - as it should be.

The benefits of the BBC's services are experienced by the whole population, whether directly through programmes they watch or indirectly through having an educated, informed - and entertained - populace. The existence of the BBC also means that there is a ready pool of talent, both in front of the camera and behind, for the commercial broadcasters to pick from. The commercial broadcasters may not directly receive public funding, but they certainly benefit from it indirectly. On that basis, everyone should contribute to funding the services. I'm not particularly happy with the flat rate, I would prefer it to be a progressive rate with payments assessed according to ability to pay, but I believe that the general benefits would be lost if it were based on individual subscriptions.

* Yes, the BBC collects it (indirectly - outsourced to Capita), but as an agent of the government. The appropriate law directs them to pay collected fees into the government's Consolidated Fund (that is, the government's main account - same place that income tax goes). DCMS then promises, in the BBC's Agreement that accompanies the Royal Charter, to pay it over to the BBC, less administration fees and anything else that the Secretary of State chooses to deduct (with the permission of the Treasury). This convoluted procedure is, I believe, intended to keep it under the criminal law rather than civil law. (It also keeps the BBC under the government's thumb.).

Mike Dimmick's 2,486 posts

I has pointed out to me that the 5-Act stuff is true for "network TV" - say "The Mentalist", but not necessarily so for show on subscription cable shows say "Game of Thrones".

Briantist's 38,907 posts

@james: It does all go to the BBC, less any administration fee - while the Secretary of State for Culture, Media and Sport is permitted to subtract any amount (with the agreement of the Treasury) I can find no evidence that this has been done.

However, the government directs the BBC (through the Agreement that accompanies the Royal Charter) to set aside funds for specific purposes. The latest Agreement requires the BBC to spend £25m on capital costs for local TV, and £5m per year on purchasing content from the local TV companies. Similarly, funding for switchover was a reservation made in the 2006 Agreement, and the broadband rollout programme is its own section of the 2011 amendment to the Agreement.

Mike Dimmick's 2,486 posts

Mike Dimmick: Hopefully certain parties might read your summing up of the BBC's benefits - wonderfully put, and a reminder that the BBC has an effect on all our lives.

Briantist: The 'five act' structure must be maddening for TV writers - you have to have something dramatic (needed or not) in the first two minutes to stop people switching to another channel during the first commercial break, and a hook to keep them.
You notice the difference with something made for HBO (or other cable channels) immediately. because there is much more likely to be a slow build - The Soprano's, for instance, tends to treat the viewer is much more intelligent way. Mad Men and Breaking Bad (both from AMC) also have a more subtle approach. In that way they are much more like British dramas.

I did notice that HBO product is often 'precut' so that normal US still commercial breaks without a huge breakup of the story flow, but its not easy. I still remember trying to watch The West Wing in the States - the number and frequncy of the ads really jarred.


MikeB's 2,579 posts
Thursday, 16 January 2014
R
riv-dogg
10:31 AM
Highbridge

Just a few technical observations about how we view US shows. - Most 'high end US drama' is shot at 23.98 frames per second - slightly off the 24fps of feature film because it is a simple mathematical match to the 59.94 hz that US TV (SD or HD) actually transmits at. The23.97 is converted to 59.94 for US transmission by applying a 3:2 pull down (just as in the old telecine days) and there is no duration change at all. The best way to convert 23.97 to 50hz for European transmission is to run it slightly fast (about 4%) and make a frame for frame transfer.(sometimes called 2:2 pull down) This will reduce the duration of an hour of 23.97 to about 57.6 minutes. However a lot of the lower budget channels will get a standards conversion of the US show which runs the same as the original duration. -Poorer quality, but cheaper.

On a strictly practical note I often record shows like Law & Order to my PC via a capture card. I hate the commercials so much I edit them out and the actual duration is usually about 43 mins- though I have seen it as low as 41mins. US broadcasters are notorious for doing horrible things like speeding movies up to make them fit timeslots. I hear what you say about Offcom regs, but the actual programme durations are what I've stated. I think there is probably a big difference between (say) CH4 who will show a top quality transfer and keep to the rules and the low budget channels (you know who I mean!). I don't know if cable/sat channels are regulated at all?

riv-dogg's 11 posts
riv-dogg's:
map
R's Freeview map
terrain
R's terrain plot
waves
R's frequency data
R's Freeview Detailed Coverage

@James

The Director General of the BBC is a media baron. Well he certainly acts like one.

@Mike Dimmick

The role of the BBC as an educator or an informer is minimal. The level of education is very low indeed usually below secondary school level. Undergraduate level education is non existant. As for the information again it is realy dumbed down stuff. The BBC has admitted that they are going to "dumb down" thier sports coverage even more. The BBC news is also very superficial and usually fails to grasp the complexity of situations.


trevorjharris's 367 posts
Select more comments
Your comment please