14 reasons why you should stop moaning about paying the TV Licence every day

Brian Butterworth
published on
UK Free TV
I think I have lost count of the number of times that people have objected to this site being called UK Free TV. But, they say, the TV Licence (c and c, as we are British) costs £145.50 a year.

It is true, of course, as you can find out from TV Licensing (c and s this time). If you have any device that you can watch TV as it broadcast, you need to pay up.

Going into a local store to buy a brand-new off-contract phone recently, I noted with interest that you can also get it for "free", but only if you pay for a contract. This reminds me of the excellent quote from 1984 by George Orwell:

To give a single example. The word free still existed in Newspeak, but it could only be used in such statements as "This dog is free from lice" or "This field is free from weeds" ... Reduction of vocabulary was regarded as an end in itself, and no word that could be dispensed with was allowed to survive.

Last month we looked at Does the BBC or BSkyB spend more on programmes?, so it is only fair to consider the cost of the rest of the free channels.

So here is a graphic comparing the daily cost of TV from the main UK broadcasters: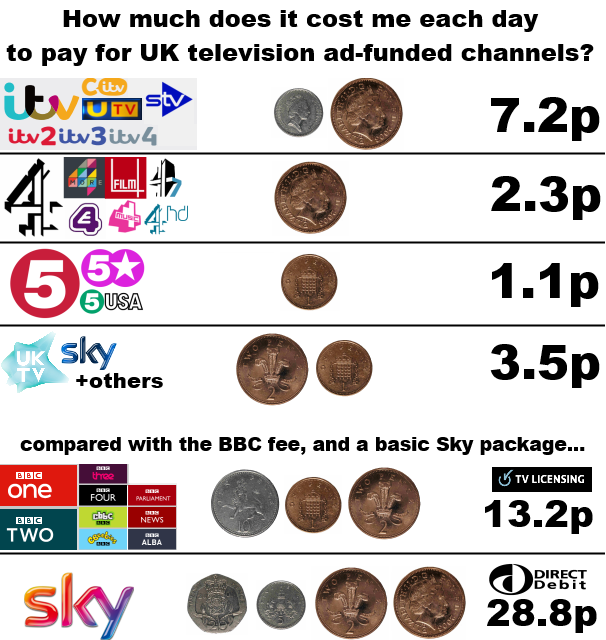 The first row shows the joint total for ITV, STV and UTV. It is worth noting that the Channel 3 broadcasters provide a regional news service on their main channels: however some channels such as itv3 and c-itv are wholly archive.

The second row shows the figures for Channel 4. This channel is a UK-wide service with no expensive regional programmes. The other channels from this broadcaster are archive TV shows and movies.

The Channel 5 services have some first-run UK content, but a large proportion of the output is from US broadcasters. These imported programmes are cheaper to show as they have been funded by their broadcast in other markets: the USA has a population five times that of the UK.

The fourth line is the figure for "all other broadcasters". This includes the likes of UKTV (a BBC/Scripps joint venture) and channels that use BSkyB to sell their advertising time.

It is worth remembering that the above figures for the cost of advertising only include the cost of airtime paid directly to the broadcaster. The real cost of advertising that is passed onto consumers also includes the cost of scripting and producing the adverts and also paying the actors, voice talent and musicians.

I have not been able to come up with a figure for this, so did not include it. Of course, this is passed onto you, the consumer.

For comparison, the BBC fee income has been reduced by 20% (to account money spent on national and local radio stations), and factored to represent the average 2.4 people-per-household in the UK. Also shown is the most-basic £21.50 Sky package.

The BBC still seems good value for money. These commercial broadcasters spend 20% of their airtime on adverts, not programmes. The BBC runs two channels of first-run UK content, with a large network of regional studios.

The "old argument" against the BBC taking advertising still holds: it would clearly put ITV plc out of business in minutes.
Comments
Sunday, 19 January 2014

MikeB: Yes, I covered the collection costs in Does the BBC or BSkyB spend more on programmes? | About UK Free TV | ukfree.tv - 11 years of independent, free digital TV advice .

http://downloads.bbc.co.u….pdf

shows that "despite the choice of media available to UK licence fee payers today, 97 per cent of UK adults (47 million people) consume at least 15 minutes of a BBC service in an average week, and they spend over 19 hours a week on average with the BBC."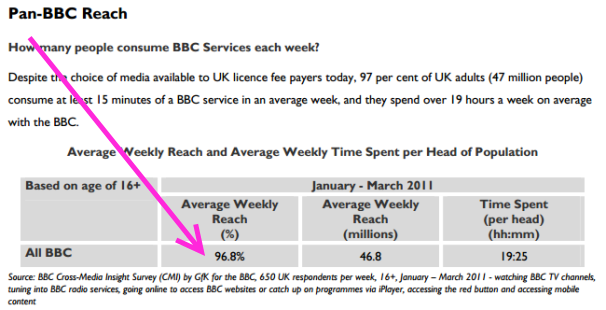 Briantist's 38,902 posts

david: So... Please explain how something that everyone seems to pay, and that 96.8% of people use each week is "wrong in principle"?

What's the principle?

Briantist's 38,902 posts
Tuesday, 21 January 2014

The biggest argument against the TV Licence is the stream of nasty misleading and dishonest letters sent by TV Licensing (actually Capita I think?) to honest licensees mainly because TVL's database is dirty, but TVL showed no signs of actually taking us to court for more than a year (which would have been entertaining because we did have a valid licence). Just a stream of nasty letters which TVL try to make look like court orders when they're no such thing (strange paper sizes, looking like an old typewriter or daisywheel) and there's this whole guilty-until-proven-innocent theme to them, saying that you must call them or write to them if you have a licence, which just doesn't work because TVL are incompetent or maybe it's simply cheaper for them to ignore those protestations of innocence and keep sending the nasty letters in the hope some people will buy a second licence!

I've also seen good evidence that TVL harass the newly-bereaved while they struggle to sell their dear departed parents' homes and there are many similar incidents reported on the web, including my old friend TV Licensing, threats and abuse | Bagel Belly Blog - My own case only stopped after I went public and lodged a complaint with the BBC Trust but I've now a deep antipathy towards the BBC and their hired goons.

MJ Ray's 44 posts

MJ Ray: Let's take your argument and run with it.

In my last flat in Brighton, the local utility company sent me a bill every quarter for gas. But there was no gas in the building, and the meter registered no use.

But, because I wasn't able to show the meter reader the gas meter, I got no end of abusive letters, complaining phone calls and - eventually - bewildered visits from engineers.

Only moving to London stopped the letters.

So, taking this into the your "Capita" argument. NO ONE SHOULD BE ABLE TO USE GAS.

Briantist's 38,902 posts

Briantist: taking that argument, you'd switch to a different gas retailer. That's not an option we have with the nasty nasty TVL. I'm not saying ditch the licence: I'm saying Ditch TVL/capita.

MJ Ray's 44 posts

MJ Ray: Briantist had no use of gas, so why would he have chosen another retailer?

KMJ,Derby's 1,811 posts

MJ Ray: I am sure you have had a poor time of it from TVL, or rather Capita. As you've just said, this is a reason to stop employing Capita, rather than getting rid of the licence fee.

Frankly, I wise government would stop employing Capita, Srco et al all together, and stories like this - Birmingham council must make Capita contract open or risk concealing cuts | Local Leaders Network | Guardian Professional support that view.

MikeB's 2,579 posts
Saturday, 25 January 2014

the poor are force to pay the same as the rich pay board of goveners 200000 plus over paid staff and pre senters for second rate programmes no social justice dragging single parents to court to 500000 pound million pound so called stars move to subscription for peeople who want to pay the licence polltax is on its last legs it cant last

david's 66 posts
david's:
map
D's Freeview map
terrain
D's terrain plot
waves
D's frequency data
D's Freeview Detailed Coverage
Sunday, 2 February 2014

All this swapping of 'facts' and opinions and we all know that in a few years the paper compulsory TV licence will, like the car 'road fund' licence be replaced.
In a few years the Free View digital TV box, or integrated circuitry to convert the digital signals from TV (and DAB) stations will be encoded (as Sky and Virgin do now) so unless a fee, additional but not included in the Sky or Virgin subscription, is pre-paid (licence) you the viewer will see a pattern on your screen -no picture and DAB radio receivers or satellite streams to Wi-Fi radios or PCs will be blocked.
The excuse will be the loss in revenue to UK Government through evasion of licence payment; pensioners over 82 may be excluded.
I suspect even the EU will support such a move and claim its 'fair'.
So all the grumbling against and all the self-righteous defending of an out-dated system which was fine until the 1990s before Sky subs, Virgin subs, FreeSat costs and we had to buy a box to watch 'Free view' - to watch even the load of stations that simply sell things and provide no programmes no entertainment, will be pointless.
The present partial answer would be to charge Sky and Virgin the licence fee for each of its TV customers with a condition they could not pass the charge on. For FreeSat a one time licence for life and for Free View (who have less stations available to them anyway) complete abolition of the licence.

Rog's 38 posts
Monday, 3 February 2014

Rog: You should probably recall that there are 48,337,620 TV sets [1][2] in the UK, none of which have any encryption systems. Only Sky boxes (9.4m) and Virgin boxes (3.3m) have that capability, it was deliberately left out of ALL Freeview and Freesat equipment.

Not sure how you could move to a subscription based system without having to swap out 35,637,620 Freeview/Freeview HD/YouView boxes, sets and PVRs.

[1] TV viewing figures increase in UK despite decline in number of television sets | Metro News

[2] UK households in 2013 infographic - ONS


[3] http://stakeholders.ofcom….pdf

Briantist's 38,902 posts
Select more comments
Your comment please