14 reasons why you should stop moaning about paying the TV Licence every day

Brian Butterworth
published on
UK Free TV
I think I have lost count of the number of times that people have objected to this site being called UK Free TV. But, they say, the TV Licence (c and c, as we are British) costs £145.50 a year.

It is true, of course, as you can find out from TV Licensing (c and s this time). If you have any device that you can watch TV as it broadcast, you need to pay up.

Going into a local store to buy a brand-new off-contract phone recently, I noted with interest that you can also get it for "free", but only if you pay for a contract. This reminds me of the excellent quote from 1984 by George Orwell:

To give a single example. The word free still existed in Newspeak, but it could only be used in such statements as "This dog is free from lice" or "This field is free from weeds" ... Reduction of vocabulary was regarded as an end in itself, and no word that could be dispensed with was allowed to survive.

Last month we looked at Does the BBC or BSkyB spend more on programmes?, so it is only fair to consider the cost of the rest of the free channels.

So here is a graphic comparing the daily cost of TV from the main UK broadcasters: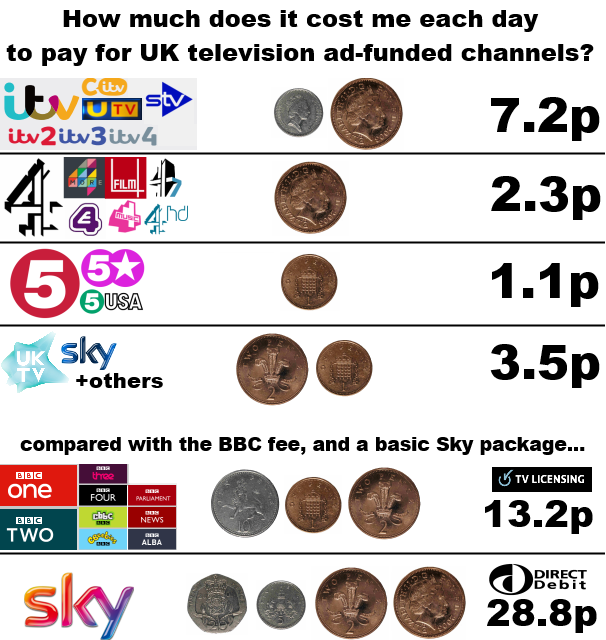 The first row shows the joint total for ITV, STV and UTV. It is worth noting that the Channel 3 broadcasters provide a regional news service on their main channels: however some channels such as itv3 and c-itv are wholly archive.

The second row shows the figures for Channel 4. This channel is a UK-wide service with no expensive regional programmes. The other channels from this broadcaster are archive TV shows and movies.

The Channel 5 services have some first-run UK content, but a large proportion of the output is from US broadcasters. These imported programmes are cheaper to show as they have been funded by their broadcast in other markets: the USA has a population five times that of the UK.

The fourth line is the figure for "all other broadcasters". This includes the likes of UKTV (a BBC/Scripps joint venture) and channels that use BSkyB to sell their advertising time.

It is worth remembering that the above figures for the cost of advertising only include the cost of airtime paid directly to the broadcaster. The real cost of advertising that is passed onto consumers also includes the cost of scripting and producing the adverts and also paying the actors, voice talent and musicians.

I have not been able to come up with a figure for this, so did not include it. Of course, this is passed onto you, the consumer.

For comparison, the BBC fee income has been reduced by 20% (to account money spent on national and local radio stations), and factored to represent the average 2.4 people-per-household in the UK. Also shown is the most-basic £21.50 Sky package.

The BBC still seems good value for money. These commercial broadcasters spend 20% of their airtime on adverts, not programmes. The BBC runs two channels of first-run UK content, with a large network of regional studios.

The "old argument" against the BBC taking advertising still holds: it would clearly put ITV plc out of business in minutes.
Comments
Thursday, 16 January 2014

@trevorjharris: As to which news service is more tabloid, Sky News wins handsdown.

Mike Davison's 127 posts

trevorjharris: Intersting Baron - Wikipedia, the free encyclopedia says

"Baron: In the Peerage of England, Peerage of Ireland, Peerage of Great Britain and the Peerage of the United Kingdom, barons form the lowest rank, placed immediately below viscounts."!

Is that what you meant?

Briantist's 38,899 posts

trevorjharris: As usual, your reply to any comment about the BBC starts with hyperbole, and continues with a great deal of handwaving and unsubstantiated comment.

Lord Patten actually is a baron (Baron Patten of Barnes) - but I think we know a media baron when we see one, and its simply nonsense to suggest that he is acting like one.

The BBC does put a great deal of educational material on (although since you profess to never watching any BBC programme, how would you know?). Radio 4 has a huge range of educational material - and certainly this mornings 'In Our Time' was an accessable undergraduate discussion on the Battle of Tours.

BBC4 alone has documentaries on history, archaeology, physics, chemistry and geology. They have an excellent music night on Fridays, and a whole series on film music (plus a very good prgramme on John Boorman just coming up). Obviously this is far inferior to that which you can get from University of Sky, but its pretty good for the rest of us..

I agree that BBC News is not always brilliant - their US coverage is frequently anodyne at best, but their coverage of the Middle East and Africa is generally rather good. However, I notice that NPR uses the World Service as their main news feed, and try watching the BBC and CNN together - you'll see the difference very quickly.

If your going to use the phrase 'dumbed down', at least show some examples. In God we trust, all others bring data.

MikeB's 2,579 posts

MikeB: I suspect that as the BBC has such a wide brief, then it can appear "dumbed down".

Personally, I use iPlayer and YouView and choose what I want to watch.

It just wish there was more BBC FOUR. I've just watched BBC iPlayer - Treasures of Ancient Egypt: The Golden Age (High Definition) and I can't think of a less "dumbed down" programme.

I agree about In Our Time. There's a wonderful archive of 600+ episodes at BBC - Radio 4 - In Our Time - Archive by Title: A - page 1 . Every single one of them is brilliant, and if anyone think they're dumb then they're actually looking in a mirror.

Of course the BBC makes EastEnders and Doctors. It has to serve everyone. I don't watch them and I still feel OK.

I would even defend BBC three. As I teanager we got DEF II a three nights a week for two hours, with some good UK programming (Reportage) and mostly imports.

BBC three provides actual real programmes, the comedy is some of the best. BBC Three - Bad Education and Russell Howard are rip-roaringly funny.

Briantist's 38,899 posts

Briantist: Your right - you have to try and have something for everyone. I dont like Eastenders either, but considering its ratings, a huge amount of people do. Thats fine - the BBC should be a broad church.

BBC4 almost has a fanclub over on the Britmovie website - there is a huge amount of quality material broadcast by them, which isn't bad for a channel which is only on from 7pm. I forgot that the Egypt programme was on, so thats one for Iplayer.

BBC3 has made some very good programmes. Tough Young Teachers looks good, as does Underage and Over the Limit. They had a very good series about Junior Doctors, and the one where they sent people who bought cheap fashion to the places where they were made was particularly effective (CBBC has done something similar). Considering the high percentage of programmes which are original and UK made, they are doing well, and I'm well outside their age demographic!

As for BBC Radio, Iplayer has huge amounts of stuff. The 'Dinosaurs in the Drawing Room' was very good, Acts of Union and Disunion was excellent, The World in 100 Objects is still available and they are broadcasting David Sedaris (his Elf monologue is an NPR Christmas tradition) and John Finnemore. You could spend all day on it and barely scratch the surface...

But also try KCRW in the States - KCRW 89.9 FM | Internet Public Radio Station Streaming Live Independent Music & NPR News Online from Los Angeles, CA - KCRW 89.9 FM | Internet Public Radio Station Streaming Live Independent Music & NPR News Online from Los Angeles, CA - 'Good Food' is excellent, 'The Business' is the best programme if you want to really know about Hollywood (its the local radio station) and they have a music station which breaks new talent all the time. Its an NPR station, so try 'American Life' and 'Car Talk' (which is kind of about cars...). There is an NPR app as well, and they are on Itunes.





MikeB's 2,579 posts
Sunday, 19 January 2014

Does anybody ever think about the orchestras that the BBC runs; which all comes out of our licence fee. What about the last night of the proms. The BBC orchestras I can think of at present- Concert, National orchestra of Wales, Philharmonic, Scottish Symphony, BBC Singers, Big Band, Symphony Chorus. We mustn't forget either, the time and money put into the BBC R&D over the years...colour transmissions, Nicam sound, 5.1 sound which we now listen to, 3D; and now looking at UHD transmissions with the EBU. So its not just radio and tv watching and listening.

Richard Hibberd's 30 posts

MikeBnowbody should be forced to pay for somthing they dont want sky and itv channel four get more views than the state broadcaster.the bbc keeps expending and dors everything to stifle competion lastest example where it tried to muslei in onlocal tv .in the 1930s it tried to close radio luxemburg and radio normandy and got the goverment to stop manx radio from broadcasting to the uk on high power and tried to stop atlantic 252 it to big should be broken up and keep one tv channel and tworadio channel radio four and three other formats can be replaced by commercial broadcaster make it anon criminal offence not to pay licence:

david's 66 posts
david's:
map
D's Freeview map
terrain
D's terrain plot
waves
D's frequency data
D's Freeview Detailed Coverage

david: "sky and itv channel four get more views than the state broadcaster"

Nothing like being totally wrong, is there?

You should probably have a look at Sky halves EPG charges for public service broadcasters and saves BBC local radio | Free satellite - general | ukfree.tv - 11 years of independent, free digital TV advice




or have a look at the ITV Annual report

http://www.itvplc.com/sit….pdf


Briantist's 38,899 posts

you my be correct but the licence fee is wrong in principle let views who want the bbc pay for it by subscription

david's 66 posts
david's:
map
D's Freeview map
terrain
D's terrain plot
waves
D's frequency data
D's Freeview Detailed Coverage

david: Why is it wrong in principle? If you look at the figures, its very clear that everyone uses the BBC, to one degree or another, so everyone pays. If you have no TV, you don't have to pay at all.

And, as has been pointed out already, subscriptions cost money to maintain (again, check Briantists previous posts - he supplies actual figures), which would mean costs of collection would rise, thus bringing in less revenue. Fee, subscription - is there a difference when it comes to paying for a service?

If you want to suggest other models of payment, etc, then you need to supply the data to back them up.

MikeB's 2,579 posts
Select more comments
Your comment please