Can I receive UK free-to-view TV in Southern Spain?

Brian Butterworth published on UK Free TV
You will only be able to get the services on the Astra 2A satellite (and then only Transponders 1, 2, 5, 6, 9, 10, 13, 18, 22, 37) and ASTRA 2B (transponders 14, 17, 21, 25, 26, 29, 30, 33, 34, 38):

ScreenShop
Price-Drop TV
TV Travel Shop
TV Travel Shop 2
TCM UK
CNN International
Travel Channel
Travel Deals Direct
BBC Parliament
S4C Digidol
S4C2
You TV
Goldshield Vitality
Create and Craft
Zee Music
Ideal World
ITV News Channel
QVC UK
Bid-up.TV
Sky News
TV Shop UK
Reality TV
TV High Street
The Shopping Genie
TV Warehouse Select
Shop America
TV Warehouse
Vector Direct
JML Direct
Game Network UK
Yes
Shopsmart TV

You will not be able to get any of the BBC and ITVs are all on the Astra 2D satellite: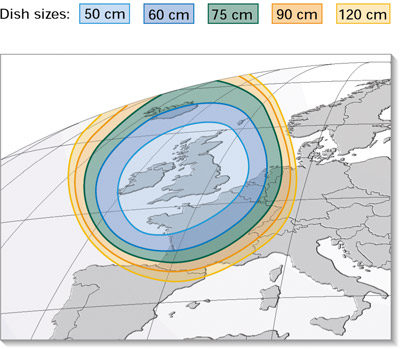 Channel 4 is on Astra 2A: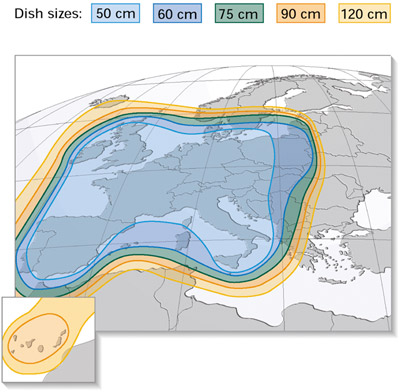 You may be able to get five, but you will need a Sky card to decode it.
Comments
Thursday, 21 February 2013

norman: You may still be able to receive UK TV in Spain, dependent on your locus and existing equipment - particularly the size of your current dish. I would keep a check on the English language press for comments and also the ads there-in from ex pat installers living and working in your area.

Les Nicol's 991 posts
Sunday, 17 March 2013

Sky shares will crash. There are over 500000 people & bars illegally paying (using UK addresses). Amazed that that Sky hadn't spotted that it will lose £150,000,000 per year revenue!

peter's 1 post
Thursday, 13 June 2013

I am still getting a signal, but We were visited by a company specialised in Internet in the South of Spain that has workd with some Resorts in Estepona and they gave us a very interesting white papaer they have produced on the options available.
They told me I could share it, so here it goes link:
http://www.andaluciasinca….pdf

Arthur T. Downs's 1 post
Monday, 24 June 2013

We're planning on visiting the Cadiz area of southern Spain late 2013 in our touring van and I'm trying to decide the best option for us to be able to view the major UK TV channels whilst we're there.
I'm looking at getting a AVTEX W164 DRS TV/DVD/Satellite decoder combination along with a Focus 855 portable dish. Will this work, and what else will I need to get?

Thanks, Eric

Eric Ball's 1 post
Tuesday, 2 July 2013

Any modern sky or sat box and a dish over 1.2 mtrs will probably get you uk tv channels. no need for fancy boxes .its the dish size that matters, bigger the better.(1.5) but if your going along the costa del la luz,why will you want tv? Tarifa to visit,the fantastic atlantic beaches Walks/Drives ,Roman town of Baelo Claudia,Midina sidiona, Parque naturales, Cadiz and Puerto Santa maria sherry town!lots and lots of places to see, and of couse kite surfing? wind speed along this coast can be a challenge.try your spanish out, Gusta

terry.'s 1 post
Thursday, 29 August 2013

Hi We have a BIG SAT box installed about 3 years ago lost picture early summer can it be reset or is this system finished Thanks Rick

Rick's 2 posts

Hi We have a BIG SAT TV SYSTEM installed about 3 years ago stopped working early summer can it be reset we live in the Villamartin area or what are our options we dont want a big dish Regards Rick

Rick's 2 posts
Monday, 9 December 2013

We currently receive satellite TV in our duplex in Vera Playa Spain . We can receive free view or use our card for Sky TV. When the Astra 2E comes into operation we will not receive the KU band UK spot beam . Will the KU band Europe Beam be used for UK TV programmes and if so will it be by free to view or pay to view. Will the Sky card be of use.

Stu's 2 posts
Monday, 7 April 2014

I have home in Catalunya and been using Freesat thru a Sky digi box for several years only channels 1-5 BBC 3&4 ITV 2,3 & 4 plus a few others. It has pretty much disappeared now only Sky news plus Pick and some films channels. My friends across border in France have bought huge dish but still cannot get 1-5

Bryan Hammond's 1 post
Wednesday, 25 June 2014

I have a house in La Cal di Mijas on the costa del Sol, 35 kilometres from Malaga and 24 kilometres from Marbella.
How can I obtain any British TV channels in this area please.

Richard Slater's 1 post
Select more comments
Your comment please