Can I receive UK free-to-view TV in Southern Spain?

Brian Butterworth published on UK Free TV
You will only be able to get the services on the Astra 2A satellite (and then only Transponders 1, 2, 5, 6, 9, 10, 13, 18, 22, 37) and ASTRA 2B (transponders 14, 17, 21, 25, 26, 29, 30, 33, 34, 38):

ScreenShop
Price-Drop TV
TV Travel Shop
TV Travel Shop 2
TCM UK
CNN International
Travel Channel
Travel Deals Direct
BBC Parliament
S4C Digidol
S4C2
You TV
Goldshield Vitality
Create and Craft
Zee Music
Ideal World
ITV News Channel
QVC UK
Bid-up.TV
Sky News
TV Shop UK
Reality TV
TV High Street
The Shopping Genie
TV Warehouse Select
Shop America
TV Warehouse
Vector Direct
JML Direct
Game Network UK
Yes
Shopsmart TV

You will not be able to get any of the BBC and ITVs are all on the Astra 2D satellite: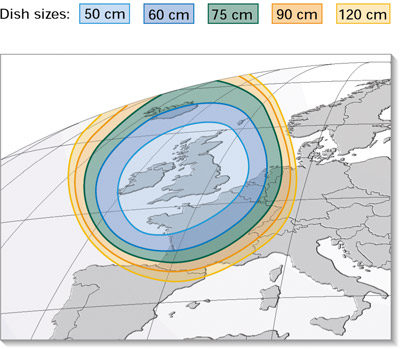 Channel 4 is on Astra 2A: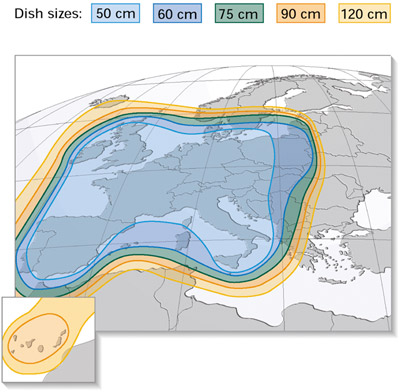 You may be able to get five, but you will need a Sky card to decode it.
Comments
Saturday, 26 November 2011

Can somebody please explain to me why I still can't get subtitles on ITV HD? I assumed it was a short-term, temporary omission originally, but a year later there are still no subtitles.

Apologies if this has been asked before.

Phil Tilson's 3 posts
Wednesday, 14 December 2011

Phil Tilson: ITV has not yet got around to providing subtitles on ITV1 HD.

Briantist's 38,899 posts
Monday, 2 January 2012

In Southern Spain we get tv through sky.If I buy a freevew +hd box in the UK and take it there will I get Freeview and be able to record programmes?

VeeBee's 1 post
Wednesday, 4 January 2012

Veebee, you need a Freesat+ box to replace your sky receiver in Spain to be able to record UK TV for free. Try the Humax Freesat+.

FreeviewSpain's 5 posts
Monday, 16 January 2012

VeeBee: Freeview boxes are for connection to a tv aerial. If you connetc a Freeview box to a TV aerial in Spain, then you will only receive the Spanish digital chanenls. If you already have Sky, then why not upgrade to a Sky HD box, as recording functionality is available as part of your subscription.

satandpcguy's 89 posts
Saturday, 28 January 2012

You Can watch all the channels that are on freeview in the UK when you are in Spain on TVCatchup.com, you will need a VPN service that is not blocked to do this. The best one I found was AngloVPN (www.anglovpn.com). Fiver a month for connection. hope that helps!

Ray Parker's 1 post
Wednesday, 1 February 2012

Ray Parker: I am sure there are other site available. the site you mention has only been registered since 2011-12-17 so its not exactly been going long, and there are more establisted one available. And tvcatchup has a good record of blocking VPNs, its just a matter of time before they block this one.

satandpcguy's 89 posts
Saturday, 4 February 2012

I own a humax freeview and hardisk top box which ibought in the uk. My question is..can itak it to spain and be able to receive spanish tv programmes.?

thanking you.
M. berlanga

manue's 1 post
Sunday, 5 February 2012

manue: It may work, but there may be some limitations. For example, some Freeview branded receivers I have seen being used in Spain are unable to select the "second audio" track - that carries uk and USA imported programmes origianal english language soundtrack. Some of the Freeview boxes I have seen here in Spain limit languages to English Welsh and Gealic in the menu system, yet Spanish broadcasters use MUL, DOs, QAA, VO, and a few other labels for this second audio, which some Freeview boxes dont recognise. This is an issue with the Freeview branding and software - a more "gerneric" box will be OK.

satandpcguy's 89 posts
Tuesday, 21 February 2012
B
Brenda Singfield
12:18 PM

I currently have a sat dish with a box which receives many free channels in Provence/south of France via Astra Sat. I( want to change to have a twin tuner box that will also record - what do I need to do/buy?

Brenda Singfield's 3 posts
Select more comments
Your comment please