Can I receive UK free-to-view TV in Southern Spain?

Brian Butterworth published on UK Free TV
You will only be able to get the services on the Astra 2A satellite (and then only Transponders 1, 2, 5, 6, 9, 10, 13, 18, 22, 37) and ASTRA 2B (transponders 14, 17, 21, 25, 26, 29, 30, 33, 34, 38):

ScreenShop
Price-Drop TV
TV Travel Shop
TV Travel Shop 2
TCM UK
CNN International
Travel Channel
Travel Deals Direct
BBC Parliament
S4C Digidol
S4C2
You TV
Goldshield Vitality
Create and Craft
Zee Music
Ideal World
ITV News Channel
QVC UK
Bid-up.TV
Sky News
TV Shop UK
Reality TV
TV High Street
The Shopping Genie
TV Warehouse Select
Shop America
TV Warehouse
Vector Direct
JML Direct
Game Network UK
Yes
Shopsmart TV

You will not be able to get any of the BBC and ITVs are all on the Astra 2D satellite: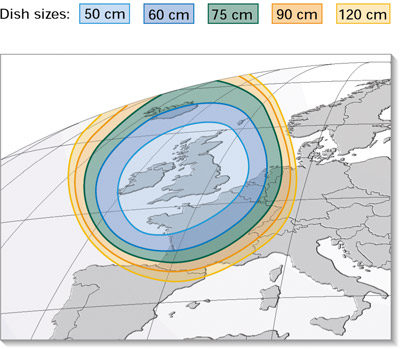 Channel 4 is on Astra 2A: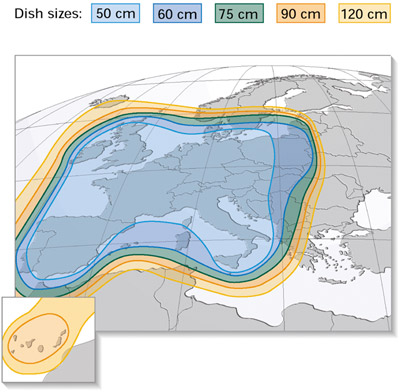 You may be able to get five, but you will need a Sky card to decode it.
Comments
Wednesday, 22 February 2012

Hi, we are looking to move to Spain (Murcia area) and we have a Panasonic 46" Plasma Neo TV with built in Freesat. Will we need to buy a Sky box and card to view these channels or will we be able to receive them as normal with a suitable sized dish?
We welcome any help as we have had conflicting reports.
Many thanks,
Tony

tony hurst's 1 post
Saturday, 25 February 2012

tony hurst: Murcia.-
Dish size, location are very important. Lots of parameters have changed recently. there is a new Satellite (Astra 1-N) which makes UK TV stronger than it has been for a long time, that is until December when it will be replaced with a new 'bird' pointing at the UK. Unknown results until it's launched 4th Quarter 2012. "Sky" branded equipment is NOT needed to view UK TV. However IF you NEED to see movies / sport then that's different. King Rupert bought the lot. SO, here in Murcia. your Panasonic TV will work with Freesat. You will see what you saw in the UK. /depending on the size of dish you have access to!). We live in Murcia, have five dishes, more than six receivers, and a Panasonic TV.....

Tom's 2 posts

Brenda Singfield: assuming your dish gets all available UK channels..... (ie it's big enough and pointing in the right direction) then a twin LNB (the thing on the end of the arm) at least is needed.A Quad LNB is better.... then two cables feed the room where the 'box' is. Then a Humax Foxsat HDR PVR would do what you want. No subscription to SKY. Beware December 2012 when a new satellite is launched. Nobody knows what will be receivable after that date.

Tom's 2 posts
Tuesday, 28 February 2012

We live in Gandia, Valencia, Spain, and our apartment is at the top (9th floor,) as we have a 1.2 mtr dish on the roof, which WAS used for Sky...which we no longer have. Can we use it with a Free Stat Box. Would we have to change the LNB ?.

David Tillott's 1 post
Thursday, 1 March 2012

David Tillott: As long as your dish is pointing towards the UK TV satellites at 28 east, then you can use a sky box, a freesat box, or just about any free to air receiver to receive the free to air UK channels.
You may have to change the LNB if it is old, or the plastic cover has cracked in the sun (water inside an LNB is bad!), or if you want to use a PVR like Freesat+, that ideally requires two cables to funtion to its full potential

satandpcguy's 89 posts
Friday, 2 March 2012

Why can't I get radio 2 on my sky hd box in Denia Spain. Near Valencia please.

Neil's 2 posts
Saturday, 3 March 2012

Neil:
The problem is specific to you and your system. It is fine for me now (Gandia) and was fine when I was in Denia this morning at a clients house.
Suggest dish alignment, LNB or cabling problems, or if you have a Thomson HD box, its that box!

satandpcguy's 89 posts

Neil: have you tried rebooting the box? Are there any other channels youa re having problems with (Radios 1,3,and 4 are on the same frequency - can you get those?).

satandpcguy's 89 posts
Monday, 5 March 2012

Hi I have a home in southern spain. I have a 1. 2m dish and a medion satelite receiver. I had someone install the system and they input a code into the receiver to get british tv. The electricity went off during the winter and the codes have been lost. Do you know of any codes I can try as I can no longer get tv.

Mark Fox's 1 post
Wednesday, 7 March 2012

Mark Fox: Receivers usually only have one "code" and thats a code to get into the install menu. They are usually "0000", "1111", "1234" or "9999".
Otherwise if by "code" you mean frequencies - see Eutelsat 28A & Astra 1N/2A/2B at 28.2°E - LyngSat which lists the UK T V satellite for frequencies.

satandpcguy's 89 posts
Select more comments
Your comment please