Can I receive UK free-to-view TV in Southern Spain?

Brian Butterworth published on UK Free TV
You will only be able to get the services on the Astra 2A satellite (and then only Transponders 1, 2, 5, 6, 9, 10, 13, 18, 22, 37) and ASTRA 2B (transponders 14, 17, 21, 25, 26, 29, 30, 33, 34, 38):

ScreenShop
Price-Drop TV
TV Travel Shop
TV Travel Shop 2
TCM UK
CNN International
Travel Channel
Travel Deals Direct
BBC Parliament
S4C Digidol
S4C2
You TV
Goldshield Vitality
Create and Craft
Zee Music
Ideal World
ITV News Channel
QVC UK
Bid-up.TV
Sky News
TV Shop UK
Reality TV
TV High Street
The Shopping Genie
TV Warehouse Select
Shop America
TV Warehouse
Vector Direct
JML Direct
Game Network UK
Yes
Shopsmart TV

You will not be able to get any of the BBC and ITVs are all on the Astra 2D satellite: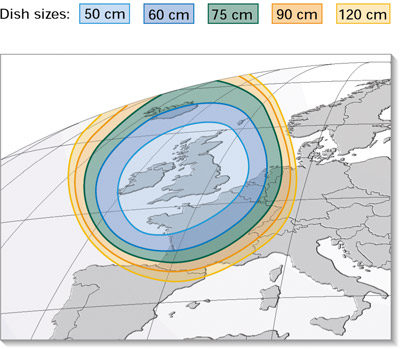 Channel 4 is on Astra 2A: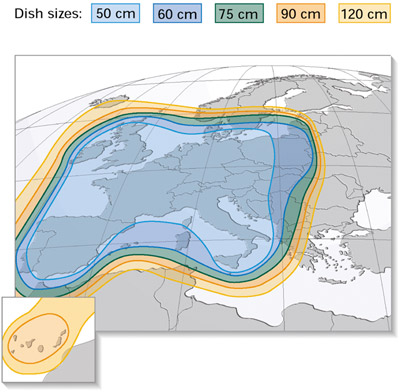 You may be able to get five, but you will need a Sky card to decode it.
Comments
Saturday, 1 January 2011

Hi,

So will a HD Freeview box work in Spain? What English channels will I be able to get if so?

Thanks

Nathan's 1 post
Sunday, 2 January 2011

Nathan: You won't get any English channels as these are not broadcast in Spain.

Briantist's 38,906 posts

I am told by an ex. pat you can receive BBC & ITV Progs in Southern Spain via an OR51 Receptor. Can you help,please.

ANTHONY's 1 post
Monday, 3 January 2011

Nathan, you need a Freesat+ box, and relevant sized dish, depending on your area. The humax Freesat+ is the best one for Spain

FreeviewSpain's 5 posts

James, alternatively get a Sky+ HD Box with a Freesat Card, this gives you Channel 4 HD, Five HD, Fiver, Five USA and Sky 3, in addition to the HD Channels (BBC1 HD, ITV1 HD and BBC HD)that are free to air)Fiver, Five USA and Sky 3 are not HD but are only abvailable via a Sky freesat Card.

FreeviewSpain's 5 posts

Keith, reference multi lingual Tv, You need to access a number of satellites, with the UK TV requiring the largest dish. This can be done, as the multiswitches can configure up to 4 satellites, but this requires good planning. If you are in a large community in Villa Martin, will also need good design, as some of the users may be quite a distance from the Dishes.

FreeviewSpain's 5 posts
Wednesday, 5 January 2011

ANTHONY:
If you have a satellite dish of the appropriate size, then MOST free to air digital satellite receivers will be able to receive the FTA BBC and ITV channels.
But you will need to be careful with which versions of receiver you have:
DVB-C are designed for cable TV
DVB-T are for terrestrial (ie aerials)
DVB-S for satellites.
I think the OR51 is a combiunit for C and T, so this will may work with a satellite dish system.

satandpcguy's 89 posts
Thursday, 6 January 2011

Can I use a sky aligned satellite dish to recieve Free-sat (with a free-sat box) in France?

David Walden's 2 posts
Friday, 7 January 2011

The UK TV channels available on Sky boxes and Freesat boxes all come from the same satellites, they do not use different satellites! If our dish is pointing at the UK satellites, then a sky or freesat box will work.

satandpcguy's 89 posts
Tuesday, 11 January 2011

i live in spain and i cannot get bbc1

angie's 2 posts
Select more comments
Your comment please