Can I receive UK free-to-view TV in Southern Spain?

Brian Butterworth published on UK Free TV
You will only be able to get the services on the Astra 2A satellite (and then only Transponders 1, 2, 5, 6, 9, 10, 13, 18, 22, 37) and ASTRA 2B (transponders 14, 17, 21, 25, 26, 29, 30, 33, 34, 38):

ScreenShop
Price-Drop TV
TV Travel Shop
TV Travel Shop 2
TCM UK
CNN International
Travel Channel
Travel Deals Direct
BBC Parliament
S4C Digidol
S4C2
You TV
Goldshield Vitality
Create and Craft
Zee Music
Ideal World
ITV News Channel
QVC UK
Bid-up.TV
Sky News
TV Shop UK
Reality TV
TV High Street
The Shopping Genie
TV Warehouse Select
Shop America
TV Warehouse
Vector Direct
JML Direct
Game Network UK
Yes
Shopsmart TV

You will not be able to get any of the BBC and ITVs are all on the Astra 2D satellite: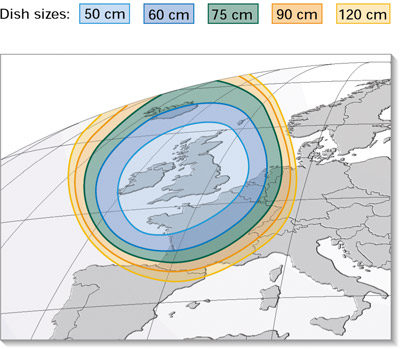 Channel 4 is on Astra 2A: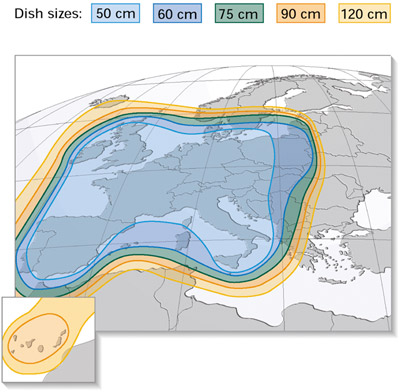 You may be able to get five, but you will need a Sky card to decode it.
Comments
Tuesday, 22 February 2011

I have an 80cm motorised dish and a technomate 5300 D+ USB super box. Up until lat week was getting bbc and itv OK not all areas but good enough now after about 5pm in the evening cant pick up a decent signal for bbc. Im located between Malaga and Marbella Southern Spain. Can anybody help me?

Lynne's 1 post
Wednesday, 23 February 2011

I am surprised you get BBC1/2/3/4 on an 80cm dish where you are. Normally a 1.25m (or bigger) dish is required.

Still, if you used to getthe channels, and do not now, then check the dish alignment, or LNB, or cableing. Motors are not always 100% so it may not be going to the correct location.

satandpcguy's 89 posts
Thursday, 24 February 2011

Hello,

I am living in Germany and have just returned from Spain where I was staying for a week.
I have a house between Marbella and Estipona.The house is situated quite high with nothing to block out tv signals.
When we bought the house it had two sky boxes one upstairs and one downstairs.The one downstairs was always okay but the one upstairs would take a few days before the signal came through! If it was turned off, the signal also went again and could take quite some time to come back.

They share a double LNB with a 1.5 mt dish.(which is almost 30 years old)

Over Xmas (downstairs) many channels were breaking up later in the day and so I tried to adjust the dish.I have the very basic sat finder and it always did the trick.This time, although I got a strong signal coming through from the sat finder there was no Sky signal.I tried again this last week but with no success at all. I tried to update the software but without success.
and also a direct cable from tv to dish.Nothing works.
I must point out that my neighbour has had no problems with sky.(except certain channels breaking up evening time.

I tried a second sky reciever but with the same result.It seems to me there is nothing else to try!

I also have a smaller dish for German.When I used my sat finder installing that I found many different signals from various countries but when searching on the big dish for Sky,I could only find one signal.
I did try another LNB(quite an old one) without success.

I would really appreciate any help anyone might be able to offer.

Sincerely,

welshtaffy

gomer evans's 1 post

Allan: You must be able to access the Astra 2D satellite with the restricted footprint for the Sky box to work correctly.

Just having access to Astra 2A and 2B is not enough.

See the footprint diagram at the top of the page.

Briantist's 38,902 posts
Sunday, 27 February 2011

Sky boxes work fine, even if there is no 2D access. Many use Sky boxes on in fringe areas, like where I am, with 80cmn dishes, and do not get 2D reception, but the boxes still work OK. True they do not get FTA BBC, ITV, C4's, (which in some areas require a 2.4m dish) but a Sky box will work as long as it get ANY signals from ANY of the 4 UK TV satellites.

satandpcguy's 89 posts

gomer:
No signals issues can be down to a number of things:
LNB has gone, dish realignment is required, or there are cabling issues.

As one box works OK, and the other does not, then that could be down to the port on the LNB going, cable issues, or receiver issues.

The Software update will only work if you have access to the 11778 main Sky frequency.

This is the same frequency that the sky boxes use to boot up. In some areas of Spain, even in big 2.4m dishes, this frequency can be tricky to receive, especially around 5pm, when it is at its weakest, and the boxes just show "no signal, or searching for listings". Sometimes the boxes get a sniff of the signal and boot up correctly, but sometimes you have to help the box boot up but changing this frequency to another frequency, that carries a small amount of the date that it carried on 11778, but enough to get the box up and running... you can see this process here http://www.satandpcguy.com/Site/sky_satellite_default_transponder_frequency_settings_costa_blanca_spain.php

This does not help reception, it does not make channels last longer, and it is normal for this frequency to revert back to 11778, it is just to help boot the sky box up.


satandpcguy's 89 posts
Tuesday, 1 March 2011

Hi, I live in Seville, and for the past 5 years or so have had a 1.2m dish installed, with a receiver box (not sky). I have always been able to receive hundreds of channels (all the regional ITV & BBC channels, Channel 4 and Five sporadically & lots more). In the last few weeks, I have lost most of the major channels, and now have no BBC1 or 2, no Cbeebies (for the kids), and dozens more have disappeared. This is the first time this has happened- any suggestions, ideas, opinions as to what happened or what to do?
PS, please simplify answers, as although I have a basic understanding of these things, I am by no means an expert!
Thanks

Helen's 1 post
Wednesday, 2 March 2011

Helen: Either your dish has become misaligned, or either the box or LNB on the dish is starting to fail.

It is a bit hard to know which of the three it might be.

Briantist's 38,902 posts
Saturday, 5 March 2011

helen:
I know htta osme people in our area have upgraded theire LNB to an Unverto Ultra Black, which ahs a very good reputation, which ahs helped with signal loss. But would suggest dish needs realigning

satandpcguy's 89 posts
Tuesday, 22 March 2011

HI I am in Motril s, Spain, Ihave 1.25 dish I can get all of astra 2 programs except BBC,iand 2, do I need a special Lnb, My friend next door has the same dish and when I use his dish all is okay (36.7182,-3.5474)

Mike hopkins's 2 posts
Select more comments
Your comment please