Can I receive UK free-to-view TV in Southern Spain?

Brian Butterworth published on UK Free TV
You will only be able to get the services on the Astra 2A satellite (and then only Transponders 1, 2, 5, 6, 9, 10, 13, 18, 22, 37) and ASTRA 2B (transponders 14, 17, 21, 25, 26, 29, 30, 33, 34, 38):

ScreenShop
Price-Drop TV
TV Travel Shop
TV Travel Shop 2
TCM UK
CNN International
Travel Channel
Travel Deals Direct
BBC Parliament
S4C Digidol
S4C2
You TV
Goldshield Vitality
Create and Craft
Zee Music
Ideal World
ITV News Channel
QVC UK
Bid-up.TV
Sky News
TV Shop UK
Reality TV
TV High Street
The Shopping Genie
TV Warehouse Select
Shop America
TV Warehouse
Vector Direct
JML Direct
Game Network UK
Yes
Shopsmart TV

You will not be able to get any of the BBC and ITVs are all on the Astra 2D satellite: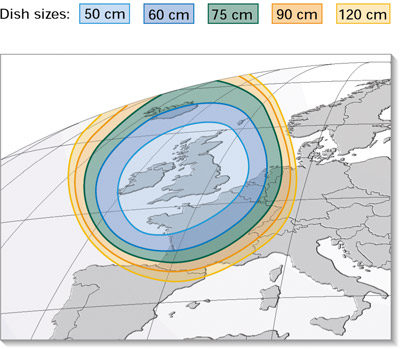 Channel 4 is on Astra 2A: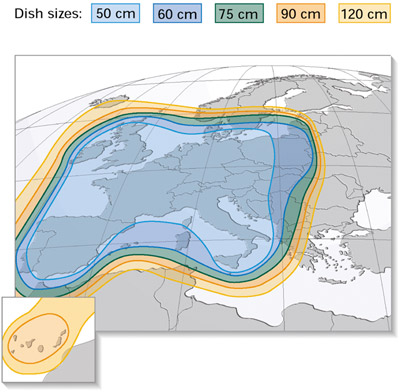 You may be able to get five, but you will need a Sky card to decode it.
Comments
Friday, 22 April 2011

Paul Gavaghan: If you get get HD, Channel 4 HD is on 12607 Vertical 27500, 3/4


Briantist's 38,899 posts

Paul:
you can try C4s on 12480, the irish versions, but I think your dish is too small to receive them (they are on a "north" beam.
I think you may even struggle to get C4HH on your dish, as it is on a frequency similar to one at Badr 26 east, and the Badr will overpower the weaker Eurobird C4HD. Even my 80cm dish has trouble getting it 24/7, my 1.8m dish has not problems (i am near valencia). According to reports that one reason why they put C4HD on that specific frequency

satandpcguy's 89 posts
Friday, 20 May 2011

I propose to get a Sky freeview card in the UK via my sister, who has a Sky subscription. I propose to use the card in Spain at my holiday apartment. Does the card need to be activated via Sky in the UK, and is it linked to the box via which it is activated? Or can I simply take it to Spain and activate it there?

william mckee's 3 posts
Saturday, 21 May 2011

william mckee: It's not a "FreeVIEW" card, it is a "Freesat from Sky" card and it provides access to Fiver, 5* and PICKTV only. All the other channels can be received simply by not having a card in the machine.

Briantist's 38,899 posts

Briantist: we are in the Canaries. Local English guy said he cannot get ITV, Ch5, and others on his freesat box. He said that you need the Sky Freesat card to get them. Hence my enquiry about the card. Any idea whether the card would need to be activated via Sky in the UK and linked to a box there? Or could I just take it to Spain and activate it there? Thanks

William McKee's 3 posts

William McKey: as I said, no card is required to watch free to air channels.

Briantist's 38,899 posts

Willian (and Brian)
You do need a Freesatfromsky card to view the 8 or so "free to view" ITV1 regions on frequency 12402, and 11973. Those on 11973 should easily be available in the Canaries. Theya re on an Astra 2 south beam, and are easily available on an 80cm dish over most of Spain, whereas the "free to air" ITV1 regions require a much bigger dish. In the same way that "free to air" five needs a very big dish, the "free to view" freestafromsky card versions need an 80cm dish.

So the freesatfromsky card is always a good idea in Spain for those FTV ITV1 regions, and the "Five" channels, and even C4s (the irish versions on 12480 if you can receive those).

satandpcguy's 89 posts

Best to get the card activated in the UK, and post / bring it out to Spain and pop it in your Sky box.

Note that a Sky card will not workin a Freesat box.

The FReesatfromskyc ards are not box specific, so can be activated in one box, and used in another.

satandpcguy's 89 posts
Sunday, 22 May 2011

I am just north of Rome in Italy in a camper van. The auto tune sat finds astra 2 but the freeview hd box says no signal. It all works near Milan but fails down here. I can access other sats via the auto tune but think it may be the free sat box. Help please.

michael's 2 posts

Satandpcguy:many thanks for the responses

William McKee's 3 posts
Select more comments
Your comment please