Can I receive UK free-to-view TV in Southern Spain?

Brian Butterworth published on UK Free TV
You will only be able to get the services on the Astra 2A satellite (and then only Transponders 1, 2, 5, 6, 9, 10, 13, 18, 22, 37) and ASTRA 2B (transponders 14, 17, 21, 25, 26, 29, 30, 33, 34, 38):

ScreenShop
Price-Drop TV
TV Travel Shop
TV Travel Shop 2
TCM UK
CNN International
Travel Channel
Travel Deals Direct
BBC Parliament
S4C Digidol
S4C2
You TV
Goldshield Vitality
Create and Craft
Zee Music
Ideal World
ITV News Channel
QVC UK
Bid-up.TV
Sky News
TV Shop UK
Reality TV
TV High Street
The Shopping Genie
TV Warehouse Select
Shop America
TV Warehouse
Vector Direct
JML Direct
Game Network UK
Yes
Shopsmart TV

You will not be able to get any of the BBC and ITVs are all on the Astra 2D satellite: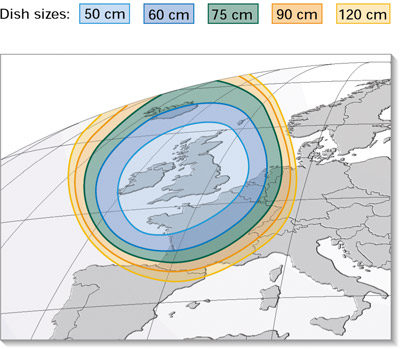 Channel 4 is on Astra 2A: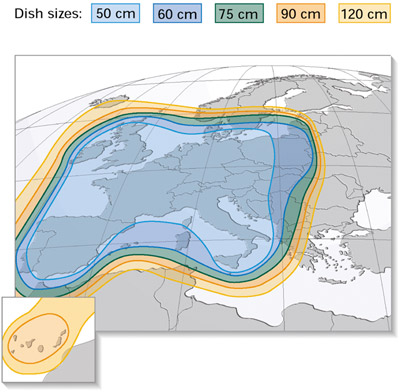 You may be able to get five, but you will need a Sky card to decode it.
Comments
Tuesday, 22 March 2011

If your friend has the exact same kit as you do (ie same dish, same LNB, same cable, same receiver) and he gets channels you do not, then perhaps your dish needs alignment.

satandpcguy's 89 posts

I think you may be right but I am not sure we have the same LNB, thanks anyway (36.7182,-3.5474)

Mike hopkins's 2 posts
Friday, 1 April 2011

I have a Z100 Digibox and a 1.4 dish on the roof. I can get ITV channel Island good signal but all BBC channels break up or I get bad or no signal,does this mean my dish needs to be realigned it was installed over a year ago.BBc comes on about 8pm but only a very weak signal

Geoffrey Smith's 1 post
Saturday, 2 April 2011

sat dish in southern spain, if your dish is the same as your friends it could be dish alignment. or lnb skew, if your pictures are ok on some channels and not on others. try tilting lnb to bring them in, ive fitted many
dishes in spain over the years mostly 1.4 to 1.5mtrs in dia some recievers work better than others.

d shannon's 2 posts
Tuesday, 5 April 2011

Geoffrey:
perhaps your dish is not big enough for a stable signal in your area of Spain. In some areas the 1.4m dishes are operating on the very limit of reception and they need to be aligned correctly.
Or, like you say, the dish needs to be realigned.

satandpcguy's 89 posts
Friday, 8 April 2011
J
John Chisholm
12:47 PM
Greenock

In the extreme SW of Portugal near Sagres, we normally get good reception of most channels, including BBC, but it needs very accurate alignment of the dish and a "good" decoder.
We have a 140 cm dish with a quad LNB serving 4 houses, a Pace DS430N Skybox and a White Sky Freesat card.
Last visit we lost Channel 4 and all its relatives, following a gale and had to get the dish realigned.
A Pace box which had given 5 years good service became intermittent in Portugal, but still works fine back in UK, hence my comment about needing a "good" decoder
A neighbour has a BBC freesat setup with a Humax HD recorder/decoder and that works fine.
Hope this helps.

John Chisholm's 4 posts
John's:
map
J's Freeview map
terrain
J's terrain plot
waves
J's frequency data
J's Freeview Detailed Coverage
Saturday, 9 April 2011

John: a good decoder is only one part of the puzzle. Dish alignment, LNB and cabling are also required. So your decode may still be OK, but there is a nother issue with your system.
Many people i know hwho have had a freesat box here in Spain, have gone back to a skybox with a freesatfromsky card, due tot he other ITV1, c4s and five and the other 5 or so more channels it receives. It is especially useful as you can get the ITV1 on 11973 on an 80cm dish over most of Spain, yet a Freesat box, that cannot use a Sky card is limited to the FTA Astra 2d frequencies only.

satandpcguy's 89 posts
Monday, 18 April 2011

hi there,
I have a 120 cm dish on Astra-2.
Works fine,but I want to add another LNB+switch to get also Astra-1.
I'm living in south of Spain near Malaga.
You think this is possible?

Hope somebody can advice me on this.

Heinz

Heinz Dahmes's 1 post
Tuesday, 19 April 2011

Heinz Dahmes: It doesn't work like that, as the Astra 1 satellites are in a different orbital position. You need either a specialist second "arm" fitted to the dish.

An easier option is probably to use a second dish (a much smaller one).

LNBs are the same for all satellites.

Briantist's 38,906 posts
Thursday, 21 April 2011

Hi I live in Lanzarote an have a Sky package reg in UK. I have a 1.2m dish and have no problems receiving ITV1 and ITV+1 through "other channels" I was wondering though if there is a frequency I could pick Channel 4 up with? Any help appreciated.

Paul Gavaghan's 1 post
Select more comments
Your comment please