How do I change the RF output channel on a Sky Digibox?

Brian Butterworth published on UK Free TV
Press the [SERVICES] button and then press [4] [0] [1] then [SELECT]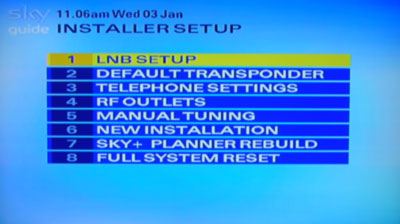 Then press [4] to go to the RF output menu.




You can now change the value so that it does not clash with an analogue TV channel or a Freeview multiplex.


HD and "new EPG" boxes
If you have a HD box, press [SERVICES] button and then press [0] [0] [1] then [SELECT]. Nothing is shown on the TV screen until you press the Select button.
Then use the [RIGHT] arrow button on the remote until this screen is shown, and press SELECT to change the values: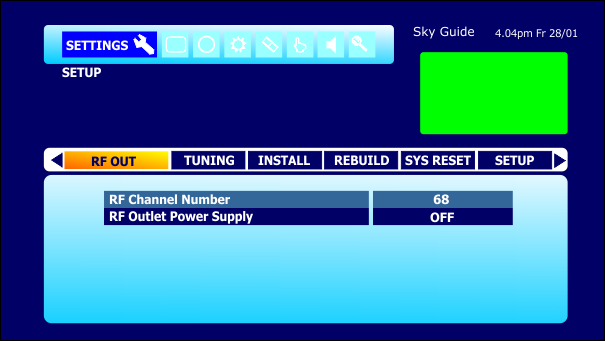 Comments
Sunday, 16 January 2011

hi i have a sky+ box,i have turned the rf 2 output on via the guidelines & saved the setting,but i have no red light on my magic eye,i have tried this on my hd box in another room & the light works,could this mean my box is faulty?

colin's 1 post

the best thing to do is change one at a time and then you will find the cause of the problem becuse else you will get hacked off having to buy it all again when it was something cheap and stupid

dom's 1 post
Monday, 17 January 2011

dom: Yes, that is correct.

Briantist's 38,908 posts

colin: Yes, as you say, this is likely to be a fault with the Sky box.

Briantist's 38,908 posts

Anna Plummer: I'm still not sure what isn't working.

I would try getting a signal on the "RF2" set without the Magic Eye connected first.

Briantist's 38,908 posts
Tuesday, 18 January 2011

I have put a sky+ box in the loft(each room has a digital coax run from loft)connected bedroom cable to RF2(switched on in settings)other end in bedroom is on a wall plate, then to a magic eye. problem is picture is terrible good colour but has annoying moving diagnal lines

Davie's 3 posts

Hi Please can you help
we have power at the magic eye but cant get a picture on the TV any ideas, many thanks

Lee's 1 post
Wednesday, 19 January 2011

Lee: How have you tried to tune to the TV into the output of the Sky box?

Briantist's 38,908 posts

Davie: Yes, much as you would expect with analogue distribution.

Briantist's 38,908 posts

Hi Briantist
how can I get the picture clearer? is the problem the wall plate, nothing is connected to anything anologue though.

Davie's 3 posts
Select more comments
Your comment please