How do I change the RF output channel on a Sky Digibox?

Brian Butterworth published on UK Free TV
Press the [SERVICES] button and then press [4] [0] [1] then [SELECT]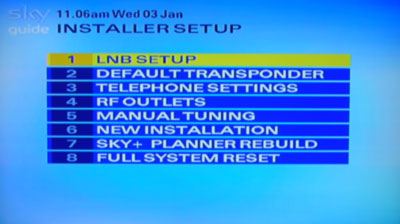 Then press [4] to go to the RF output menu.




You can now change the value so that it does not clash with an analogue TV channel or a Freeview multiplex.


HD and "new EPG" boxes
If you have a HD box, press [SERVICES] button and then press [0] [0] [1] then [SELECT]. Nothing is shown on the TV screen until you press the Select button.
Then use the [RIGHT] arrow button on the remote until this screen is shown, and press SELECT to change the values: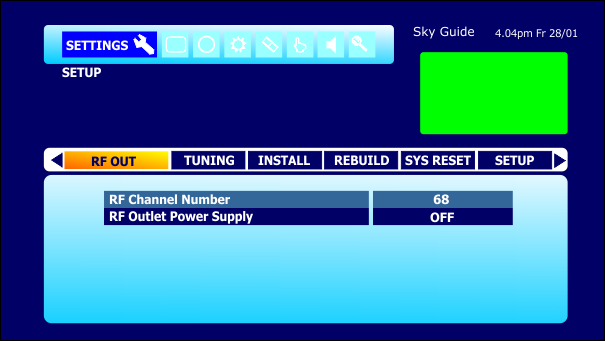 Comments
Sunday, 24 June 2012

gary frobisher: In addition to what Mazbar has suggested that you check, try connecting the magic eye directly into the Sky boxes RF2 output socket just to make sure that the eye is actually OK, as if it still doesn't light by doing that and you have double checked that the RF2 power is switched on, then either the eye is defective or its the Sky boxes power supply to the RF2 socket.

By the way, on the direct connection test you don't really require to connect the eye's output to anything unless you want to verify that it can change channels, although you will need to cover the front of the Sky box using a towel or similar to make sure that it doesn't pick up the remote control IR signal directly thereby by-passing the eye.

jb38's 7,179 posts
Tuesday, 26 June 2012

Hi I have Built In Freeview Main TV - Sky HD + Box - 2nd TV Built In Freeview - everything was perfect until the Main TV was moved, and the connections unconnected, all the channels are perfect on Main TV, on the 2nd TV half the Freeview Channels are missing, yet I can get sky ok (even though I have to watch whatever is on from Main TV), I have tuned - re - tuned, and this is causing rows at home.....Please Help

Tracy's 1 post

Hi,im looking to buy an 51"Samsung 3d t.v with built in FreeviewHD,my question is this,i already have a Sky+box and im wondering how i go about viewing the HD content on the t.v?Will i be able to use the Sky box or is extra cabling required from my Satellite dish which incidentally has 2 spare outputs?Many thanks.

Mike's 3 posts
Sunday, 1 July 2012
J
James
8:23 AM
Stoke-on-trent

Briantist
Can you help I have a second tv in kitchen attached via RF2 to play free view and sky. Free view plays perfect and the sky picture is fine but the sound is completely distorted. When I do a reset it works for a day then completely goes again. I have tried different channels as recommended but no joy. An engineer has told me it is the Tv that may be the problem but it is a brand new Lg so I am not sure. Aerial goes into sky box coax out to kitchen tv. I also use a tv link but I changed this to ensure it wasn't this. Any thoughts. Thanks

James's 7 posts

i have a sky digibox my 2nd tv has bult in freeview i have changed sky settings to channel 68 and rf outlet power supply to on but have no sound

tony's 1 post

tony: No sound on what? are you meaning when on Freeview or Sky whilst on the second set? although without knowledge of your location (post code or one from nearby - a shop etc) and so unable to check, but if the sound disappeared at the same time as you set the RF output channel on the Sky box just try selecting another channel and rescan the second TV whilst its set on analogue to enable the RF2's new output channel to be found.

Apart from that I take it you are using a magic eye? by the fact of you having mentioned that you turned the RF2 power on, as if you don't have an eye then the power should be left off.

jb38's 7,179 posts

James: If the TV sound is also distorted whilst on Freeview then that most likely a fault within the TV, however if you are meaning that its only distorted whilst viewing Sky via the RF link then for a test try unplugging the normal aerial thats going into the Sky boxes aerial socket and have a check at the result, as it could be that the local Fenton transmitters digital signal is slightly too powerful and is causing a problem within the Sky boxes RF analogue modulator.

Further advice given dependant on the result of the test.

jb38's 7,179 posts

Mike: If your Sky+ box is of an HD type (as both SD & HD types exist) then you can couple it into the TV via an HDMI lead, although are you also intending to use the Freeview HD facilities on the Samsung TV? as if you are then a normal aerial will be required as the LNB's spare output ports are only of use if the TV is also Freesat capable, as indeed many are.

jb38's 7,179 posts
Monday, 2 July 2012

no sound on the 2nd tv fron the rf 2 sky box output

tont's 1 post
Friday, 6 July 2012

How do I get sky tv to tv in bedroom from hd box in the living room..vidio sender won't work because of brick wall.I heard this can be done with just a cable,thanks

Alan wright's 1 post
Select more comments
Your comment please