How do I get a test card with Freeview

Brian Butterworth published on UK Free TV
Go to channel 200 on Freeview, by entering [2] [0] [0] on the remote.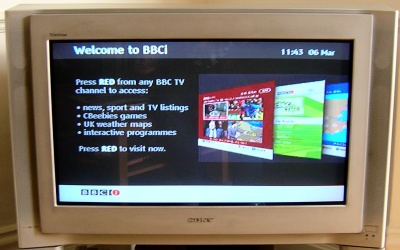 When this screen appears press [YELLOW], wait 2 seconds press [CH+], wait 5 seconds press [CH-]. When the above screen appars again, press [GREEN] and you will see:




Now press [GREEN] to see the test card (it may take several seconds to appear).


Comments
Tuesday, 2 August 2011

Ron Lake: It works on any Freeview device that supports MHEG-5, and as a text service has nothing at all to do with the power level.

Briantist's 38,844 posts
Monday, 10 December 2012

the test cards ok,what about the music?

dave reeves's 1 post
Saturday, 14 March 2015

Hi,

Can you still see the test card at channel 200? I have tried, but the screen simply says Data.

Aidan's 1 post
Wednesday, 18 March 2015

I can only see the three screens on Channel 200, until I tune away. Then the Welcome words appear for a second. Tuning back just gives the three screens again. After that only the red button works, taking you to Channel 1.
In the evenings there is a different screen, asking you to choose a region.
What has happened?

gordon17's 1 post
Saturday, 11 November 2017

After numerous EPG channel number changes you start by accessing Red Button channel on 250 by entering that number directly or selecting from EPG, channel list or so on

Miles Thomas's 5 posts
Sunday, 29 July 2018

Don't think this works now, even if you start from page 250.

Brian Gregory's 22 posts
Friday, 10 May 2019

Still works for me. In fact there are more(but not necessarily useful) options on the 'secret' screen.

Mike Davison's 10 posts
Select more comments
Your comment please