To join, leave or change ukfree.tv updates by email, enter your email address here:
Having problems with TV background music?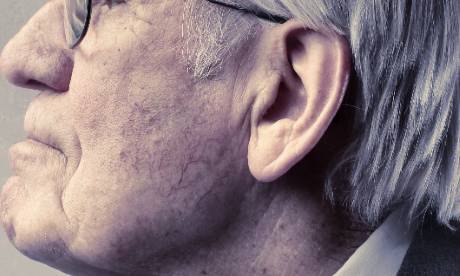 Brian Butterworth
published on
UK Free TV
Ancient technology
From the large crowds that you find at places like Ephesus and Miletus, I know I am not the only one interested with the lives of the ancient Greeks. It is fascinating to know that even back in the Mycenaean era (1600-1100BC) people were building vast theatres. I find it humbling that 3,500 years ago human ingenuity was being used to construct arenas for the provision of entertainment to large crowds of people.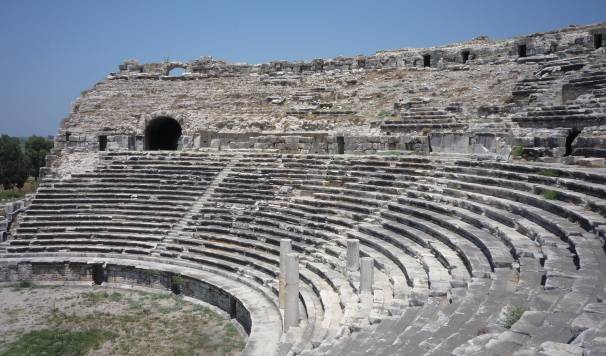 Something that continues today with television.
How music works
If you have seen series such as Howard Goodall's "How Music Works" you will know that music is enjoyed on many levels, such as Melody, Rhythm , Harmony and Bass.
The human condition allows us to communicate emotional states with music, and modern TV production makes great use of this. TV sounds has long since been stereo (the NICAM system in the 1980s) and HD programmes often use six-speaker "surround" sound to give a cinema-like audio experience.
Going back over 45 years to documentaries such as Civilisation: A Personal View by Kenneth Clark, music is used to communicate emotional states to mix with in-vision and overlay voices.
Can you not hear the birds singing?
If you are having problems hearing the sound on a TV programme, you may wish to consider that the problem is not the people who make the programmes!
For most viewers, the mixing of music and speed is not a problem. Quite a few people experience a form of mild hearing loss which makes it harder and harder to distinguish voice from other sounds.
This could be a temporary form, which your doctor can fix.
Age-related hearing loss. Because hearing loss is a gradual process people are often unaware that it has happened.
The large river in Egypt? Denial
Discounting the idea that you might be a a misanthropic psychopath, some studies have shown that as many as a third of people with hearing loss are hiding it from others or themselves.

Data from Hearing Loss Tomorrow - BrainFacts.org
However, for a significant minority of people, this can cause problems. Generally speaking this is more likely as people age.
UK All hearing loss: 3,721,000 Working age + 6,390,500 Retirement age = 10,111,500 Total
Can I find out now if I have hearing loss?
Yes, watch this video. Unless you have an great sound system attached to your PC, you might need to use enclosed headphones to get it work properly.
What can someone with hearing loss do?
If you have undiagnosed problems, please go and see your GP. If you live in the UK you will get free treatment, and this can include hearing aids. For the 5% of those with hearing loss who need it, you can also have certain operations.
Access to ENT (Ear Nose and Throat) Specialists at hospital is always via your GP.
For more details on what you might expect see
Practicable things to try
use the "tone" controls on the television set to promote the frequencies in speech (which are 85 to 255 Hz) and decrease the rest. This might be a cause of "turning down the treble".
use the on-screen subtitles to help pick out the voice when it seems unclear.
Also, most modern sets have an "auto audio" type facility, often on a button on the remote control that will flip though settings like "music" and "movies" and "speech". These are usually just graphic-equaliser settings, but you might find that you need to actually disable this facility.
You boost over 1kHz to compensate for the way you hear the sound, rather then turning up the volume, which is what would seem the obvious thing to try if you can't hear.
If a programme is broadcast in "Surround Sound" – often called 5.1 sound – you may be able to boost just the "dialogue speaker" (the one at the front centre), and even mute the left and right ones. Certainly worth trying for movies.
Comments
Saturday, 8 November 2014
Peter Thornton
9:06 AM

We live on a canal boat and about a month ago we bought a Panasonic Soundbar. It is amazing both for massively improved TV sound and for saving space. A major consideration aboard. It's mentioned in a post above that you should go to a proper audio shop and ask questions. I firstly went to Richer Sounds in Bath and they convinced me that the sound bar was the way to go but I needed to check connections on our TV and other equipment I wanted to use with it. The Panasonic unit has 4 HDMI inputs and one optical connection. I also needed a mini jack input as my old iPod is not Bluetooth. However when I went and bought the Soundbar at Richer a Sounds in Chiswick ( too complicated to explain why there and not Bath) I asked about the jack input and was shown one on the demo model right next to the optical input. But when I got it home that jack socket was not an audio input but a connection point for a remote infra red control unit should the built in one be hidden behind the TV if the Soundbar is wall mounted. So be careful even if you go to the specialists. They don't always know everything. However the quality of the sound from our Panasonic SC-HTB880 connected to our DigiBox via optical cable far out ways there not being a mini jack connection for my iPod. We play our music via very reliable Bluetooth from our laptop more than we use it for TV sound.

Peter Thornton's 3 posts

Peter Thornton: A nice system, and its sound like it does what you need. I like Richer - their rivals, but they are good, and in fact I bought my current (12 year old) DVD from them. I probably would have guessed the IR connection to be a 3.5mm jack as well - I know I dont always get it right.

Two things I'd suggest. Its sounds like your getting no sync problems using the digital optical from the 'digibox' (PVR?). But if you have digital optical on the TV, try that instead - everything goes in, and and everything goes out together is always good practice. Although your Ipod (Classic?) doesn't have bluetooth, and the bar doesn't have 3.5mm/RCA, you could get a cheap bluetooth transmitter, and use your Ipod that way 7dayshop Bluetooth Wireless Audio Transmitter - Universal 3.5mm jack - Black

MikeB's 2,532 posts
Platinum
Monday, 10 November 2014
A
Anthony
10:10 AM
Accrington

If you have a 5.1 dolby digital capable bluray/home cinema system connected by digital optical lead or digital coaxial lead to a SkyHD box or Dolby Digital capable Freeview HD box which translates the transmitted 5.1 Freeview HE-AAC 5.1 surround component to Dolby Digital output, make sure your speakers set at full on all the channels.

Some bluray/dvd home cinema units automatically translate the non 5.1 output to Dolby Pro-Logic II movie or music mode selectable by remote control (MOVIE is best as it centralises the dialogue better) which centralises the dialogue spreads the stereo output across the two front stereo channels and feeds the extraneous sounds to the rear surround speakers.

Anthony's 70 posts
Bronze
Anthony's:
Freeview map
terrain plot
frequency data
R&TI Service
digitaluk trade
DAB coverage

Our sound bar is actually a 'sound base', the Canton DM50. Comes highly recommended Buy Canton DM 50 Bluetooth Sound Base | John Lewis

Ben's 28 posts
Bronze

Ben: Whats it like? Although its on .com, we dont have any in my store (I understand Canton hasn't been stocked by JL for very long). It looks vaguely similar to the Orbitsound soundbase, but reviews seem to be excellent, and there are some nice extra features.

How does it compare with a Bose soundbase, for example?

MikeB's 2,532 posts
Platinum
Thursday, 13 November 2014
Ian
6:10 PM Hinckley

Mike B

My TV is;

Silvercrest LCD-TV 32111

Brilliant TV, loads of inputs and outputs and if freeview had been broadcast in MPEG4 and not T2 it would of had Freeview HD, but there you go

Cant get at back of DVD but its a samsung blueray

Ian's 503 posts
Gold
Ian's:
Freeview map
terrain plot
frequency data
R&TI Service
digitaluk trade
DAB coverage

ian: I'm not familar with the Silvercrest brand (Lidl?), but if you list the inputs (along with your budget), perhaps we can suggest something.

MikeB's 2,532 posts
Platinum
Wednesday, 19 November 2014

TV programme guides/schedules. Unless there's some clash that can't be solved by recording, I watch via my Humax PVR, which has a 7-day Guide. However, the full 7 days is only available on BBC Channels, a bit less on ITV/C4/C5 and often only 4 days on the rest. Why should this be, when more than 7 days is available on the channels' own sites? More puzzling is that on a couple of occasions I''ve moved along to the 5th/6th day and some of these channels have appeared then shortly afterwards blanked out, not to appear if I try again later. The Guides on our two TVs also show 7 days, yet it is precisely for recording that one needs advance knowledge.

Michael's 32 posts
Bronze
Select more comments
Your comment please