What is in store for the next round of BBC regional TV cuts?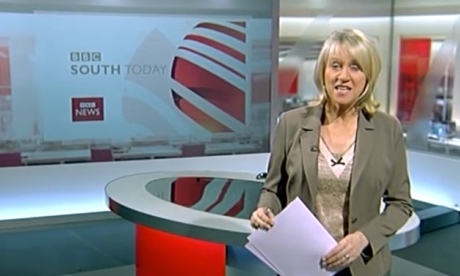 Brian Butterworth
published on
UK Free TV
Here is the cuts graph again, for the period ending 2016/17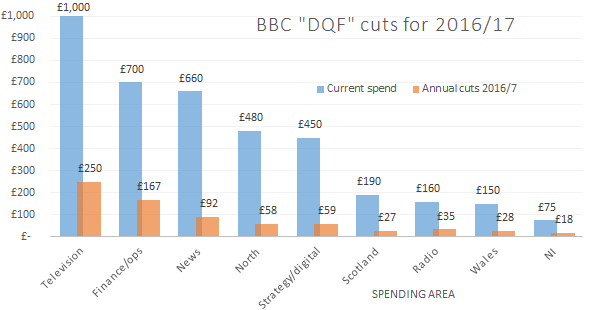 I have looked at this topic before in the Why the BBC should abandon 700+m "regional news" to fund local radio, BBC three… article.
BBC Regional News in England is very expensive - perhaps half of the BBC One budget, if 25% cuts are to be made then the regional news seems an option.
There are basically two options here: reduce the output, or reduce the regions.
Option 1: Reduce the regions
There are 14 regions in England (on top of Wales, Scotland and Northern Ireland). One option would be to reduce that down to 8, each with 12.5% of the homes in. Here is a how that might work out: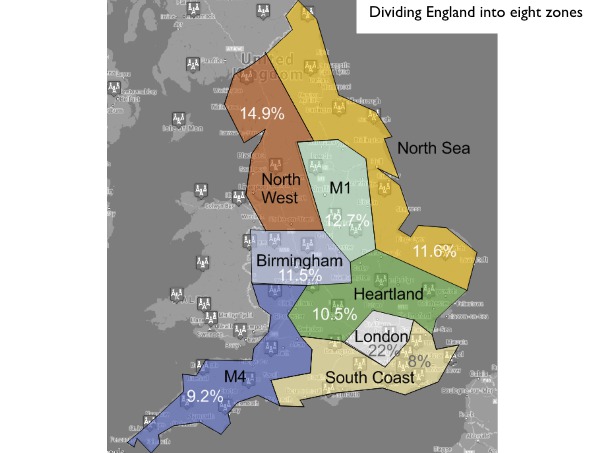 This would mean "joining" some regions ("Leeds" and "East Midlands"), keeping some the same ("North West", "London") and splitting some ("West Midlands"). The above scheme notes that London+Heartland+SouthCoast is 3 eighths in total.
Such a scheme would be more equitable in terms of budget breakdown, but someone, somewhere is going to feel "distant" from their news centre.
These changes would make sense from a money-saving perspective. Larger regions would mean fewer studios and savings on broadcast costs, especially satellite where each BBC One region is broadcast separately.
Here's how the figures work out
Option 2: Reduce the output
Another option would be to keep all the 14 England regions, but reduce the number of broadcast minutes a year.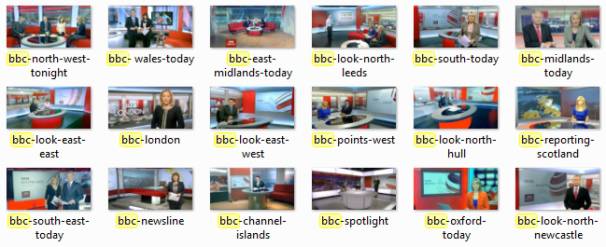 Currently the regions insert their own content for a few minutes per hour during Breakfast weekdays, for a quarter hour at 13:30, half an hour at 18:30, an update at 19:57, seven minutes at 22:25. At the weekend there is segments of Sunday Politics and news updates, with regional documentaries Inside Out.
To save 25% of the budget, the weekday evening programmes could be taken back to 22.5 minute, with shorter late updates and less minutes during Breakfast. The Inside Out programme could be broadcast for only 75% of the current hours.
Compared to Option 1, this option will not reduce the number of BBC studios or satellite broadcasts, but may be more acceptable to the viewer. Extending the national news by four minutes and starting the One Show three minutes sooner could cover the loss somewhat.
Over to you
Would you accept shorter programmes and bigger regions, or the same programmes covering larger regions?
Comments
Thursday, 11 December 2014

Ian: Yes, that correct as far as BBC programmes are concerned, and as you have also mentioned, the same as far as ITV programmes are concerned provided that you have previously tuned them in using the Sky boxes other channels facility, although this would pose as a bit of a problem for some older viewers of the less able variety who are unable, if not indeed incapable, of using other than 101 and 103 for their news channels.

jb38's 7,179 posts
Friday, 12 December 2014

yes that's true, but they are expected to cope with all the freeview retunes and the demise of analogue, my poor old mother in law was still confused about it to her dying day.

Ian's 497 posts
Ian's:
map
I's Freeview map
terrain
I's terrain plot
waves
I's frequency data
I's Freeview Detailed Coverage
Saturday, 13 December 2014

Shorter programmes and bigger regions.
I would rather increase the local news content and reduce the national coverage. Most national content is old news anyway. The Web is most up to date way of getting the real news from any corner of the world.

david wadge's 1 post

We should be fighting ANY cuts this TORIE government try to put though.
WE the TV licence payees have had enough of the cut and slash approach with OUR money. TV licence payees pay more than is spent on the BBC, this government is racking off more each year because they do not like the comments directed directly at them. NO reorganisation to be allowed until after next MAYs elections when we get our say in this country.

Rob Smith's 2 posts
Tuesday, 23 December 2014
P
PETER HUGHES
6:18 AM
Clacton-on-sea

Does anybody know what percentage of our Licence Fee actually is received by the BBC.
The Government has, apparently, discontinued funding the BBC World Service radio and instructed the BBC to pay for this service, from our Licence payments---so less cash for the BBC to spend on our DOMESTIC radio and television services.
I seem to remember reading somewhere that part of the Licence Fee would be used to develop Broadband in parts of the UK.
What next---some of the Licence Fee to pay for road potholes?? The Government seem to be using the Licence AS A STEALTH TAX.

PETER HUGHES's 13 posts
PETER's:
map
P's Freeview map
terrain
P's terrain plot
waves
P's frequency data
P's Freeview Detailed Coverage
Monday, 2 February 2015
G
geoffrey o'neill
7:14 PM
Stockton-on-tees

cut the output of look north ie 6 -30 only no 1-30 spot

geoffrey o'neill's 24 posts
geoffrey's:
map
G's Freeview map
terrain
G's terrain plot
waves
G's frequency data
G's Freeview Detailed Coverage
Tuesday, 10 March 2015

Firstly, I'd say none of this is acceptable: the homogenising of this country is a depressing thought and to have the BBC abandon its important role in the regions is equally demoralising. However, with no option, I'd vote for longer programmes covering the existing regions.

James Harrison's 1 post
Friday, 13 March 2015
G
geoffrey o'neill
9:46 PM
Stockton-on-tees

I think 6 30 is the best idea as more people watch at that time.

geoffrey o'neill's 24 posts
geoffrey's:
map
G's Freeview map
terrain
G's terrain plot
waves
G's frequency data
G's Freeview Detailed Coverage
Sunday, 19 April 2015

I am very sad that this has been already allowed... I am on Southern and Oxford regions...... No point keeping both anymore.. as they are both carry same BBC and ITV regional news..... very disappointing for example.... I am in the south I want to know what's happening in my area not Kent dover where ever else!! whats the point in paying more and more for TV licence when we are getting LESS and LESS value for money!

Rob's 171 posts
Rob's:
map
R's Freeview map
terrain
R's terrain plot
waves
R's frequency data
R's Freeview Detailed Coverage
Saturday, 2 May 2015

Re the cuts to news output which always includes a weather forecast I see no point in having a forecast in the main news that is a good as duplicated minutes later in the local news - just more wasted money mostly that's our money! when a big event is covered by one broadcaster that should be enough (either BBC or ITV)we do not need simulcast of the event on all competing channels another example is if something occurs overseas does it need channel to channel and wall to wall coverage I mean if one of our politicians helps a member of the UK public in some way would that get reported on just about every American news channel or news report? maybe or not.

Graham F Lewendon's 29 posts
Select more comments
Your comment please