Why do less than one in five people with an HD set watch in HD?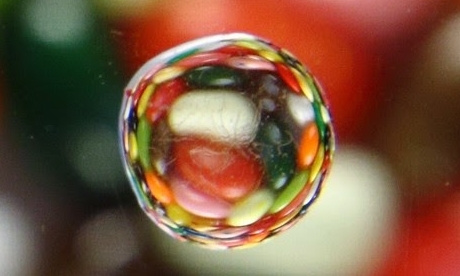 Brian Butterworth
published on
UK Free TV
I have given some thought and I've come up with four main reasons:
Not everyone has a HD receiver;
It's hard to find the channels in the programme guide;
Not all shows look that much better in HD
Eyesight is less good at the age where people watch lots of television
What do you think?
Reason 1: Not everyone has an HD receiver.
UK TV first started receiving Sky HD broadcasts in May 2006, Freesat HD in 2008 and finally Freeview HD in 2010. The digital switchover brought free HD to all homes in the UK by the end of October 2012.
However, for several years, HD television sets had the words "HD ready" on them. This means that the sets required an additional set-top box to get Freeview HD. Or, they could use a Sky+ HD subscription box or Freesat HD receiver.
That's why in 2017, 77% of homes have an HD "ready" TV set as their main screen [1], but only 82% of those sets can watch a live HD service. [3]
Reason 2: It is a pain to find HD content as they are far away in the EPG
For the people who have the equipment to be able to watch in HD, it can still be very difficult to find the channels broadcast in HD.
Basically, this means you can't surf the channel guide without making a very special effort to use the HD channels.
The logical place to find an HD channel would be as in place replacement, but only the HD satellite services do these simple swaps. So, the upshot is that even with the satellite swaps STILL only a third of BBC Two viewers watch in HD!
This diagram illustrates the logic of HD channel numbers by showing their numeric distance to move from normal, standard definition (SD) to HD.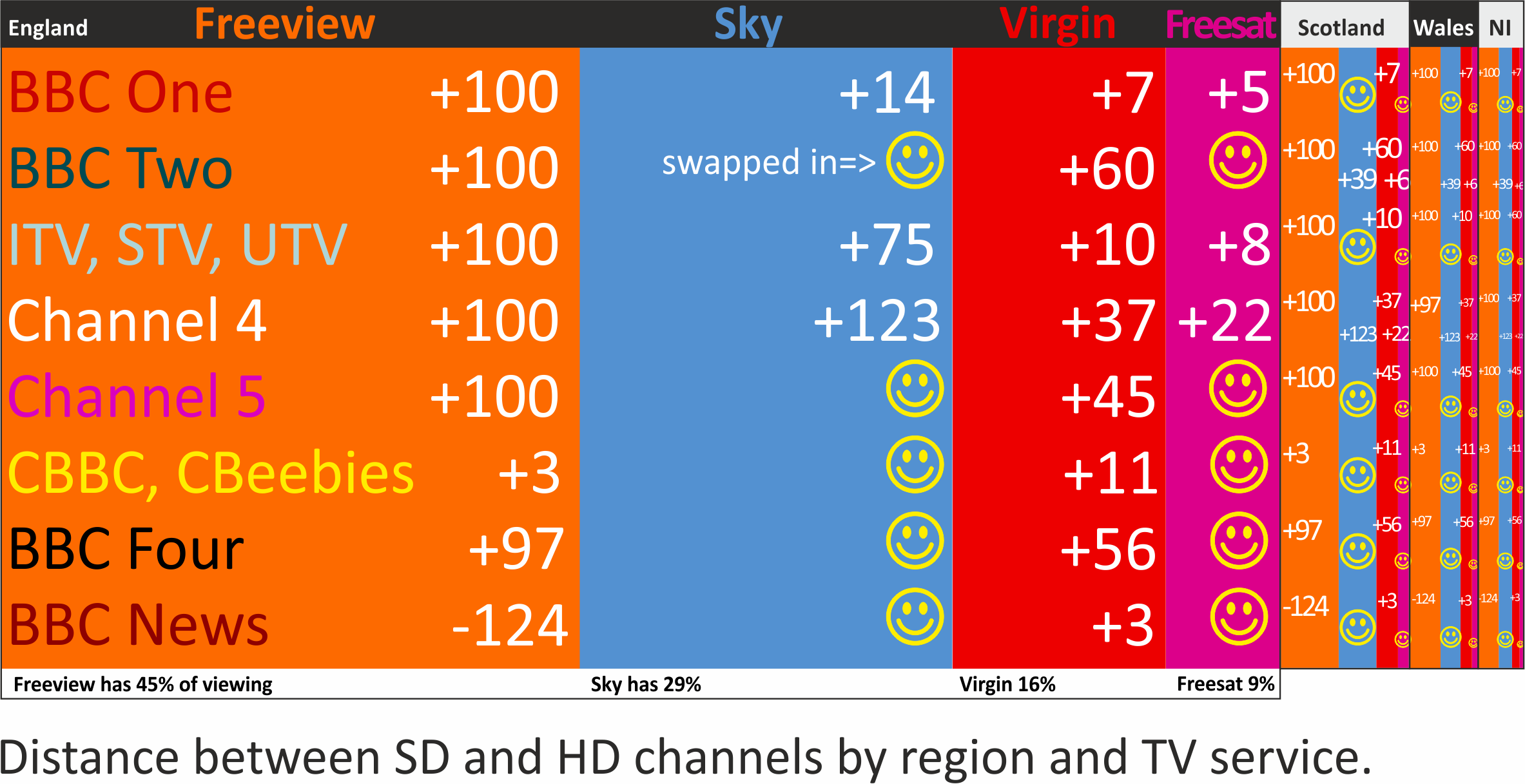 How do we know this is an issue for lots of viewers?
However, what is very interesting is that the share of viewers using the HD services for viewing the main free-to-air, public service channels (which get 51% of total viewing) is [5]:
Why are the figures so low? It's because on all Freeview sets, the HD channel numbers are not swapped with the single figures everyone knows, so you must know to add 100, 96, 97, 3 or even minus 124 to get the same PSB channel in HD.
It's a little better on Sky HD and Freesat HD where you get in-place HD swaps for Channel 5 and in England BBC Two HD, outside England BBC One HD and STV or UTV. And you don't need to hunt for the other HD BBC channels: CBBC, CBeebies and the news channel.
Will this problem ever be fixed?
Perhaps in hindsight it should have been the law for HD channels to be swapped into the EPG in the right place and for the broadcasters to provide regional news and adverts in HD for everyone?
There are good technical and money reasons for this: the regional news on BBC One costs a fortune to provide but there's no budget to broadcast them all in HD on satellite; Channel 4 and ITV are paid for by advertisers who paid for the regionalization of adverts.
This situation may improve when Freeview eventually becomes a "HD first" service, which might be in 2022 perhaps?
So, making the total for HD viewing for these "big five" grow from 12% 2014 to 17% in 2016. If you draw a line, it would make current final changeover date to all-HD … 2099.
Reason 2b: And your TV salesman isn't going to explain this to you…
Understandably, TV sellers want to show their merchandise at its very best. And the best way to do this is by showing specially made, extremely high-quality videos. Not by showing reruns of East Enders. That means you don't get to see how to set up HD channels when you get the TV home. And it would be a very dedicated salesman who had the time to show you.
Have a visit to your local TV store and you'll see this in practice. This week I checked out my local Curry's PC World. Curry's was using their old favourite of blockbuster 3D animated movies, which always look good on any screen.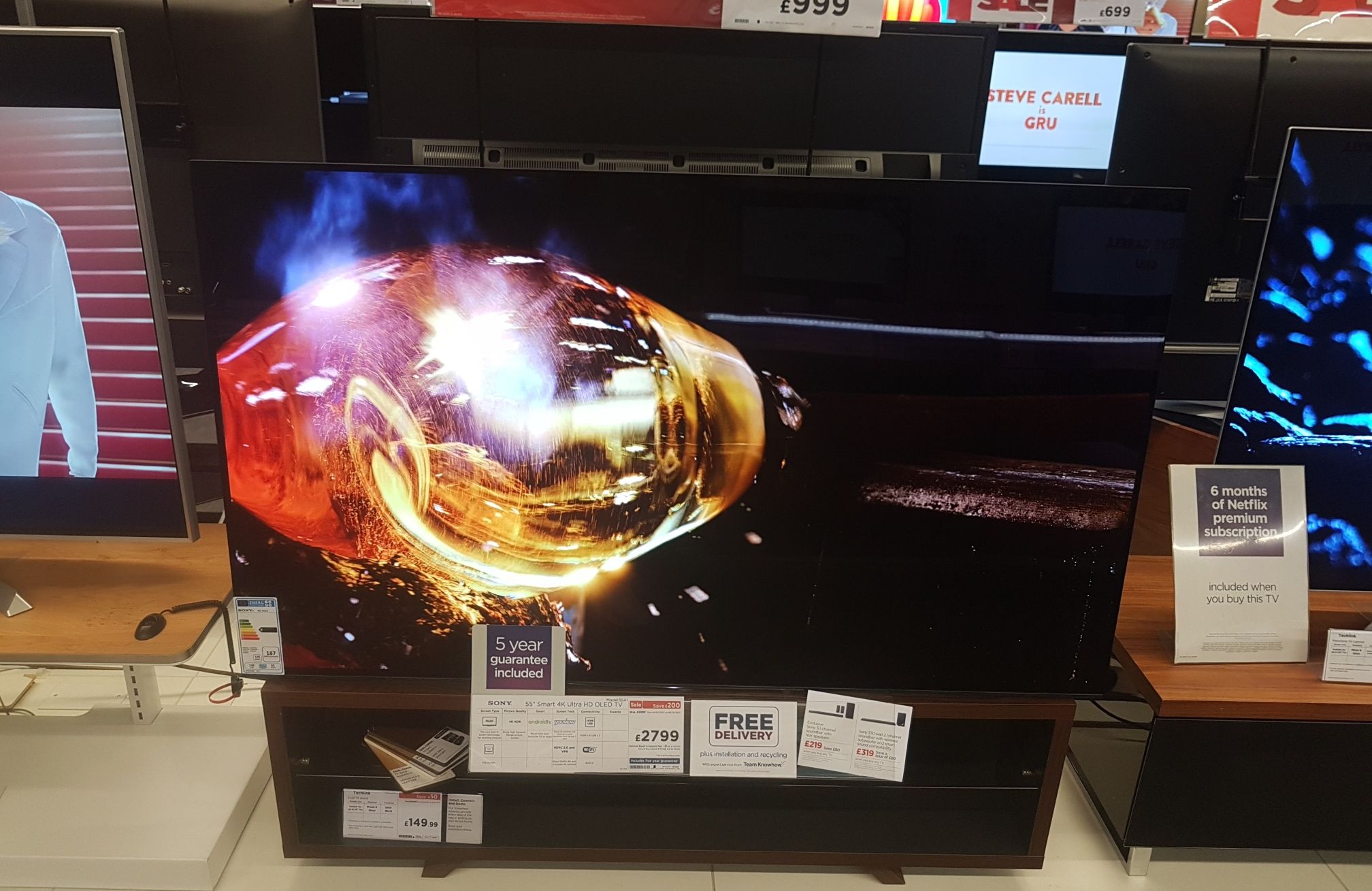 Reason 3: Not all shows look that much better in HD
If you have a relatively new TV, you probably won't be too bothered about finding those HD channels. Your favourite shows will look just great even on the normal channels.
There are TV programme genres that do really benefit from being watched in HD, especially nature documentaries and live stadium sport. But a lot of what people watch is news, soap operas and quiz shows. While these shows will look better in HD, the difference isn't that great on modern TV sets.
Reason 3b: Shows made before 2009 were never made in HD
And you're probably still watching a lot of reruns that were never made in HD anyway.
TV channels that show archive programmes (Drama, E4, Dave, ITV 3) or US imports (Pick, 5 USA) are incredibly popular among UK viewers. And these shows won't have been produced in HD if they were made before 2009.
Reason 4: Eyesight is less good at the age where people watch lots of television
Forgive me for pointing this out, but for many of us we just can't see the benefit of HD television. If, like me, you're getting near middle aged, you'll know all too well that eyesight declines with age. This is shown here on this chart.
And, its mostly people over 65 who watch a great deal of broadcast TV. Younger viewers prefer to use streaming services (Netflix, YouTube, etc.). And this trend is growing. [4]
Isn't it ironic that the people who are watching the most broadcast TV get the least benefit from HD?
[1] https://www.statista.com/statistics/387729/market-share-of-hdtv-and-hd-ready-tv-sets-in-the-uk/
[2] http://www.digitaluk.co.uk/__data/assets/pdf_file/0007/92761/Digital_UK_Update_2017_online.pdf
[3] https://www.ofcom.org.uk/__data/assets/pdf_file/0016/105442/uk-television-audio-visual.pdf page 79
[4] https://www.theguardian.com/tv-and-radio/shortcuts/2017/mar/29/a-dying-habit-why-the-average-bbc1-viewer-is-61
[5] https://www.ofcom.org.uk/__data/assets/pdf_file/0040/95899/CN16-08.pdf page 78
Comments
Monday, 16 October 2017

MikeB:

Another problem not mentioned in your submission, is that HDMI seems to lack the automatic facility to select the required input on the TV if using an external source (I have yet to find any lead that provides that and I'm not certain the TVs are equiped to do that automatically). I have a Freeview HD TV that has both SCART and HDMI inputs. The SCART input uses pin 8 to select the required input when we turn on the Sky HD box - but SCART cannot provide HD viewing. The HDMI system does not automatically select one of the inputs so if I use an HDMI lead we have to manually select an HDMI input - which can be a pain in the ****! Only when HDMI provides the same automation as does SCART will more people use HD.

I totally agree that the channel allocations on Freeview tend to discourage viewers from seing things in HD. Add to that the fact that the current BBC HD services do not carry the 'local' regional services, so we in Wiltshire get London local news! Will that change when the next raond of changes happens? I'm not holding my breath.

When those issues are resolved, it is likely that more people will watch in HD rather than the 'easy' SD.



MikeP's 3,056 posts

'HDMI seems to lack the automatic facility to select the required input on the TV if using an external source'

They certainly do - my LG will automatically default to the first powered imput (HDMI 1 normally) when switched on - thats the one we have the HD box on, and it just goes to that source without bothering with the internal tuner first. And its also got Smartlink, which you can enable as well.

In fact, that was the problem with the customers with the new Samsung mentioned - they'd powered up their old SD Humax first, and although they'd set up the HDMI correctly, it meant that the set defaulted to the first imput, which they were so used to, they didn't notice that the TV had a tuner at all.

But scart also brings its own problems. A couple of years back, I read on the BBC blog an old article from the early days of BBC HD from the guy then in charge of HD rollout. His bugbear was going to people's houses, where they complained that HD just wasn't all that great. He's look at the picture, then at the back of the set, and then yank out the scart lead they'd left connected to the HD box, as well as the nice new HDMI. TV's at that time defaulted to the first analogue source (HDMI was pretty new, and in fact Panasonics only stopped doing that about 4 years ago), so by keeping the scart connection in, they were stopping the TV finding the HD source. I suspect this is still happening for some.

Of course, most 4K sets dont even have scarts, which makes things a bit easier.

The biggest reason why people are not watching HD more is simply that we still have SD, and they are at the top of the EPG. But watching SD on a 4K set is a pretty awful experience, so I suspect there will be a nudge factor. And once there is more capacity for local news (my local news 'testcard' in HD is a bit spooky, with the muted sounds) and they go HD as well, it will be standard.

This is the bizarre thing - the bulk of TV's sold are now 4K - which actually can have a better picture on HD than an HD panel, and may well be cheaper than the HD equivalent. So people are still defaulting to SD, rather than HD, when even HD isn't the ideal source for most new TV's. Things move very slowly.......

MikeB's 2,579 posts

Having worked in broadcasting for many years ,when I purchased my first Panasonic HD ready and then full HD TV, I noticed very few retailers showed off air HDTV but used super clear mountain scenes and nature footage and then Bluetooth sourced footage. Viewing off air the picture quality definitely is much less impressive having traveled through the ethos.
Another problem is that having compared my early DVD HD recordings with the present ones from BBCI I find the more recent transmissions are less impressive. Certainly viewing small dark images on a lighter background has artifacts such as a white edge all of the way down the right hand side and it has nothing to do with my sharpening settings .It has become more noticeable since the compression and processing were changed to accommodate more channels on the Freeview platform.
There is not so much noticeable definition difference on TV's less that 42 inch for viewers to bother much about switching from SD to HD.
The same can be attributed for Radio and DAB as for TV we have gone for quantity (so called choice) rather than Quality.

Brian Wright's 77 posts

Brian Wright: In the early days, there wasn't that much HD around - it had to be via a dish, and so manufacturers tended to show lovely demos. Or you showed a blu ray.

The dept where I worked always showed the bulk of sets in the standard terrestial output at the time - so it was generally SD until digital switchover, when HD came available, even though we were using a Sky HD box to feed the bulk of sets.

The reason for that is simple - its all too easy for the unwary customer to see a demo, and think thats what they will get when they get home - and they will just get annoyed and bring it back. Much better to manage expectations.

Now we use on-air recordings, and actually I'm pretty surprised at how good they look, even though with compression, etc, they are neither as good as watching live, or watching the same on blu-ray.

'There is not so much noticeable definition difference on TV's less that 42 inch for viewers to bother much about switching from SD to HD.'

I have to disagree - I can clearly see the difference between SD and HD on my 32in (decent but basic) set - try watching BBC1 in HD and the SD - the difference is pretty clear (even from 4 metres away), as it should be, since the amount of data on screen is much larger. I've found several websites dating back as recently as four years that swear there isn't that much difference between SD and HD, or at least not that which people will notice. But then again, I found a website from some 15 years ago that insisted that not only wasn't there any difference between VHS and DVD, but VHS was actually better!

MikeB's 2,579 posts
Tuesday, 17 October 2017

I wish TVs allowed you to map channels to particular numbers on your TV remote. When I want BBC1 I want to be able to press 1 not 101. Pressing 1 also means you can switch on to BBC1 with one press.

Then I could also map the HD channels to "meaningful" remote control sequences. (e.g. 47 HD is logically "47" not "110")

Remembering the non HD numbers is usually easier that the HD numbers.

David's 1 post

MikeB:

How is it, then, that when we switch our LG set on it starts with Freeview channels selected (usually BBC SD as you said) but when I switch on our Sky HD box with it connected via HDMI, and the SCART disconnected, it doesn't select an HDMI input at all? I've checked the manual and tried all the HDMI inputs and none of them provide that automatic selection of the Sky box signals. I've tried three different HDMI cables in all four HDMI inputs both with the SCART connected and without it plugged in. We have to manually select an HDMI input, which is annoying and less than logical. Hence we tend to watch Sky in SD via SCART and have the option of watching Freeview HD services, albeit having to select 101 etc for the HD channels.



MikeP's 3,056 posts

I agree with the eyesight thing, and also the fact that it's a long way from the standard channel on the EPG, but the main reason I don't watch in HD is the volume level is so much louder. I don't seem to have found a way to make it at the same level as the other channels. It makes me jump out of my skin!

Jan's 30 posts

MikeP: I couldn't tell you why your TV isn't defaulting automatically to the first live HDMI source, but it certainly should - your TV is no more than 4(?) years old, and mine does that, even though its rather older, being a 2012 model.

To be fair, the input change isn't that difficult on an LG - you can even allocate names to various sources, although the VCR label mine has for the PVR does date it a bit!

The scart shouldn't make a difference at all - it should be, if anything, almost the last input to be selected on the input list, apart from the RCA's. It should go internal tuner, then 1, 2, 3 and 4 HDMI, and then analogue. Have a look to see if Smartlink is on - mine flicks it up if I switch on the blu ray while the TV is in standby, even though I havn't enabled it.

BTW - is yours Sky HD?

MikeB's 2,579 posts
Wednesday, 18 October 2017

MikeB:

Our TV defaults to the DVB-T2 tuner first and that is the first on the list of available inputs. So to get to an HDMI input we need to access the input selector page - which is a real pain in the ****, especially for my wife who is non-technical. We can also select the satellite tuner which allows us access to the free-to-air satellite channels which includes the Freesat services - just not on their chosen channel numbers.

The Sky box is an HD type and we can get the HD services on 101, etc but we don't pay extra just to get a few PPV channels that we rarely watch. Likewise we don't pay extra for Movie or Sprt as we don't watch those on Sky - and we hate football, rugby, etc.

So until the auto-selection system present on pin 8 of a SCART is included in the HDMI spec and the software suitably updated, we are stuck with SD mainly - like many people. It was, I believe, an error of judgement to not include the auto-switching needed for automatic selection of inputs, as people have become accustomed to with SCART.



MikeP's 3,056 posts

MikeP: The internal tuner should always be the default source when you switch the TV on, so thats fine. Its only if there is already a powered HDMI source that it will flick to that. I know I have to change the input on mine, but I will test whether it goes through the list on auto or not, since I have to do some moving of the inputs HDMI's anyway.

To be fair, you do have the choice of HD channels on three different sources, so its not all bad.

MikeB's 2,579 posts
Select more comments
Your comment please