20 Freeview HD TV channels to close March/June 2019 in Cornwall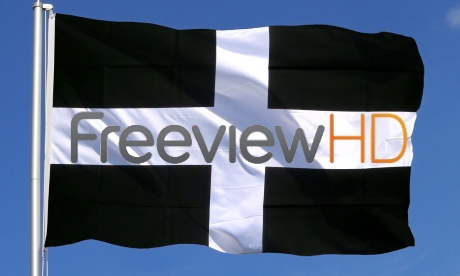 Brian Butterworth
published on
UK Free TV
The following TV channels will stop being broadcast on Freeview in Cornwall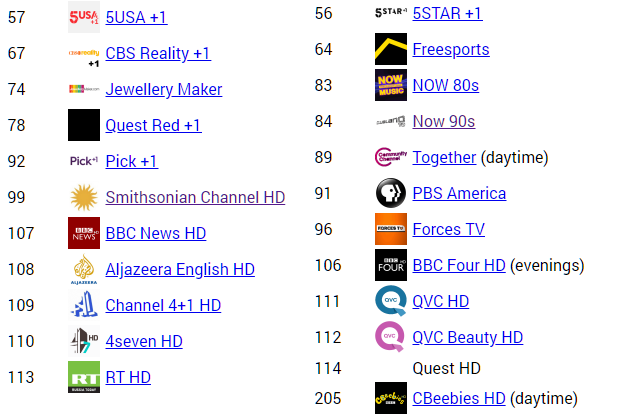 This is because the com7 and com8 services will stop broadcasting from:
The Redruth transmitter didn't carry com7 and com8. Viewers in Ivybridge will get the com4, com5 and com6 from 10 April 2019.
Homes in Cornwall who want to watch these channels will find most of them on Freesat.
The following PSB3 Freeview HD channels will continue:
I understand that com7 and com8 will be removed from UK-wide broadcast as soon as the 5G mobile phone services start, which could be as early as 21 June 2020.
However, until the mobile broadband companies actually need the frequencies for the "5G Supplemental Downlink" (MCFN-SDL) service, com7 and com8 are expected to continue on a month-by-month license. See Ofcom: Award of the 700 MHz and 3.6-3.8 GHz spectrum bands
Comments
Monday, 29 April 2019

meirin jenkins: Talking Pictures is broadcast on the COM6 multiplex which is not closing or loosing any coverage.

StevensOnln1's 3,567 posts
Tuesday, 4 June 2019

Beacon hill is devon, not cornwall.

Luke Monroe's 1 post
Monday, 1 July 2019

True Entertainment and True Movies have supposed to have moved to Channels 48 & 50 respectively but although I have re-tuned my TV these channels are showing as invalid. Does this mean that I will no longer be able to receive channels in Cornwall, where I live?

Kenneth Hodges's 1 post

Kenneth Hodges: True Entertainment and True Movies have moved to the local TV multiplex, using spare capacity in areas where a local TV station is broadcast on either LCN 7 or 8. No such local TV stations exist anywhere in Cornwall.

StevensOnln1's 3,567 posts
Sunday, 18 August 2019
H
Heather Stretton
11:13 AM

We live just outside Nottingham and recently seem to have lost Freesports which is in Com 8 multiplex Does anybody know if there has been a change to the transmitters in the Midlands over the last few weeks?

Heather Stretton's 1 post
Monday, 19 August 2019

Heather Stretton:

Are you receiving other programmes on the COM8 multiplex OK? See Digital UK | Channel listings
If you are using the Nottingham relay, it does not transmit COMs 7&8. There have been no recent changes to transmitters for your area, but reception may be affected by changes to other transmitters elsewhere.

Without knowing which transmitter you are receiving and your postcode, we can't offer any further advice on reception at your location. If you are still having problems, please post details on the transmitter page of the one you are using.

Chris.SE's 3,922 posts
Tuesday, 24 September 2019

I cannot tune my brand new Samsung tv to channel 4 +1 in HD, BBC4 HD, BBC News HD. I live in Cumbria. Why is this no longer possible?

Ruth's 1 post

Ruth: Because those channels are carried on the COM7 & COM8 multiplexes which are no longer broadcast from Caldbeck.

StevensOnln1's 3,567 posts
Wednesday, 11 December 2019

Why is there no signal in Leeds ls11 6dq

George's 1 post
George's: ...

George:

You can apparently receive several transmitters at your location, but the most reliable main transmitters is likely to be Emley Moor, in which case your aerial should be pointing ~SSW (bearing 202 deg.) with the rods horizontal.
That said, none of the transmitters have any reported faults according to Freeview or the BBC.
When was the last time you had a signal? Is it all channels that you are not receiving or just some, if so which ones?

Check all you coax plugs, connections, flyleads etc, unplug connectors check for corrosion or other problems and reconnect them. See what signal strengths (if any) and quality you are getting for the multiplexes shown in your TV's tuning section, this might indicate potential issues with your aerial or downlead. Also check that your downlead looks undamaged and that your aerial seems intact and pointing in the correct direction.
Problematic connections, water ingress etc. can seem to affect reception of just an individual or several multiplexes.

Chris.SE's 3,922 posts
Select more comments
Your comment please