Final Freeview retunes to allow 5G mobile at 700MHz listed

Brian Butterworth
published on
UK Free TV
This means these changes from https://www.freeview.co.uk/corporate/platform-management/700mhz-clearance/clearance-events-2020 now show up correctly.
Many thanks to Digital UK to provide their numerous PDF printouts of Freeview channel changes. So we can now see all of the upcoming changes. As the program was suspended due to CV-19, I've put all the events for the last day of the year. I'll change these when Digital UK provide some new actual dates.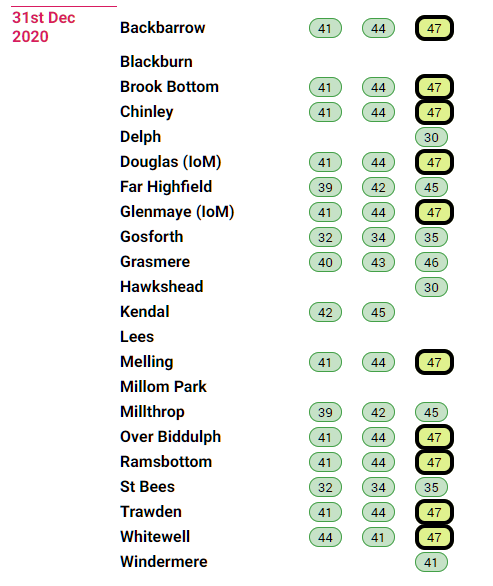 See https://ukfree.tv/at700/list/all for an up-to-date list of the changes around 5G provision.
Comments
Wednesday, 1 July 2020

What's going to happen when 6g turns up lose more
Frequencies lost 25% for 5g rewarded with more porn and sewing channels

John quinlan's 2 posts

John quinlan :

The range of PSB channels haven't changed, those on PSBs1-3 are defined by legislation apart from a very small allocation on PSB3 where there currently are 2 non-PSB SD channels.
As far as which broadcasters choose to put services on COMs4-6 and the temporary COM7, that is down to a commercial agreement between them and the multiplex operator.

Chris.SE's 3,715 posts
Saturday, 4 July 2020

Are BBC 1 and 2 EVER going to move back to DTV Channels 1 and 2, both on my LG TV and separate Panasonic STB?

Andy Humphreys's 1 post

Andy Humphreys: BBC 1 and 2 have never left channels 1 and 2 on Freeview. The most likely explanations are either that you didn't retune when the transmitter you're receiving changed frequency (you haven't given a location so no one can know which transmitter you're using) or that you have a fault in your aerial system somewhere. A full postcode would allow us to see the predicted reception at your location, which may allow more specific advice to be given.

StevensOnln1's 3,553 posts

Andy Humphreys:

I'm going to guess you get your signals from Winter Hill.
Are your channels as listed here - Problems with Freeview reception? | Help receiving TV and radio
See the item "Engineering work affecting television services in the North West of England from February 2020"

If you have retuned and you have also tried a manual retune on UHF C32 but not receiving the BBCA multiplex there, the you are going to need a new aerial which can be obtained free of charge. The final retunes have been postponed because of the covid-19 situation, but I expect you can get added to the list for the free In-home support by contacting Freeview on 0808 100 0288.

See also Important changes to Freeview | Freeview
Click on the FAQ link Coronavirus (COVID-19): some changes to in-home support for viewers

If this is not your problem as you aren't using Winter Hill, as StevensOnln1 has said we need a full postcode.

Chris.SE's 3,715 posts
Thursday, 9 July 2020

Does it mean that the clearance is done per 1-1-2021?

Jeroen's 1 post

Jeroen: The 700MHz clearance programme was due to be completed by the end of June 2020, however the final frequency changes have been delayed due to the COVID pandemic, with no new retune dates having been announced yet for the final round of frequency changes.

StevensOnln1's 3,553 posts

Jeroen:

It's likely to be later than February because of the In-Home support needed for changing aerials for some, simply because it's not very practical to be replacing loads of aerials during winter weather.

Chris.SE's 3,715 posts
Monday, 13 July 2020

The Ads on this site have got considerably worse.

Robert M's 76 posts
Wednesday, 15 July 2020

I am still having intermittent problems with reception from Belmont - probably due to my location on the edge of a quite large wood which is now in full leaf, of course.

I have found that online reception is far more reliable so 'live' TV has become quite a rarity in this house.

I suspect online will overtake terrestrial and satellite reception in the near future (if it hasn't already).

Heinz's 1 post
Select more comments
Your comment please