ITV 1 (SD)
The heart of popular culture.
Main TV standard-definiton channels
How to Watch: ITV 1 (SD)
Below is a list of all the television and radio channels that you can watch in the UK using one of the free services: DAB (for radio), Freeview, Sky No Card - Sky without a viewing card (Freesat from Sky (or fSfS)) and Freesat.. Where a channel can be watched for free, the channel number is listed below. In addition, if you can watch (or listen) immediately online, press the button in the "web" column.

As some channels are exclusive to one service alone, you may need to get receive more than one service to get all the channels you want. The coverage for Freeview differs too - those channels not provided by the public service "Freeview Light" transmitters the current coverage shown thus

(54%)

, taken from Connected Nations Report 2017: Data analysis' Key: wb_sunny daytime; watch_later nighttime; account_box funded from the TV License; flags show Freeview channel limits.
Main TV standard-definiton channels
Regional content
: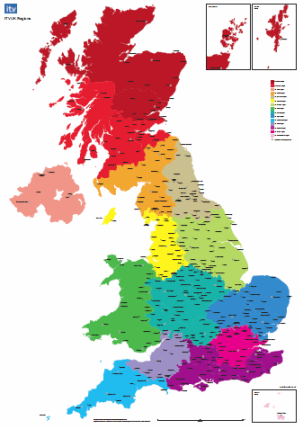 Channel 3 network for adverts and regional news. See
ITV, UTV and STV regions - overview map - interactive maps
. .
media.info
: For full details of broadcaster contacts, see the
media.info ITV 1 (SD) page
.
Official site
: See the
ITV 1 (SD) website
.
From Wikipedia
: The ITV1 brand was introduced by Carlton and Granada in 2001, alongside the regional identities of their eleven regional companies. However in line with other terrestrial channels, ITV1's audience share has fallen in the era of multi-channel television. ITV existed in a region-heavy form from its inception to the 2000s, although the switch was gradual. - en.wikipedia.org
read more about ITV 1 (SD) on wikipedia
(summary by
Clipped
).
Freeview multiplex
: ITV 1 (SD) is on
multiplex PSB2
in
.
Comments
Monday, 11 April 2011

Collin: You probably need no booster at all. Remove it from your system.

Briantist's 38,899 posts

have tried it without the booster, still only get bbc channels. Any other ideas??


Collin's 3 posts
Collin's:
map
C's Freeview map
terrain
C's terrain plot
waves
C's frequency data
C's Freeview Detailed Coverage

Collin: Digital UK's predictor predicts a low percentage probability of getting reliable results on the ITV1 multiplex at present (32%). The prediction is based on a single TV connected to a reasonably high-gain roof aerial using a relatively short run of satellite-grade cable.

On the 20th, all other multiplexes go high power when the analogue signals are turned off. The prediction goes up to 100% for all multiplexes.

An amplifier is likely to be necessary to offset the insertion loss of splitting the signal to 7 points - usually around 12 dB. The amplifier should have about the same gain as the loss in the splitter, to keep the level at each aerial point about the same as the system was originally set up for. We mostly deal with 'set-back' amplifiers or boosters added for who-knows-what reason, which aren't doing anything much useful, just adding noise. (Your set-top box or TV already has an automatic gain control: adding external gain just means the TV turns down the AGC to compensate. The amp only does anything if the TV's front end is particularly noisy, or if the signal is too quiet for the AGC to handle - but in this case there's probably too much interference to be usable.)

Bill Wright has some suggestions on amplifier problems at
http://www.wrightsaerials….pdf (RG47SH)

Mike Dimmick's 2,486 posts
Wednesday, 13 April 2011

I once again am trying to watch a footballl match on ITV, from the billsdale transmitter.
21.20 13th of April. The reception is appalling.The signal is constantly breaking down. It looks like a video of a cubist painting.
How long are we to put up with this terrible reception on all channels.
Why buy a licence for some thing you can't watch. Why pay for advertising time that can't be understood. Why buy an expensive Digital TV.
regards
An irrate viewer

Michael McMahon's 1 post
Thursday, 14 April 2011

Michael McMahon: Sounds like you need to have your system looked at. I would see Single frequency interference | ukfree.tv - independent free digital TV advice .

The TV Licence pays for BBC services only.

Briantist's 38,899 posts
Sunday, 24 April 2011

Hi just a quick qeury, my girlfreinds parents both have a freeview tv in each room upstairs. one is getting itv1, channel4, and chanel 5, the other is getting none of these. all other channels seem fine and strong. both of same ariel can you help cheers

kev's 1 post
Friday, 29 April 2011
D
Dez
4:23 PM
Wolverhampton

Using the Wrekin transmitter and after re-tuning my TV it seems that I can no longer received ITV1. Is there a problem in the area or os this a localised issue? For info, I already have 2 sets, one of which we havent re-tuned and is working perfectly for al channels.

Dez's 1 post
Dez's:
map
D's Freeview map
terrain
D's terrain plot
waves
D's frequency data
D's Freeview Detailed Coverage
Wednesday, 4 May 2011
Tuesday, 17 May 2011

why cant we get channels 3-4-5 for the last week we have been unable to get these channels. one television is built in freeview and the other with box, we have had a new arieal. so we know its not that

ann's 1 post
ann's:
map
A's Freeview map
terrain
A's terrain plot
waves
A's frequency data
A's Freeview Detailed Coverage
Select more comments
Your comment please