ITV 1 (SD)
The heart of popular culture.
Main TV standard-definiton channels
How to Watch: ITV 1 (SD)
Below is a list of all the television and radio channels that you can watch in the UK using one of the free services: DAB (for radio), Freeview, Sky No Card - Sky without a viewing card (Freesat from Sky (or fSfS)) and Freesat.. Where a channel can be watched for free, the channel number is listed below. In addition, if you can watch (or listen) immediately online, press the button in the "web" column.

As some channels are exclusive to one service alone, you may need to get receive more than one service to get all the channels you want. The coverage for Freeview differs too - those channels not provided by the public service "Freeview Light" transmitters the current coverage shown thus

(54%)

, taken from Connected Nations Report 2017: Data analysis' Key: wb_sunny daytime; watch_later nighttime; account_box funded from the TV License; flags show Freeview channel limits.
Main TV standard-definiton channels
Regional content
: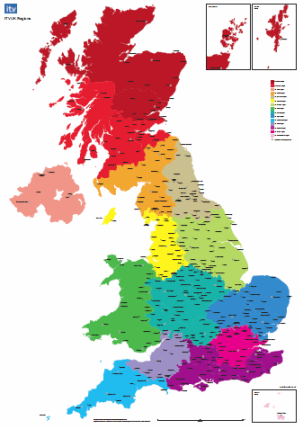 Channel 3 network for adverts and regional news. See
ITV, UTV and STV regions - overview map - interactive maps
. .
media.info
: For full details of broadcaster contacts, see the
media.info ITV 1 (SD) page
.
Official site
: See the
ITV 1 (SD) website
.
From Wikipedia
: The ITV1 brand was introduced by Carlton and Granada in 2001, alongside the regional identities of their eleven regional companies. However in line with other terrestrial channels, ITV1's audience share has fallen in the era of multi-channel television. ITV existed in a region-heavy form from its inception to the 2000s, although the switch was gradual. - en.wikipedia.org
read more about ITV 1 (SD) on wikipedia
(summary by
Clipped
).
Freeview multiplex
: ITV 1 (SD) is on
multiplex PSB2
in
.
Comments
Tuesday, 17 May 2011
Friday, 27 May 2011

In recent weeks I have noticed that ITV1 West programmes around 17.00 are suffering from severe breaking up of picture with loud crackling sounds. The same happens with BBC1 but BBC2 and some other channels are fine (I've obviously not checked them all). I receive Freeview via a DVD player/recorder as my TV is non digital. Any suggestions??

Val Wallis's 2 posts

Val Wallis: Please see Freeview intermittent interference | ukfree.tv - independent free digital TV advice .

Briantist's 38,902 posts
Saturday, 28 May 2011

Thanks for your reply - nothing has changed in the household regarding electrical appliances which might cause this and it has only started happening recently.. Yesterday and today I'm getting a 'no service' message for BBC1 too as well as the breaking up pictures on ITV1.

Val Wallis's 2 posts
Monday, 30 May 2011

Val Wallis: You may also have to see Freeview reception has changed? | ukfree.tv - independent free digital TV advice .

Briantist's 38,902 posts
Thursday, 9 June 2011

multiplex 2 reception very bad in N4 1EG.
Either no signal or picture breakd up into mosaic

Would a better aerial necessarily help?

Multiples 1 A etc seem oK

Mark's 1 post
Mark's:
map
M's Freeview map
terrain
M's terrain plot
waves
M's frequency data
M's Freeview Detailed Coverage
Friday, 10 June 2011

Mark: I would see Single frequency interference | ukfree.tv - independent free digital TV advice first.

Briantist's 38,902 posts
Friday, 17 June 2011

Why is my ITV1 pausing sound and picture stopping my enjoyment of programmes? (53.1393,-1.2769)

Jimmi James's 4 posts

Jimmi James: When that happens its usually always due to your signal glitching, this causing a momentary picture / audio freeze, and nothing really connected with the broadcaster, although digital signals can glitch anywhere along the line from their source.

jb38's 7,179 posts
Tuesday, 21 June 2011

Reception is extremely poor on ITV channels. I am using a professionally fitted digital arial, a new digital box and an hd ready 32 inch tv. the signal keeps breaking up. Will this improve when the switch occurs.

b. Lording's 1 post
Select more comments
Your comment please