UTV HD
UTV in High Definition
Main TV standard-definiton channels
How to Watch: UTV HD
Below is a list of all the television and radio channels that you can watch in the UK using one of the free services: DAB (for radio), Freeview, Sky No Card - Sky without a viewing card (Freesat from Sky (or fSfS)) and Freesat.. Where a channel can be watched for free, the channel number is listed below. In addition, if you can watch (or listen) immediately online, press the button in the "web" column.

As some channels are exclusive to one service alone, you may need to get receive more than one service to get all the channels you want. The coverage for Freeview differs too - those channels not provided by the public service "Freeview Light" transmitters the current coverage shown thus

(54%)

, taken from Connected Nations Report 2017: Data analysis' Key: wb_sunny daytime; watch_later nighttime; account_box funded from the TV License; flags show Freeview channel limits.
High definition channels
Regional content
: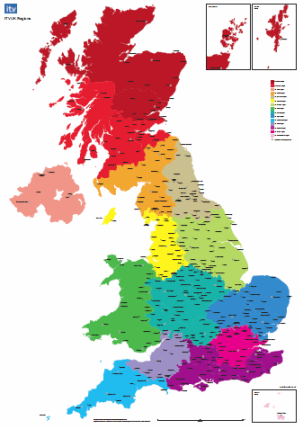 Channel 3 network for adverts and regional news. See
ITV, UTV and STV regions - overview map - interactive maps
. .
media.info
: For full details of broadcaster contacts, see the
media.info UTV HD page
.
Official site
: See the
UTV HD website
.
From Wikipedia
: UTV was the last of the ITV stations to cease broadcasting on analogue transmitters. The station was the last in the ITV network to begin 24-hour transmission in 1988. UTV's ident at this time did not animate and was not accompanied by a jingle. - en.wikipedia.org
read more about UTV HD on wikipedia
(summary by
Clipped
).
Freeview multiplex
: UTV HD is on
multiplex PSB3
in
.
Comments
Friday, 23 November 2012

Vincenzo Mesce: According to
UTV signs new network deal - UTV Live News
UTV HD should be on Sky shortly. UTV HD should be available on channel 103 via an aerial if you have a TV with Freeview HD built-in or a Freeview HD box.

Michael's 358 posts
Sunday, 25 November 2012

Is it possible using a freesat decoder to obtain the free to view channels on Sky?

M. Partington's 3 posts
Friday, 2 August 2013

I am getting RTE 2 HD channel but not getting any of the BBC, ITV or CH5 channels can any one help me with this problem?

Marty's 3 posts

Marty: What is the make and model of your receiver (box or TV)?

Dave Lindsay's 5,724 posts

Marty: Is it the HD channels from BBC, UTV and Channel 4 that you are missing?

A location, preferably in the form of postcode is really required where the query relates to a reception issue.

Dave Lindsay's 5,724 posts

Dave Lindsay: yeah missing BBC ITV and CH4 hd channels my tv is a samsung full hd freeview hd UE22ES5000


Marty's 3 posts

its strange because i am getting RTE 2 HD

Marty's 3 posts

Marty: A quick google shows that your Samsung does not have a Freeview HD tuner (DVB-T2) inside it. RTE2 HD is a different system in that it uses MPEG4 over DVB-T to allow it to switch between SD and HD when needed.

Michael's 358 posts

Marty: See specs:

22-inch ES5000 Series 6 Full HD 1080p Slim LED TV | UE22ES5000W - Samsung UK - OVERVIEW

It contains only a DVB-T tuner, and not a DVB-T2 one as well. These are the signal standards.

The Republic of Ireland's Saorview system comprises of a single DVB-T multiplex which carries standard definition services and RT Two HD.

The UK's Freeview system uses DVB-T for standard definition broadcasts and DVB-T2 for high definition broadcasts. Hence it can't pick up high definition versions of BBC One, BBC Two, UTV/ITV and Channel 4.

Dave Lindsay's 5,724 posts

cheers Michael i just seen that on a website, thanks to both you and dave for answering and with your help.

Marty's 1 post
Select more comments
Your comment please