Freeview reception - all about aerials

Brian Butterworth published on UK Free TV
Updated 8th January 2014.


Your ability of receive all the Freeview transmissions depends on the suitability of aerial
the design style,
the "group", and
its physical location.
Standard type - Yagi aerial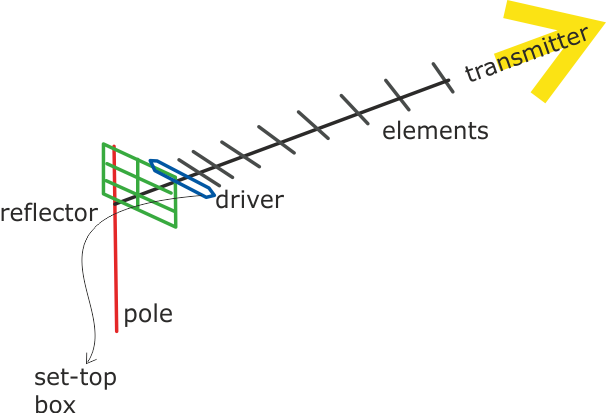 The
standard
type of TV aerial is known as the Yagi aerial. It is mounted on a pole, and consists of a rod with a reflector (shown green) at the back and many spiky elements (in grey) at the front. The connecting
cable
connects to the element nearest the reflector, known as the driver (shown in blue).
These Yagi aerials are directional and so pick up signals best from a
transmitter
that the rod points towards. The more elements the aerial has, the better it picks up a
signal
and becomes more directional.
A standard-type aerial is all that is required for
digital
TV
reception
in most places. These antennae have between 10 and 18 elements and a single reflector. These are recommended for new installations for good digital television reception, but will more often than not function perfectly in good reception areas.
Typically these aerials are designed to receive only some transmission frequencies - see "groups" below.
High Gain aerials

These aerials are designed for poor digital reception areas, and have two reflectors. For maximum signal strength, some digital high
gain
aerials have up to 100 elements. Since the
switchover
to digital-only transmissions back in October 2012, most UK households now have good
quality
digital TV signals.
A more expensive aerial is only required where the signal strength is low, but can often provide the whole Freeview reception where it might otherwise be impossible.
The CAI (that represents aerial installers) has four standards for digital TV aerials. The highest standard "1" is for homes on the fringes of coverage areas, intermediate standard "2" is suitable for use within the coverage area; minimum standard "3" is for good coverage conditions.
These aerials can be either
wideband
, or receive only selected frequencies - see "groups" below.
Grid

You may haved used a 'Grid aerial' for
analogue
reception, but as they are generally unsuitable for Freeview reception, they have now generally been replaced by the Yagi type. However in some places a Grid aerial installation may work for Freeview: otherwise replace with a standard Yagi aerial.
Indoor
Indoor aerials
are generally not suitable for Freeview reception. In areas of good signal strength it is often possible to receive some transmissions. Even where an aerial works, people often find that may get interruptions to their viewing (or recording).
Loft mounted
Loft
mounted arrivals are not generally recommended for Freeview reception, as the
roof
tiles and plumbing will degrade the signal. Some compensation for this loss of signal can be made by using
satellite
-grade cable to connect the set top box to the aerial.
Positioning
The best position for a TV aerial is mounted outdoors, as high from the ground as possible, pointing directly at the transmitter. The signal can be blocked by hills and tall buildings. It should be positioned away from any other aerials.
Horizontal or vertical?
The transmitter will either use vertical
mode
which requires the elements of your aerial to be up-down, or horizontal mode which requires them to be level with the ground.
Groups
Both analogue and digital television is transmitted the same group of transmission frequencies (known as
channel
21 through to 60). A coloured marking on the aerial shows the group.

To create the best possible analogue
picture
, TV transmissions from adjacent transmitters have been designated to several different groups of frequencies. By using an aerial that receives only the
channels
in the correct group, the analogue picture can be kept free from
interference
.
To receive Freeview transmissions from the same transmitter it has been sometimes necessary to use frequencies that are not part of the transmitter's normal group. When this has occurred, the aerial will need to be replaced with a "wideband" aerial (also known as group W) - one that covers every group.
As
Ofcom
is planning to move the TV frequencies again - perhaps as soon as 2018 - it may be wise to use a wideband aerial if you can to ensure you can keep viewing Freeview for many years to come.
Comments
Tuesday, 7 November 2023

Chris.SE:

Hi,

It was a 4G filter, and probably over 5 years ago.
We haven't had a postcard but i have spoken with RestoreTV today and the outcome was there are no active Tx near us but are sending me an external filter to be fitted before the masthead amp.

I used your Prediction page with our lat/long and it comes up with Kendal, but no mention of Winderemere so am guessing this tool somehow is ignoring the 120m large hill (about 1Km distance and +90m above our height) between us and Kendal.

Looking at a simple plot of elevation between us (30m) and Windermere (252m), we just about have line of sight, but for one peak probably just getting in the way about half way to the mast. We have had reliable reception across the 3 UHF channels for long periods of time and I always used to watch sport in high definition channels.

After i checked the aerial, cable and connections and tried to re-align last Sunday - we got all channels no loss of picture quality.
By Monday am we'd got picture blocking/pixelation on CH44, 47 and had lost CH 41 altogether - not even listed in the TV Signal test page.

As of this morning 09:30
CH47: Signal=100% Quality range 54% - 66%
CH44: Signal=100% Quality range 33% - 46%

As of this morning 10:30
CH47: Signal=100% Quality 100%
CH44: Signal=100% Quality range 48% - 56%
Tried auto retuning to see if CH41 would be picked up, but it wasnt.

Thanks

Adrian's 5 posts
Adrian's:
map
A's Freeview map
terrain
A's terrain plot
waves
A's frequency data
A's Freeview Detailed Coverage

Adrian:

Hi there, well that's good of them to send an external filter even if has no effect/is not essential at present, it'll give you good protection for the future.

Do you still have that 4G filter? Was it an internal one with coax connectors? I'm a little concerned about the fact that you have 100% signal there fairly consistently, as too much signal can be as bad as too little, as overloading of the tuner front end can cause similar issues.
I'm thinking if your still have it and it's coax try it before the TV and see what happens to the signal strength (as well as the quality) as it will give a little bit of attenuation. Ideally we want to be down a touch from 100%.

If it's not coax or you don't have it, do you have any attenuators - you sound like the sort of chap that might have. If so try one before the TV, again to see what the effects are.
I'm concerned about using the higher gain log periodic at present with figures like that until we've a better feel for what is happening.

As for reception from Kendal, hmm, well the predictor doesn't give any :o
As you've obviously had good stable reception from Windermere in the past, then it's the one to stick with we just need to discover why it's become unstable.

Another thought, do you have a multimeter (preferably digital but no matter) check the PSU for the pre-amp, both disconnected and connected to the mast head and check it's ok.

Chris.SE's 3,928 posts

Adrian:

The very variable terrain in your locale gives some very variable predictions depending on precise location. In some spots I can get predicted reception from Kendal (closest), Lancaster, Windermere and Winter Hill. Windermere being the worst in some spots!
I have a thought or two but it depends on what you reply to my previous queries.

Chris.SE's 3,928 posts
Chris.SE's:
map
C's Freeview map
terrain
C's terrain plot
waves
C's frequency data
C's Freeview Detailed Coverage
Thursday, 9 November 2023

Adrian:

Hi again. Another thought, should have remembered to ask, has your masthead amp got variable gain?
If so, turn it down a bit until the Signal strength drops just below 100%.

Chris.SE's 3,928 posts
Monday, 13 November 2023

Why has Together TV decided and have stopped freeview transmissions for all but 3 hours per day in the morning and require you to tune into the internet or a smart TV for the rest of the time?

Nicholas Anderson's 147 posts

Nicholas Anderson:

Try asking them, and see if you can get a sensible "technical" response as to why the current mode of "streaming" in not supported on the large majority of TVs. I can't get a sensible answer.
They must have lost a large number of viewers.

Chris.SE's 3,928 posts
Thursday, 23 November 2023

Chris.SE:
just got back onto this:
I checked the DC supply on load and was +12V at the amp B1226 , which is fixed gain = 26dB (I think).
I also had less than 100% signal by splitting it between a DVR and the TV, with TV signal less than 100%.
The quality was very poor, sometimes less than 35%, which makes me suspect the amp and / or PSU or cable.
The install is circa 16 years old so could be dried out capacitors ?
Can you recommend a masthead amp ?
I was thinking https://www.blake-uk.com/new-products/class-1-1way-high-gain-uhf-masthead-amplifier-1-input-1-output27db.html
I then dont need the separate masthead filter.

thanks,

Adrian


Adrian's 5 posts
Adrian's:
map
A's Freeview map
terrain
A's terrain plot
waves
A's frequency data
A's Freeview Detailed Coverage

Adrian:

Blake have an excellent reputation for good products and that amp spec. looks very comprehensive. Considering that it's not a very expensive item, it'd be worth trying.

There's all sorts of reasons why your existing amp/PSU might fail and it's probably not worth spending time even thinking about it considering its age!

Do check that the coax downlead is ok and not got any water penetration or other deterioration, it might even be worth replacing it considering its age, with quality double screened cable such as CT100 or similar.

Chris.SE's 3,928 posts
Thursday, 30 November 2023

Chris.SE: Am pleased to report back that the new aerial (28 element LP Group K) plus new masthead amp and psu from Blake all works with signal level now 97% and quality =100%.

Blake also offered really good tech support, confirming choice of aerial for my location.

Thanks for all your help to give me confidence to do this DIY.

Adrian's 5 posts
Adrian's:
map
A's Freeview map
terrain
A's terrain plot
waves
A's frequency data
A's Freeview Detailed Coverage

Adrian:

Hi Adrian. That's great news and glad everything is working OK. Those figures are just the job.
Nice to hear tha Blake gave you some good tech support as well, I shall remember that, it just adds another star to their excellent reputation.
Thanks for updating us on the outcome, much appreciated.

Chris.SE's 3,928 posts
Select more comments
Your comment please