Freeview reception - all about aerials

Brian Butterworth published on UK Free TV
Updated 8th January 2014.


Your ability of receive all the Freeview transmissions depends on the suitability of aerial
the design style,
the "group", and
its physical location.
Standard type - Yagi aerial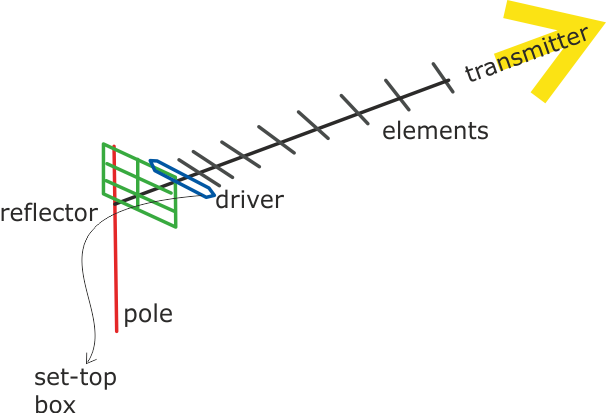 The
standard
type of TV aerial is known as the Yagi aerial. It is mounted on a pole, and consists of a rod with a reflector (shown green) at the back and many spiky elements (in grey) at the front. The connecting
cable
connects to the element nearest the reflector, known as the driver (shown in blue).
These Yagi aerials are directional and so pick up signals best from a
transmitter
that the rod points towards. The more elements the aerial has, the better it picks up a
signal
and becomes more directional.
A standard-type aerial is all that is required for
digital
TV
reception
in most places. These antennae have between 10 and 18 elements and a single reflector. These are recommended for new installations for good digital television reception, but will more often than not function perfectly in good reception areas.
Typically these aerials are designed to receive only some transmission frequencies - see "groups" below.
High Gain aerials

These aerials are designed for poor digital reception areas, and have two reflectors. For maximum signal strength, some digital high
gain
aerials have up to 100 elements. Since the
switchover
to digital-only transmissions back in October 2012, most UK households now have good
quality
digital TV signals.
A more expensive aerial is only required where the signal strength is low, but can often provide the whole Freeview reception where it might otherwise be impossible.
The CAI (that represents aerial installers) has four standards for digital TV aerials. The highest standard "1" is for homes on the fringes of coverage areas, intermediate standard "2" is suitable for use within the coverage area; minimum standard "3" is for good coverage conditions.
These aerials can be either
wideband
, or receive only selected frequencies - see "groups" below.
Grid

You may haved used a 'Grid aerial' for
analogue
reception, but as they are generally unsuitable for Freeview reception, they have now generally been replaced by the Yagi type. However in some places a Grid aerial installation may work for Freeview: otherwise replace with a standard Yagi aerial.
Indoor
Indoor aerials
are generally not suitable for Freeview reception. In areas of good signal strength it is often possible to receive some transmissions. Even where an aerial works, people often find that may get interruptions to their viewing (or recording).
Loft mounted
Loft
mounted arrivals are not generally recommended for Freeview reception, as the
roof
tiles and plumbing will degrade the signal. Some compensation for this loss of signal can be made by using
satellite
-grade cable to connect the set top box to the aerial.
Positioning
The best position for a TV aerial is mounted outdoors, as high from the ground as possible, pointing directly at the transmitter. The signal can be blocked by hills and tall buildings. It should be positioned away from any other aerials.
Horizontal or vertical?
The transmitter will either use vertical
mode
which requires the elements of your aerial to be up-down, or horizontal mode which requires them to be level with the ground.
Groups
Both analogue and digital television is transmitted the same group of transmission frequencies (known as
channel
21 through to 60). A coloured marking on the aerial shows the group.

To create the best possible analogue
picture
, TV transmissions from adjacent transmitters have been designated to several different groups of frequencies. By using an aerial that receives only the
channels
in the correct group, the analogue picture can be kept free from
interference
.
To receive Freeview transmissions from the same transmitter it has been sometimes necessary to use frequencies that are not part of the transmitter's normal group. When this has occurred, the aerial will need to be replaced with a "wideband" aerial (also known as group W) - one that covers every group.
As
Ofcom
is planning to move the TV frequencies again - perhaps as soon as 2018 - it may be wise to use a wideband aerial if you can to ensure you can keep viewing Freeview for many years to come.
Comments
Thursday, 10 July 2014

MikeB, thanks for all the time you have spent checking out things for me.

Whatever TV I end up getting I don't want anything too fancy or complicated, it's for my 13 year old daughter, so I think we'd both be happy with something quite basic. I'm certainly not tech savvy and neither is she.

I'm just going to have a look at both John Lewis and Richer Sounds websites. I've never even heard of Richer Sounds so that's a new one for me to maybe try! I wonder what Richer Sounds' policy is about exchanging TVs? Ha ha. Mind you, I notice they do an installation service. I wonder how much that costs?

Joanne's 4 posts

Joanne: I suspect that the average 13 year old (if they are anything like my kids) is far more adept at technology than most adults..

Obviously I'd love you to purchase from JL, but I'm more than happy to recommend Richer Sounds - find your local branch and go from there. Although rivals, they are known for their knowledge and customer service - in fact I got my twelve year old DVD player from them.

Basically, a cheap TV from a decent brand like LG will be fine. Your not going to get an HD tuner for £150, but thats the way it goes. Where you score is that the same kind of decent menus, EPG and remote will be common to all the TV's by that manufacturer - so your getting a decent remote, easy to use TV and a quality panel for about the same amount (or not much more) as a no brand TV.

Installation costs? Ours are £55 for a 32in and above, and Richer also do them (see 'Installation' on their website), but I dont know how much. You could argue thats not cheap, but judging by some of the anguished questions that appear on this site, possibly money well spent.

MikeB's 2,579 posts

I took the TV back to Sainsbury's this afternoon and got my money back so that was good.

I've just had a thought. I've got a 22" Hitachi TV/DVD combi already set up in one of the other bedrooms that I've had for the last year or so. Knowing that this TV/DVD definitely works I think tomorrow I'll disconnect it from its current location and take it in to my daughter's room just to see if it will work in her room.

I think, in the back of my mind, I'm starting to question whether the two TVs that I've had to get refunds on really were faulty or could there possibly be something wrong with the electrical wiring and/or the aerial cable in my daughter's bedroom. I can't imagine why, in reality, there would be anything wrong with them as the previous analogue TV and freeview box were working in there only 2 days ago but I'm starting to get paranoid.

Joanne's 4 posts
Tuesday, 22 July 2014

hi need a ariel for my caravan, could be anywhere in the cuntry with it.. do ineed a wideband or high gain ariel, and whats the difference, thanks. could you reccomend any good ariels.

craig's 1 post

craig: See the information at: TV Aerials for Boats and Caravans You need a log periodic. ATV's "DM Log" is a Blake DML26WB and this model boasts an adjustable bracket (so that the aerial can be sloped upwards) and flat elements (rather than round ones, which is unusual among logs).

Dave Lindsay's 5,724 posts
Friday, 29 August 2014

Hi, I wonder if anyone could give me advice please. I have a flat screen tv with built in freeview which I watch in the livingroom using the communal antenna, I do not get many channels. I don't have sky or Virgin etc. I also have a small flat screen tv with built in freeview which I would like to watch in my bedroom. However I can't pick up any channels at all. Is there anything I can do to get a signal in my bedroom and to improve the signal in my livingroom, without getting Sky or Virgin etc.
Thanks

Sarah's 1 post

Sarah As you are on a communal aerial system you will need to contact the person/organisation responsible for the maintenance and upkeep of the flats to get them to ensure the communal system is working correctly and delivering all the channels available in your area. But before you do that, ask others in the same block what programmes they get from Freeview (not Sky or FreeSat). It will help us if you give your location (in the form of a post code) so we can advise whether you can get all the Freeview programmes or just some of them as not all transmitters provide all the programmes. As far as your bedroom TV is concerned, is there an aerial outlet available in the bedroom? If there is, you should get the same programmes as the living room TV. If not, you will need to provide a coaxial cable connection into the bedroom in a safe manner. You cannot just join the wires together but you need some form of signal splitter. These can be a powered type which means you don't lose any signal strength (you may get more), or an unpowered typre which is worth a try as they are relatively cheap but you do lose some signal strength. One such is at COAXIAL 2 WAY AERIAL CABLE Y SPLITTER ADAPTER for TV/FM,Game,VCR/VHS Combiner | eBay but others are available. If you need coaxial cables, buy ones that already have the plugs fitted. Hope that helps?

MikeP's 3,056 posts
Monday, 8 September 2014

Hi I am a student in Dundee looking for an indoor aerial to suit my TV have a cheap aerial I used at home which worked well but it won't work in the uni room Can anyone suggest an indoor aerial that will work ?

Hamish's 1 post

Hamish: Can anyone suggest an indoor aerial that will work ?

Indoor antennas will only work in locations very close to the transmitter and also where there is minimal local noise. You must remember that the walls of buildings severely attenuate radio waves more so at the higher UHF frequencies.

Also as you are no doubt aware, waves which do pass through the walls may get reflected and standing waves form, so it is essentail not to place your antenna at a node point, and this means trying moving the antenna both horizontally and vertically.

If your set top style antenna does not work, then you could try a small log periodic antenna such as the Labgear mini-compact available from various retailers including Screwfix

<http://www.screwfix.COM/p/labgear-mini-compact-log-periodic-aerial/67576>

But remember if you in a basement or even at street level without a clear line of sight to the transmitter then reception is unlikely.

Are readers also to understand that your are in possesion of a television receiving licence in order to display tv pictures as they are broadcast live?

Corin's 91 posts
Friday, 12 September 2014

Hello, I would like to show you another possible cause of freeview television reception problems. I hope that you find this blog as interesting as I did.

4G and Freeview Television Reception Problems | Blog | A&S Ltd

Patricialieb's 2 posts
Select more comments
Your comment please