Freeview reception - all about aerials

Brian Butterworth published on UK Free TV
Updated 8th January 2014.


Your ability of receive all the Freeview transmissions depends on the suitability of aerial
the design style,
the "group", and
its physical location.
Standard type - Yagi aerial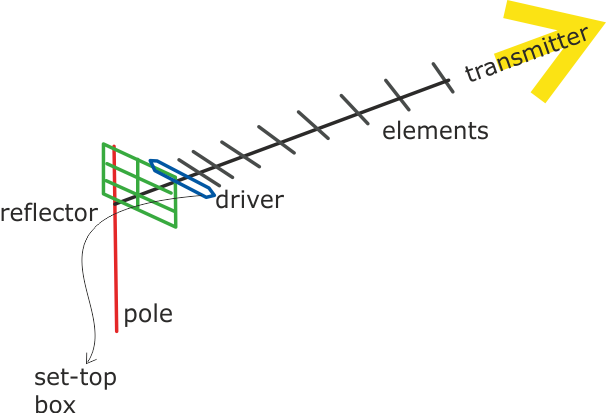 The
standard
type of TV aerial is known as the Yagi aerial. It is mounted on a pole, and consists of a rod with a reflector (shown green) at the back and many spiky elements (in grey) at the front. The connecting
cable
connects to the element nearest the reflector, known as the driver (shown in blue).
These Yagi aerials are directional and so
pick
up signals best from a
transmitter
that the rod points towards. The more elements the aerial has, the better it picks up a
signal
and becomes more directional.
A standard-type aerial is all that is required for
digital
TV
reception
in most places. These antennae have between 10 and 18 elements and a single reflector. These are recommended for new installations for good digital television reception, but will more often than not function perfectly in good reception areas.
Typically these aerials are designed to receive only some transmission frequencies - see "groups" below.
High Gain aerials

These aerials are designed for poor digital reception areas, and have two reflectors. For maximum signal strength, some digital high
gain
aerials have up to 100 elements. Since the
switchover
to digital-only transmissions back in October 2012, most UK households now have good
quality
digital TV signals.
A more expensive aerial is only required where the signal strength is low, but can often provide the whole Freeview reception where it might otherwise be impossible.
The CAI (that represents aerial installers) has four standards for digital TV aerials. The highest standard "1" is for homes on the fringes of coverage areas, intermediate standard "2" is suitable for use within the coverage area; minimum standard "3" is for good coverage conditions.
These aerials can be either
wideband
, or receive only selected frequencies - see "groups" below.
Grid

You may haved used a 'Grid aerial' for
analogue
reception, but as they are generally unsuitable for Freeview reception, they have now generally been replaced by the Yagi type. However in some places a Grid aerial installation may work for Freeview: otherwise replace with a standard Yagi aerial.
Indoor
Indoor aerials
are generally not suitable for Freeview reception. In areas of good signal strength it is often possible to receive some transmissions. Even where an aerial works, people often find that may get interruptions to their viewing (or recording).
Loft mounted
Loft
mounted arrivals are not generally recommended for Freeview reception, as the
roof
tiles and plumbing will degrade the signal. Some compensation for this loss of signal can be made by using
satellite
-grade cable to connect the set top box to the aerial.
Positioning
The best position for a TV aerial is mounted outdoors, as high from the ground as possible, pointing directly at the transmitter. The signal can be blocked by hills and tall buildings. It should be positioned away from any other aerials.
Horizontal or vertical?
The transmitter will either use vertical
mode
which requires the elements of your aerial to be up-down, or horizontal mode which requires them to be level with the ground.
Groups
Both analogue and digital television is transmitted the same group of transmission frequencies (known as
channel
21 through to 60). A coloured marking on the aerial shows the group.

To create the best possible analogue
picture
, TV transmissions from adjacent transmitters have been designated to several different groups of frequencies. By using an aerial that receives only the
channels
in the correct group, the analogue picture can be kept free from
interference
.
To receive Freeview transmissions from the same transmitter it has been sometimes necessary to use frequencies that are not part of the transmitter's normal group. When this has occurred, the aerial will need to be replaced with a "wideband" aerial (also known as group W) - one that covers every group.
As
Ofcom
is planning to move the TV frequencies again - perhaps as soon as 2018 - it may be wise to use a wideband aerial if you can to ensure you can keep viewing Freeview for many years to come.
Comments
Friday, 12 September 2014

Patricialieb

That would perhaps be interesting for those potentially affected by the presence of 4G signals, mainly those whose local transmitter uses the channels in the high 50s for some multiplexes. Those whose preferred transmitter uses the lower channels, from 21 upwards, are very rarely affected by the 4G transmissions as the frequencies are too far apart. 4G signals occupy the band from about 800 MHz upwards, channel 21 is about 470 MHz, Channel 59 is at about 775 MHz. Some viewers who are close to a 4G base station may have problems with signal swamping, especially if their local services are in the channel 50+ range.Those potentially affected will have had a filter supplied, free of charge, by at800 around the time the 4G service started in their area. If not, they should talk to at800.
So most people are not affected by the presence of 4G.
The majority of problems people report on these pages would appear to have other causes.

MikeP's 3,056 posts
Monday, 15 September 2014

Hello MikeP,

thank you for your clarification.

Regards,

Patricia

Patricialieb's 2 posts
Monday, 10 November 2014
J
John Sturdy
8:50 PM
Durham

Q. I have outside dish (non sky) which has provided signal for freeview digi box on top of small 19" HD ready lcd tv. I have replaced the TV with a Bush 40" smart tv but when setting up the TV screen gives text `no signal please check antenna connections`.
If I choose to revert back to the old TV set (with the freeview top box) then the dish works OK. I don't understand what the problem is as I thought the dish should work both types of set. My idea obviously is to only have the one new smart TV in operation. I would appreciate your opinion please.l.

John Sturdy's 1 post
John's:
map
J's Freeview map
terrain
J's terrain plot
waves
J's frequency data
J's Freeview Detailed Coverage

John Sturdy: You'll need to clarify some things for us, because at the moment the description dosen't quite make sense.

Ok - you seem to have a dish! That means that the digibox on top of the 19in TV has to be Freesat or a generic sat. tuner, not a Freeview box. You can check what the difference is by looking at the connections - if it pushes in, its Freeview, if it screws in (an F fitting), then its for a dish. You can convert from one to another, but while the connections will work, the boxes wont! See here for some more detail: Connecting it all up | ukfree.tv - helping the UK with free TV reception since 2002

I'm not sure how you got the Bush to even fit with an F fitting, although you might have used some sort of adapter : Online Satellite/TV/FM/DAB Cable, Leads and Connectors sales. . However, as you've discovered, it wont work, becuase the tuners are totally different. The Bush just has a Freeview (or possibly Freeview HD) tuner.

Since I positive wont have a sat tuner in it (LG and Sony's often now have sat tuners, and many Samsung and some Panasonics have Freesat), you going to have to use the box you used for the 19in TV, and in effect use it as a satbox for your new TV.

Connect it the best way you can - if the sat. box has HDMI, use that. If not, then at least you'll have scart, although you'll get no HD.

Best thing long term - buy a decent Freesat PVR (Humax!), and upgrade your dish to a twin or quad LNB - instructions here: SatCure UK satellite and Freeview information

The only thing that occurs to me is that some years ago, someone reported using their dish as a Freeview aerial. They were high up in a block of flats very close to the transmitter - someone guessed that the copper wiring was acting as an aerial - a fluke, but it could happen to you!



MikeB's 2,579 posts

John Sturdy: If your system is genuinely operating on an outside dish then the box connected into it must be a Freesat device and not Freeview, as the latter uses a normal aerial system.

What I find a bit puzzling is how you manage to connect the coax from a satellite dish into a Freeview box or TV, as the connectors used for satellite devices have whats known as "F" connectors which screw into a threaded male socket.

Maybe you could clarify with regards to the model numbers of the devices being used.

jb38's 7,179 posts

John Sturdy: Only a freesat box NOT freeview box will work with the 60cm dish on your wall. If your set has Freesat built in only THEN will it work with the dish.

Anthony's 52 posts
Saturday, 6 December 2014

Have installed Humax 1800t free view recorder which showed I had downloaded -- 74 tv stations and 39 radio stationns, however when watching my HD tv I only have 21 tv, 4 of which are HD, and 14 radio. WHY?

David Locke's 1 post

David Locke: Since you havn't given a postcode, but I'm betting that the Humax has picked up a 'main transmitter, whilst the TV has picked up a 'light' one. If you can find out which transmitter the Humax has picked up (and DigitakUK's website should tell you what bearing, etc each transmitter should be on for you), you can retune the TV to the same one, which will give you the full range.

MikeB's 2,579 posts
Saturday, 13 December 2014

Hi

I have 2 HUMAX Freeview boxes 9100t and 9300t. They have been manually tuned to the Winter Hil transmitter and a set of channels provided by Freeview input into them to get the available channels both tv/radio. I want to listen to Heart Radio Northwest but it is picking up Heart Radio London. My aerial is a round roof top model. Would changing aerial enable me to receive the correct radio station?

Steve's 1 post

Steve: What EPG number are you receiving Heart Radio London on? as the only one listed is on Freeview 728 which has National coverage with no regional variations being possible, hence why you hear London being mentioned.

However Heart Radio North West is available on an FM radio tuned to 105.4Mhz, and dependant on location, might also be possible to receive on the DAB digital radio service, unable to check unless a post code is provided.

jb38's 7,179 posts
Select more comments
Your comment please